Children may visit their parents and grandparents after June 1, with restrictions: Gan Kim Yong
SINGAPORE — Singaporeans will be allowed to visit their older parents or grandparents living in another address after the circuit breaker ends on June 1, Health Minister Gan Kim Yong said at a press conference on Tuesday (May 19).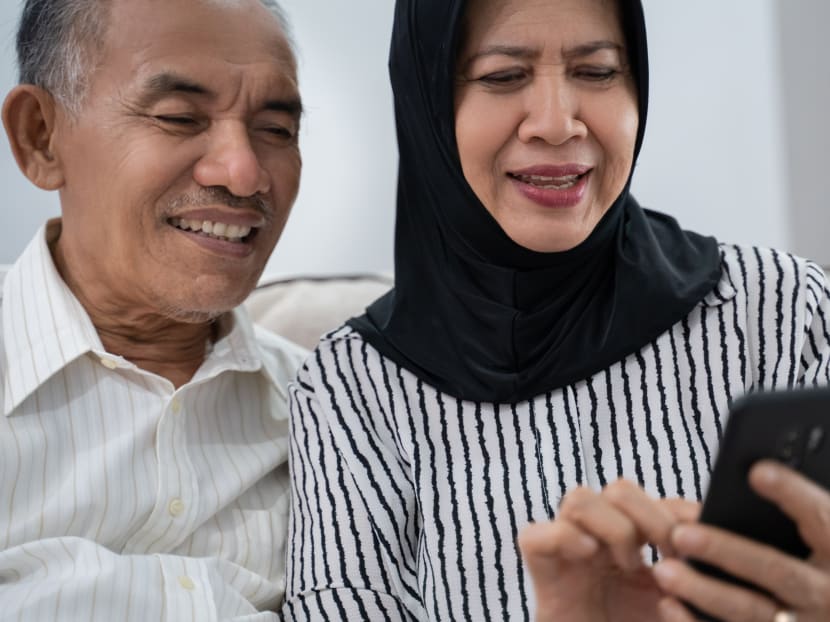 SINGAPORE — Singaporeans will be allowed to visit their older parents or grandparents living in another address after the circuit breaker ends on June 1, Health Minister Gan Kim Yong said at a press conference on Tuesday (May 19).
Some restrictions will apply: Each family doing the visiting is limited to make just one visit a day.
To prevent large gatherings at the seniors' homes, no more than two people from the same visiting household are permitted to visit their parents or grandparents at any one time, Mr Gan said.
He was co-chairing the press conference held by the governmental task force handling the Covid-19 crisis, to announce what to expect when the circuit breaker that restricts social and business activities ends, and selected regulations are eased.  
Emphasising that the allowance for restricted visits is meant to protect seniors — who are more vulnerable to Covid-19 — and to encourage them to stay home, Mr Gan stressed that seniors will still not be allowed to visit their children and should instead let their children visit them.
"Grandparents and parents, please don't go visit your children because we want to keep you safe at home," he said.
Explaining the rationale for this, Mr Gan noted that during the circuit breaker period, many seniors have been able to keep in touch with their children and grandchildren via the internet.
"But we understand that many seniors miss seeing their children and grandchildren. We have considered this very carefully and have decided that, on balance, we can allow some flexibility."
Seniors who do not have children may also have their nieces and nephews visit them on an "appeal basis", he said in response to a question about the details of this move.
Siblings are also not allowed to visit each other so as to reduce the number of cross-household interactions that will take place, Mr Gan added.
However, dropping off children at parents' and grandparents' homes for childcare reasons will be allowed, the Ministry of Health said in a press statement.
Responding to another question about how these rules can be enforced, Mr Gan agreed that it will be difficult to enforce them islandwide.
However, if the authorities come across "big party gatherings", they will take action, he warned.
"It is not easy to enforce, and these rules are not there to catch you, they are there to protect the seniors and we hope that people will abide by these rules so as to protect their parents and grandparents. 
"Instead of focusing on how to penalise and jail, focus on how to protect seniors," he said, urging people to obey the spirit of the rules.
Senior-centric activities, such as group exercises or karaoke, will continue to be suspended.
The allowance for people to visit their parents staying elsewhere is part of the first out of three phases of measures as Singapore navigates its exit from two months of the circuit breaker in a "careful and calibrated" way, so to reduce a second wave of infections as seen in other countries that have also lifted movement restrictions.
Mr Gan said: "As we begin to resume more activities, we do expect to see a rise in daily new cases. The key is to detect these new cases and contain them quickly so as to prevent a sharp rise in the number of cases or the emergence of a large cluster."
RESUMPTION OF WORK
In the first phase, some business activities will be allowed to resume in a gradual manner from June 2. This includes most manufacturing activities and services, as well as home-based businesses that operate using a delivery or collection model.
However, retail storefronts of some sectors, such as those in manufacturing and wholesale trade, will not be permitted to reopen. Food services will be allowed to open only for takeaways and deliveries only.
The full list of business activities that may resume after the circuit breaker period ends can be found at https://covid.gobusiness.gov.sg/permittedlist/.
The scheduled resumption of business activities will increase the number of workers working on-site to a third of the workforce after June 2, up from 17 per cent of the workforce that are still operating essential services currently at their physical workplaces, said Minister for Trade and Industry Chan Chun Sing.
This will see more than three-quarters of the economy resuming their normal operations, he added.
"We will progressively first resume those activities that have a lower risk setting, and in a controlled environment, for example those that have limited or no interaction with the public, and those sectors that operate in a static and controlled environment (that allows them) to put in place elaborate (safety) measures," said Mr Chan.
From June 2, those who are working from home will have to continue to do so — only personnel who require the use of machinery or specialised terminals to carry out the work can return to the workplace, he said.
Workers who need to have infrequent access to their workplace may also apply for "time-based exemptions", he added.
To resume work, businesses should put in place safe management measures, such as cohorting and transport arrangements. Employers will have to put in place and enforce these safe management measures at the workplace, and employees must adhere strictly to them.
"If the company does not take active management steps to cohort their workers, and if there are too many social interactions, then we will unfortunately have no choice but to widen the number of workers that have to stop work," said Mr Chan.
When a Covid-19 case is detected after the resumption of business, authorities will carry out contact tracing and isolation measures to prevent further spread of the virus, he said.
This will be similar to the measures taken currently when an outbreak is detected within a business, added Mr Chan.
The timeline on the resumption of business activities from June 2 is ultimately dependent on the health situation, said the Ministry of Trade and Industry in a press release following the conference.
"Should community transmissions rise, the MTI will re-evaluate the timeline and the businesses that can resume operations from June 2," said the ministry.
Mr Chan added: "We want to have progressive resumption of work. We will not want a situation whereby we start and stop, moving back and forth between the different settings. If there is an outbreak in a particular company, we will have no choice but to shut down either the operations, or a part of the operations."
.embed-container { position: relative; padding-bottom: 56.25%; height: 0; overflow: hidden; max-width: 100%; } .embed-container iframe, .embed-container object, .embed-container embed { position: absolute; top: 0; left: 0; width: 100%; height: 100%; }