Cities face crisis in urban transport, study warns
SINGAPORE — Urban transport systems around the world are far from perfect, with even oft-cited top cities such as Hong Kong and Copenhagen having significant potential for improvement, said a recently released report that ranked Singapore sixth out of 84 cities for urban mobility.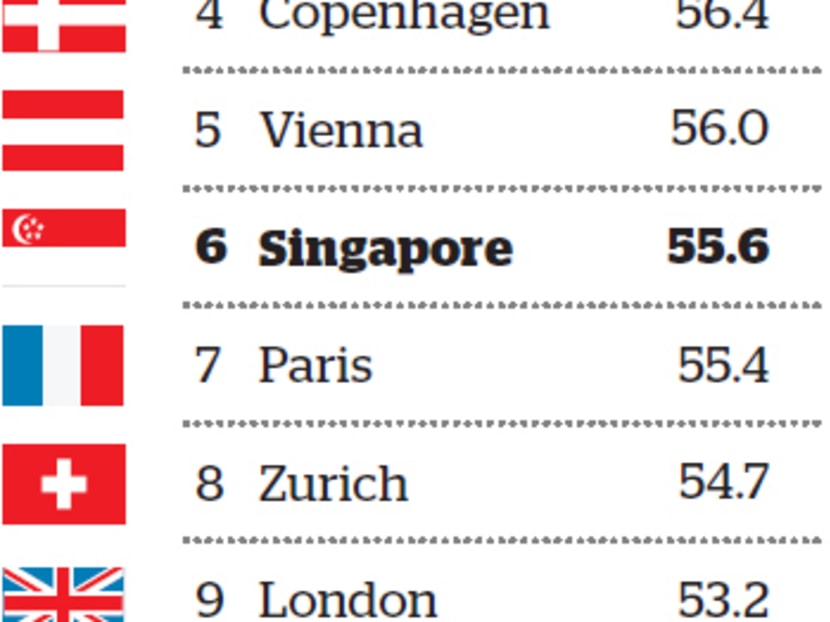 SINGAPORE — Urban transport systems around the world are far from perfect, with even oft-cited top cities such as Hong Kong and Copenhagen having significant potential for improvement, said a recently released report that ranked Singapore sixth out of 84 cities for urban mobility.
Warning of a "looming crisis" as more of the world's population move to cities and as travel habits change, the study found that on average, less than half the potential of urban mobility systems is unleashed today. Hong Kong emerged top in the index, with a score of only 58.2 out of a possible 100. Singapore scored 55.6, trailing behind Stockholm, Amsterdam, Copenhagen and Vienna.
The index was developed by global management consultancy Arthur D Little, which also worked with the International Association of Public Transport to recommend strategies to improve the cities' urban transport systems.
The 19 indicators of the urban mobility index included the financial attractiveness of taking public transport, the proportion of trips made on public transport, density of the cycling path network, car- and bicycle- sharing performances, as well as traffic-related fatalities and transport-related carbon-dioxide emissions.
Singapore's public transport system is highly developed, said the report. It fared relatively well among the top 11 cities with an above-average score for proportion of trips made on public transport, the number of vehicles per capita and in smart-card penetration, but less so in traffic-related fatalities, bike- and car-sharing and transport-related emissions. Singapore's traffic-related fatalities was, in fact, the highest among the top 11 cities with 32.5 deaths per million citizens, the index showed.
Innovative solutions are already available, but operating environments are too fragmented and hostile to innovation, noted the report, which was released earlier this year.
"Moreover, a lot of mature cities do not yet have a clear vision and strategy on how their mobility systems should look in the future," the report said. "In all too many cases, urban mobility plans look like Christmas wish lists with no clear reflection of the synergies or incompatibilities between the initiatives."
For cities with mature urban mobility systems such as Singapore, Hong Kong and Seoul, the next step "must be to fully integrate the travel value chain to foster seamless, multi-modal mobility, while ensuring 'one face to the customer' and to increase the overall attractiveness of public transport by service extension", it said.
Transport experts here TODAY spoke to felt that Singapore's challenge lies in getting more people to take public transport and that the Republic could innovate more in areas of car- and bicycle-sharing and encouraging greater adoption of "green" vehicles.
Innovation can take the form of more radical shifts for some parts of the transport system — policies to promote bike- and car-sharing, for instance — and less dramatic changes that tap informatics to improve efficiency of the current system, said Nanyang Technological University's Associate Professor Michael Li.
"Can innovation help some people switch from private to public transport, and … can we provide innovative solutions for particular groups such as the elderly or people with mobility challenges?" asked Assoc Prof Li, who does transport economics and operations research.
National University of Singapore's Associate Professor Lee Der Horng said the frequency of bus and train arrivals could improve with the purchase of more trains and buses by public transport operators. But he disagreed with SMRT's decision announced on Wednesday to buy double-decker buses, citing recent analysis of ez-link card data that showed double-decker buses contribute more to bus bunching during peak hours than single-deck buses.
Together with his students, Assoc Prof Lee found that dwelling time, which is the time a bus takes to load or unload passengers at a bus stop, was longer for double-decker buses than single-deck buses, with a fixed number of people boarding and alighting.
The transport researcher felt that Singapore's approach to cycling as a mode of transportation has been conservative and that policies for low-emissions and electric vehicles are not attractive enough.
The report said a successful urban mobility strategy needs to satisfy the needs of people and businesses, as well as increase the competitiveness of a country or region. It also needs to consider the interests of both public and private transport, passenger mobility and goods mobility, motorised and non-motorised transport and vehicles that are parked as well as those on the move.
On Hong Kong, the report noted that it is one of the most crowded cities in the world. Nevertheless, its public transport network is also one of the most efficient, with nine in 10 trips by commuters made on foot or by public transport. "Hong Kong's transport system is a multi-modal network based on rail transport supported by bus, minibus, tram, ferries and taxis," the report said. "The network is well integrated and the Octopus smart card allows customers to use all modes of transport and to pay for parking, shops and leisure facilities."
A hypothetical best-in-class system would be as affordable as in Hong Kong and with as few vehicles, the report said. It would ensure air as pure as Stockholm's, promote cycling like in Amsterdam, be as safe as Copenhagen, have the bike-sharing system of Brussels and Paris and have public transport services as frequent as the London Tube, among other characteristics.