Cleanliness a top bugbear for residents
SINGAPORE — Cleanliness — or the lack thereof — is the biggest bugbear of residents here, based on feedback received by the Municipal Services Office's (MSO) OneService smartphone application in the first seven months of the year.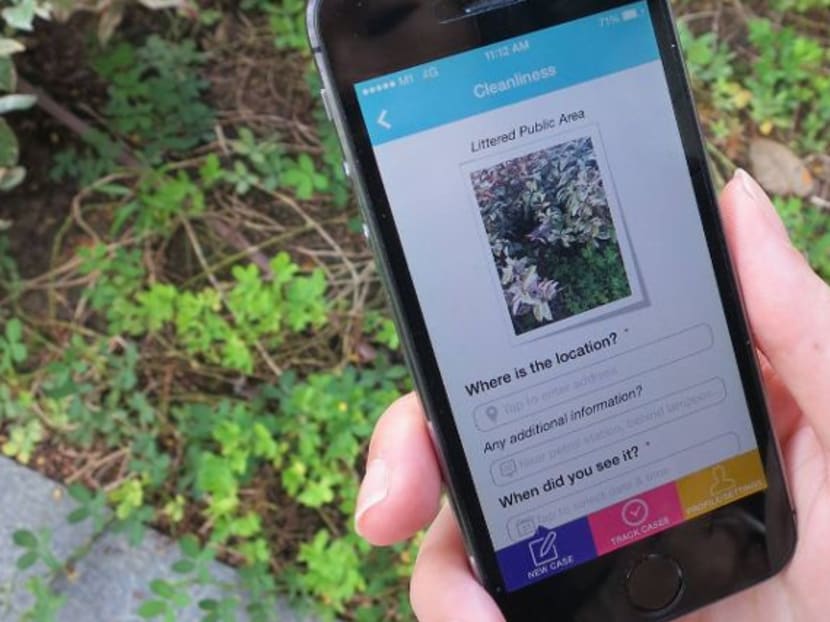 SINGAPORE — Cleanliness — or the lack thereof — is the biggest bugbear of residents here, based on feedback received by the Municipal Services Office's (MSO) OneService smartphone application in the first seven months of the year.
The app, which was launched in January, handles feedback on municipal problems. As of the end of last month, cleanliness-related matters made up the bulk (about 35 per cent) of almost 12,000 instances of feedback received. Coming close are issues concerning maintenance of roads and footpaths (28 per cent), followed by pests (13 per cent).
Set up in October last year, MSO works with 11 government agencies in maintaining estates and upgrading facilities and infrastructure.
The OneService app, which has about 27,000 registered users, automatically routes each piece of feedback to the relevant agency so that more timely service can be provided. Apart from addressing residents' feedback, MSO has also assisted agencies and in some cases, it initiated discussions among several agencies to better manage certain municipal issues.
In one of the instances, for example, a resident in February used the app to provide feedback on fallen dried leaves and litter along a drain in Serangoon. The app automatically referred the case to the National Environment Agency (NEA), and the issue was addressed within a day, an MSO spokesperson said.
While straightforward cleanliness issues could be quickly addressed by a single agency, more complex matters would involve several agencies.
One such example was where residents near Buangkok MRT station individually put up multiple requests to the Housing and Development Board (HDB), and the Land Transport Authority (LTA) to build a footpath from the MRT station to the nearby Palm View Primary School and Esparina Residences condominium. As the proposed footpath lies on a plot of state land earmarked for future development, several agencies including the HDB, the LTA, the Singapore Land Authority (SLA) and People's Association were involved. The MSO then helped to facilitate discussions, and a decision was made to build a footpath by early next year. Speaking to TODAY, resident Siti Saodah, 19, said a footpath is much needed. "Whenever it rains, or right after, the field becomes very muddy and difficult to walk in without our shoes getting soaked," she said. Another resident, Mr Jason Low, added: "It will be more convenient to get across and residents don't have to walk one big round via the sheltered walkway."
In another incident, a resident reported in January a self-sown tree in the back lane behind Emerald Hill, which was causing inconvenience to residents. The MSO noted that in the past, such an issue might have taken a long time to resolve "as the tree, being self-sown at a back lane, with no vehicular access, might straddle across lands of multiple agencies".
But in this case, the National Parks Board (NParks) stepped in to assess the tree on its health and condition. It removed the tree and followed up with the LTA and the SLA to address site erosion problems. "Since then, MSO, together with the agencies, have started discussions to see how to better facilitate the management of greenery-related issues in back lanes," the MSO spokesperson said.
On average, response time for cases involving multiple government agencies is 6.5 days, down from 8 days.
Apart from residents, agencies have also approached the MSO for assistance. Tampines Town Council, for example, shared its concerns about maintaining a long row of trees and thick undergrowth planted by NParks near Tampines Expressway (TPE). The MSO served as a mediator by advising NParks to level the land beneath the trees to allow for easier maintenance.
While the MSO has made good progress in delivering better services to the public, some older residents whom TODAY spoke to still preferred approaching their town councils — via walk-ins or telephone — with municipal complaints.
A 60-year-old Jurong resident wanting only to be known as Mr Ng said: "Calling (the town council) is much faster. You dial the number and there will be someone attending to your call." Mr Ng said he regularly shares feedback on issues related to cleanliness, illegal car parking and spoilt lights in lifts. The town council would act on the issues on the same day, he said.
Kaki Bukit resident Adeline Lee, 54, said she preferred to approach the town council or her Member of Parliament. "It is troublesome to download the app, I prefer to have someone listen to me right away," she said.