Asean and China agree on single negotiating text for South China Sea code of conduct
SINGAPORE — The Association of South-east Asian Nations (Asean) and China have agreed to have a single negotiating draft document for the Code of Conduct (CoC) in the South China Sea, a significant step towards bridging differences among the parties.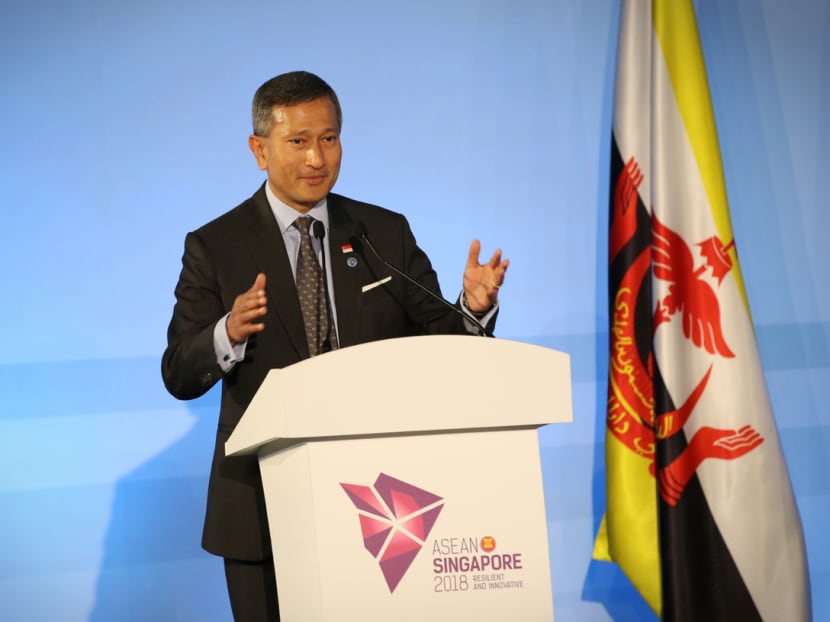 SINGAPORE — The Association of South-east Asian Nations (Asean) and China have agreed on a working text for the Code of Conduct (CoC) in the South China Sea, taking a significant step towards bridging differences among the parties.
Describing this as "another milestone" in the CoC process, Singapore's Foreign Affairs Minister Dr Vivian Balakrishnan announced on Thursday (August 2) that Asean member states and China arrived at the single draft negotiating text during talks in Changsha, China, in June.
"(This) will be a living document and the basis of future CoC negotiations. We also agreed on the key modalities for future rounds of CoC negotiations," he said in his opening remarks at the Asean-China ministerial meeting.
Chinese Foreign Minister Wang Yi, speaking after Dr Balakrishnan, described the development as "good news".
"This is another new and significant development in the CoC talks," he said.
"As long as we can block out external interference, the talks will accelerate and move forward," he added.
"This will prove that China and Asean are able to uphold peace and stability in the South China Sea, and have the wisdom, through our negotiations, to reach a set of rules which we will all abide by." 
Dr Balakrishnan co-chaired the meeting with Mr Wang as the Republic is currently the coordinator for Asean-China dialogue relations, a role it has undertaken for three years.
It will hand over to the Philippines after Thursday's meeting, which Mr Wang described later in a press conference as "more harmonious, smooth and friendly than in the past, reflecting how the mutual trust among Asean and China has grown."
Early stages of diplomatic negotiations typically see parties tabling their own versions of the text, before the diverse positions are consolidated into a single document for further discussion.
It is not clear when the next phase of negotiations will begin and whether the draft is intended to be legally binding. Some countries want the code of conduct to be legally binding, while other negotiating parties do not.
Asked about this at a press conference later, Dr Balakrishnan said that he could not reveal details of the CoC document, citing the "sensitivity" of upcoming negotiations.
He added it will be premature to set a deadline for the negotiations of the CoC because of the "dynamic, evolving situation".
"A lot of this depends on the establishment of mutual confidence, good faith and goodwill on the part of all parties," he said.
"Right now, everyone is glad that we have reached this stage. Everyone hopes that we will be able to accelerate the process but we are not yet in the position to put a specific deadline," Dr Balakrishnan added, noting that it is better to "maintain sufficient flexibility so that nobody feels locked in" for such negotiations.
He cautioned that the agreement of a single negotiating draft document does not mean that territorial disputes in the South China Sea will be resolved as the CoC was never meant to do so. 
Rather, the CoC is intended to ensure peace, stability and confidence is built up so that "we can continue to make collective progress between Asean and China while we take time to resolve the territorial disputes".
China's claims in the South China Sea, through which more than US$5 trillion (S$6.81 trillion) in shipborne trade passes each year, are contested by four Asean members - Brunei, Malaysia, the Philippines and Vietnam – as well as Taiwan.
Beijing has also reclaimed islands in the disputed waters and built military installations on them which it said were for defensive purposes and would not affect the freedom of navigation or overflights allowed by international law.
In a report on Thursday, AFP claimed that it had seen a copy of the draft COC text and that in it, Beijing suggests that China and the 10 Asean states should carry out joint military exercises regularly.
However, the drills should not involve countries outside the region "unless the parties concerned are notified beforehand and express no objection", the report added.
The CoC has been in the works for over a decade, with Beijing attempting to dictate the terms and pace of the talks.
In recent years, there have been clear signs of frayed Asean unity over the South China Sea issue, as some countries close to China take differing positions from others with claims over the strategic waters.
However, in a  breakthrough, the Chinese and South-east Asian foreign ministers in August last year adopted a negotiating framework for the CoC.
In March this year, a joint working group was held on the implementation of the Declaration on the Conduct of Parties in the South China Sea first signed in 2002.
Mr Wang on Thursday compared talks on the COC to building a house.
"In the past, 11 countries might have 11 different designs. Now, not only have we agreed on one single design, we have laid a good for this house and put in place supporting pillars," he told reporters.
He also lauded the progress of China-Asean ties, noting that both sides will be endorsing a vision statement outlining how they can strengthen their strategic partnership leading up to 2030.
On his part, Dr Balakrishnan said China is one of Asean's most substantive dialogue partners and both sides have achieved much over the past three years, with cooperation underpinned by robust economic linkages which have seen China becoming Asean's top trading partner for eight consecutive years.
"However, such strong and substantive cooperation is only possible with mutual trust and confidence," he said. 
"Where there are disagreements from time to time, the key is to seek out common ground, focus on practical cooperation, and to resolve differences peacefully and in the spirit of goodwill."
Such cooperation includes the adoption of the Code for Unplanned Encounters at Sea in 2016, and the establishment of a hotline for maritime emergencies in the South China Sea between foreign ministries, he noted.
He added that as Asean-China coordinator for the past three years Singapore's priority "has always been to be a constructive and honest broker, to deepen mutual trust and understanding and to find ways to do more together".
"All in all, Asean-China cooperation has enjoyed a good run over the last three years, but there is much more to be done."
Analysts said that Singapore has carried out the coordinatorship role well.
"I believe Singapore will hand over the Asean-China account in running order to the next coordinator," said Mr Ong Keng Yong, a former Asean secretary-general who is now Executive Deputy Chairman of the S. Rajaratnam School of International Studies.
Dr Tang Siew Mun, head of the Asean Studies Centre at the Iseas-Yusof Institute, added that Singapore went beyond the usual practice of country coordinators that "confine their remit to doing 'safe' things such as cultural events while downplaying harder and sometimes contentious issues".
"Singapore took on its role as a bridge builder to facilitate and improve relations between Asean and China, often at significant risk to itself when Asean interest is not aligned with China's," he said.
"Singapore deserves high praise for putting Asean ahead of its national interest."