Clinic assistants tell of abuse from patients, some GPs say they could be better protected
SINGAPORE — In her decade-long experience working as a clinic assistant, Ms Zuraiza Samad, 37, has lost her temper just once after getting berated by a patient.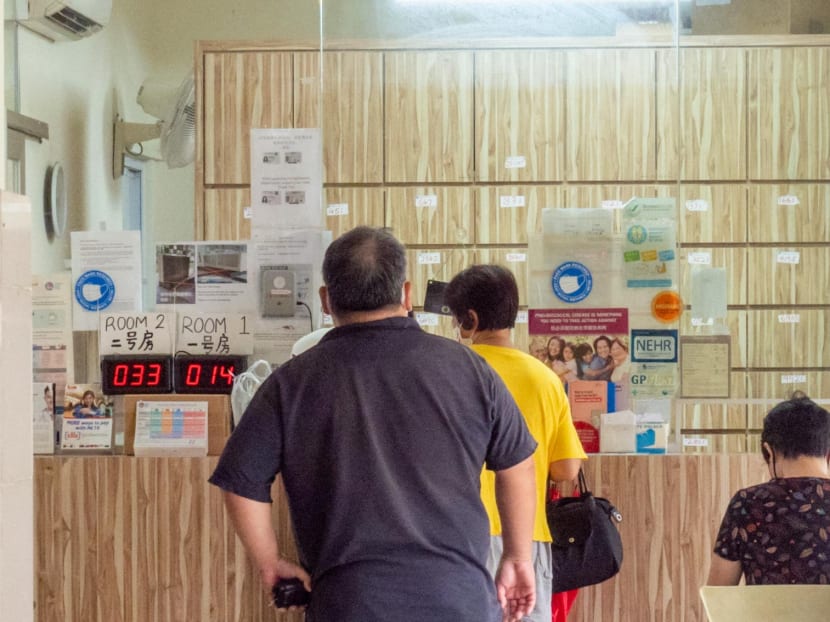 Clinic and nurse assistants interviewed by TODAY said they commonly face verbal abuse on the job
Cases of physical abuse are rare, they added
There is no standard practice for reporting such incidents of abuse in their respective clinics
Some doctors said they will usually need to intervene if things turn serious
One of the doctors said, though, that there is often not much time to tend to such incidents
SINGAPORE — In her decade-long experience working as a clinic assistant, Ms Zuraiza Samad, 37, has lost her temper just once after getting berated by a patient.
The patient demanded that the dentist carry out a treatment he wanted and got upset when Ms Zuraiza tried to explain why it cannot be done. He also got annoyed when she suggested that he approach another dentist for a second opinion if he wanted one.
Ms Zuraiza said: "I was irritated but I tried to control my tone when speaking to him. Then, when he started shouting and banging on the counter, I shouted back at him." 
On average, she said that she encounters such patients at least once a week. 
The dentist on duty later intervened and backed up what she told the patient. He also got another clinic assistant to speak to the patient.
Ms Zuraiza is not alone in her experience of attending to difficult patients and losing her cool in the process.
Earlier this week, a viral video uploaded on TikTok, showed an employee of Everhealth Family Clinic & Surgery, located at Le Quest mall in Bukit Batok, kicking a pram and shouting at a mother and her son.
Later that day, another video purportedly from the clinic's security footage recorded moments before the incident outside, made its rounds online. It showed the mother flinging several brochures towards the clinic staff member and knocking an item off the counter before storming out of the clinic.
The police said on Thursday (April 21) that reports have been made and investigations are ongoing.
Clinic and nurse assistants interviewed by TODAY said that such confrontational incidents involving physical retaliation are rare.
More commonly, they are subjected to verbal abuse instead. This is especially exacerbated by the Covid-19 pandemic, which has increased the frequency of such abuse.
Statistics have shown that the number of healthcare workers in public institutions who were abused or harassed has risen in the last four years. 
Health Minister Ong Ye Kung said in a written parliamentary reply earlier this year that there were about 1,400 abuse and harassment cases reported at the end of November last year. This was up from 1,300 cases in 2020, 1,200 cases in 2019 and 1,080 cases in 2018.
He was responding to a question by Ms Tin Pei Ling, Member of Parliament for MacPherson.
Mr Ong said then that the rising trend could be due to the increase in patients seen in these public healthcare institutions, coupled with rising expectations from patients and their family members for high-quality care and service from healthcare personnel.
MORE EASILY AGITATED DURING PANDEMIC
Ms Bessie Seah, 57, who has been working in a clinic in Toa Payoh for more than two decades, said that patients have been more on edge during the pandemic. 
"They are also more easily agitated, understandably, because they are concerned about their (Covid-19 test) results. Some are angry over being swabbed, having to wait long or being isolated from other patients (when they have symptoms)," she added.
She recalled an occasion when a patient's family member lectured and shouted at her after she told the patient, who had dementia and a bad cough, to sit outside the clinic.
The patient, who regularly visited the clinic in the last 10 years, had to be isolated outside the clinic because of her symptoms, Ms Seah added.
However, the patient slipped back into the clinic, sat inside and later started flipping through some brochures.
"I had to gently tell her again to sit outside. That was when her son got upset and shouted at me.
"He said that I did not have to embarrass his mum so I just apologised and walked away," Ms Seah said, adding that the son later returned to chide her and wrote a bad review about the clinic online.
He also went as far as to accuse her of treating his mother differently because she was dark-skinned.
"Such bad encounters can be quite common. Usually, I try to control my temper and walk away," Ms Seah said, adding that she typically handles such situations by herself instead of bothering the doctor. 
Similarly, Mr Mohd Ashraf, 28, a nurse at a Public Health Preparedness Clinic in West Coast, said that he has to take matters into his own hands most of the time. 
Once, a patient threatened to punch him if he missed his vein when withdrawing blood.
Mr Ashraf said that there is no standard practice for reporting such incidents but he usually informs the doctor on duty. 
"We just go through it and hope that tomorrow is a better day," he added. 
Another clinic assistant, who has been working at a family clinic in Hougang for the last two years and wanted to be known only as Ms Tan, said that the safety and well-being of front-line workers in private clinics are often overlooked as compared to those working in the public healthcare setting. 
Ms Tan, who was once berated for something as simple as not opening the door for a patient, said that she had many times been called names such as "stupid", "idiot" and "no manners" but always lets them go unreported.
This is because the only person who can take action is the doctor on duty, who may be busy, she added. 
It is harder because when they face the abuse, we can't call security, we can't call other people… This (lack of protection) can cause a lot of stress on clinic assistants.

Dr Sunil Kumar Joseph, who runs a private clinic in Jurong
When the forms of abuse escalate within the premises, some doctors in private practice said that they are usually the first line of defence and will usually have to intervene.
Dr Sunil Kumar Joseph, a general practitioner (GP) who runs Tayka Medical Family Clinic in Jurong, said that this is perhaps because doctors are seen as the higher authority in the clinic.
"Most of the time, once the doctors step in, the patients calm down, perhaps because they think we are more able to address the matters they are concerned about, or maybe because we have better knowledge of their medical history," he said.
Even then, Dr Joseph said that doctors do not always have the time to intervene.
Dr Alvina Nam, a GP from Clinic@Costa in Upper East Coast, said that verbal abuse happens often and clinic assistants typically bear the brunt of it, not so much the doctors. 
In one instance, a patient was unhappy after he was given five days of medical leave because he did not want to be put on sick leave at all.
"He argued with me and walked out of the clinic. On his way out, he shouted at the nurses and threw the medical certificate at the nurse's face," Dr Nam said. "At the time, I couldn't reprimand the patient because I wasn't told about it."
Dr Joseph from Tayka Medical Family Clinic acknowledged that it is a lot harder to protect front-line staff members in small clinics.
"It is harder because when they face the abuse, we can't call security, we can't call other people… This (lack of protection) can cause a lot of stress on clinic assistants."
Agreeing, Dr Raymond Ang, chief operating officer of Q&M Dental Group, spoke of patients who throw things on the floor or even punch a wall. He said that staff members at private clinics must be better protected.
Dr Ang said that all Q&M clinics are equipped with closed-circuit television cameras to make sure that all abuse against employees or any damage to a property during a scuffle will be recorded and can be shown to the authorities.
And to prevent ugly encounters from escalating, Dr Ang said that he reminds employees to follow one golden rule: To stay behind the counter when situations get heated.
"The counter serves as a physical barrier between the two parties so that's why we always tell our staff to not come out of the counter (when patients start scolding them).
"Because as long as they don't come out from behind the counter, they won't escalate the situation."