As closures kick in, tuition and enrichment centres move classes online but some parents hesitant about it
SINGAPORE — Mr John Khoo, the director of performing arts school MADDspace, has seen his revenues plummet by 70 per cent since the announcement on Tuesday (March 24) that all tuition and enrichment centres have to be closed from Friday until the end of April as part of safe-distancing measures amid the Covid-19 outbreak.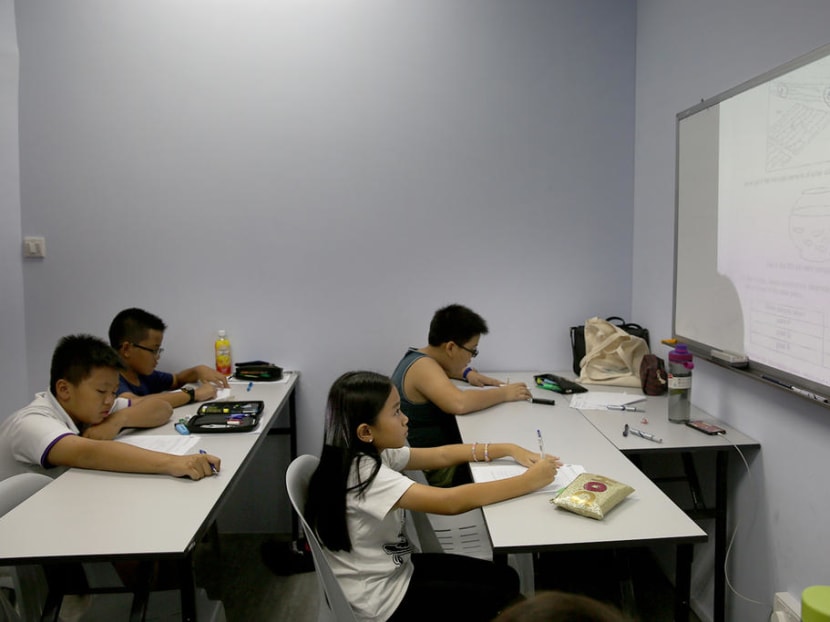 SINGAPORE — Mr John Khoo, the director of performing arts school MADDspace, has seen his revenues plummet by 70 per cent since the announcement on Tuesday (March 24) that all tuition and enrichment centres have to be closed from Friday until the end of April as part of safe-distancing measures amid the Covid-19 outbreak.
Mr Khoo, who owns 10 studios teaching music, art, drama and dance, is prepared to shift his classes online, but many parents are not convinced that these would be worth paying for.
"We kept reassuring them that we would guide them along each step of the way on how to set up the online classes for their kids. We also told them we have full lesson plans online that will allow their kids to learn independently," said the 34-year-old.
While some parents have been persuaded to give it a try, the take-up of these online lessons has been lukewarm so far, he said.
Several other owners of tuition and enrichment centres told TODAY that, like Mr Khoo, they are quickly moving their classes online after Tuesday's announcement. And, like Mr Khoo, they say not all parents are receptive of the idea.
Mr Yang Iskandar, who runs Edufront Learning Centre, also shifted all his classes online immediately after the announcement, but a substantial number of his clients have suspended their payments to him as they believe that online classes are of lower quality than in-person tutoring.
"Parents tell me that they are flooded with online platforms for their kids, as even schools, too, have online platforms," said the 44-year-old.
Mr Ismath Jagaffar, the founder of coding school CyberT4's, said he plans to go fully online by Friday but is worried that his students would not be able to properly install the required software themselves at home, without his assistance.
"I am also actually worried for my students from low-income families, as they do not own a laptop and therefore can't participate in lessons," he added.
Still, he said, he has to push on with his plans.
"Moving fully online may at least help me retain some of my higher-income clients, but you can't predict the market. Live interaction is always the preferred method of engagement."
There are others, though, who are finding a lot more success in the transition to online classes.
Mr Jeffrey Teo, the founder of tuition centre Ace Your Econs, created an online learning management system in 2018, so he has had a head start in proving to parents that online classes are just as good as in-person ones, and his students have also got used to revising their work and taking classes online.
"The mindset of parents initially was challenging to overcome, because they thought online lessons were of low quality, but the situation now shows why online lessons are important," said Mr Teo.
He said his business has not been affected by the Covid-19 outbreak as his foresight to go digital two years ago has allowed him to carry on business as usual, even with the latest safe distancing measures in place.
"The impact of the virus is actually quite negligible because we have already integrated online platforms in place a while back. We are definitely reaping the benefits now."
Another tuition centre that has been able to shift online smoothly is Master Maths.
Centre owner Irfan Mustapha said that, in fact, the switch to fully-online classes, which began this week, has helped his business stay afloat.
After the Covid-19 outbreak began but before the Government made the announcement of centre closures, many parents had stopped sending their children to his tuition centre anyway, he said.
But since he moved classes online, enrolment has risen back up and his revenues have recovered somewhat.
"We have a Facebook Live session once a week on weekdays, where we explain to students how to tackle problem sums," said the 30-year-old. "Our regular classes will be held on weekends. This is where our tutors will go and teach the students online. The tutors themselves will be teaching from home."
MADDSpace's Mr Khoo is optimistic that his business could experience a similar revival of fortunes, too.
"Interestingly, we are seeing new clients reach out to enquire about our online lessons as they say their kids are bored at home. So business may pick up," he said.
WHAT PARENTS SAY
Parents whom TODAY spoke to had mixed reactions towards online classes.
Mr Alphonso Wee said that he is in favour of the move to close tuition and enrichment centres as he understands how serious the Covid-19 situation has become.
But aside from simply moving classes online, the 60-year-old technician feels that tutors should cut their fees.
"The prices must be reduced as parents won't want to spend so much if their kids are only going to receive online lessons," said Mr Wee, whose son attends maths tuition classes at a centre in Tampines.
"They must also guide the parents, as some of us might not be so tech-savvy. And for those from the lower-income group who don't own a computer, a way must be figured out to help them," he said.
His son's tuition centre has moved classes online and his son is continuing to take those classes, he added.
He is paying the same amount as before, but several parents, including himself, have asked the centre to revise its fees.
Meanwhile, Mdm Lidya Asmawati, a 46-year-old housewife, is fully supportive of tuition classes moving online.
She said her child is coping well with his online classes and she believes this should be the way forward.
Her son is nine years old and takes English classes at a tuition centre in Simei.
"I get to save on travel costs with online tuition lessons. I also don't have to give my son pocket money every time he goes for tuition lessons as he now can eat at home. It truly is very comfortable and I hope this becomes permanent," she said.
Another parent, Mdm Rabiatul Syed, however, hopes that these businesses will resume physical classes as soon as possible.
The 53-year-old nurse feels that live interaction is still the best form of teaching and nothing can replace a physical classroom.
Mdm Rabiatul has two children and her younger son of 10 years old is enrolled at a tuition centre that teaches mathematics.
That centre has moved its classes online and she has stuck with it, but hopes to see things return to normal as soon as possible.
"In a classroom, students get to mingle and this broadens their views. Being able to see the teacher physically also gives them a sense of assurance that what they are doing is correct. I need to have my child monitored," she said.