COE prices shoot up to levels not seen for some years and 'beyond market expectations'
SINGAPORE — Prices for Certificates of Entitlement (COEs), which are needed when buying and registering vehicles here, have suddenly ballooned from the last bidding exercise two weeks ago, an event not seen for some years.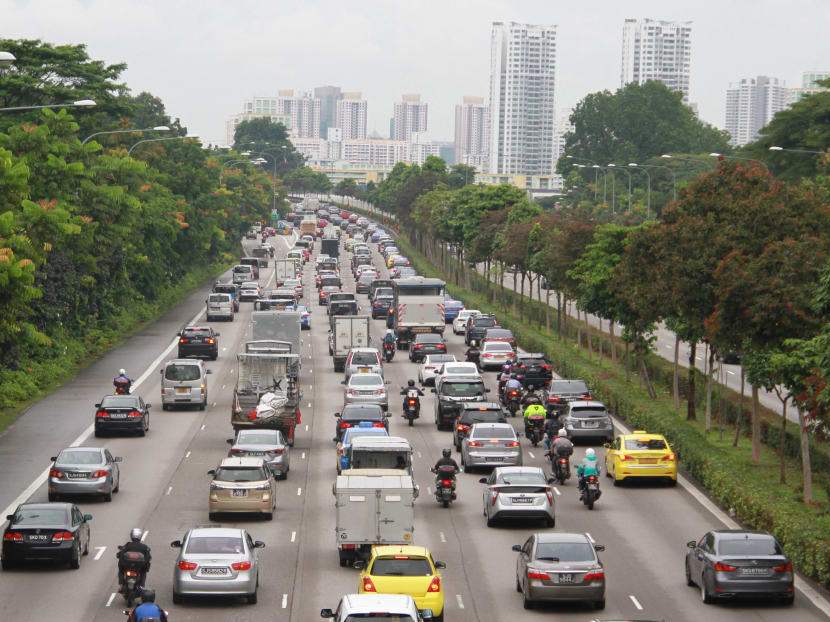 Motor vehicle dealers said the latest COE prices are higher in anticipation of smaller supply at upcoming bids
They were of mixed views if this trend would continue
Another factor that pushed up prices is the impending enhanced surcharges for an emissions scheme
SINGAPORE — Prices for Certificates of Entitlement (COEs), which are needed when buying and registering vehicles here, have suddenly ballooned from the last bidding exercise two weeks ago, an event not seen for some years.
The last time prices were at such high levels was at least four to six years ago, depending on the category of vehicles.
Motor vehicle traders said that this surge was because people were jumping in to get COEs before supply runs lower at bidding exercises over the next couple of months.
Another reason, they said, is the increased surcharges under the enhanced Vehicular Emissions Scheme (VES) that is due to kick in on July 1 this year, so prospective car buyers are booking their purchases before it takes effect.  
At the end of the latest bidding exercise on Wednesday (April 21), premiums for small cars (up to 1,600cc and with horse power of up to 97kW) went up from S$45,600 to close at S$49,640. This was an 8.86 per cent jump.
The last time the figure hovered around the S$49,000 mark was in February 2017.
For large cars (above 1,600cc or 97kW), premiums shot up from S$52,309 in the previous bidding exercise to S$61,190 — a 17 per cent leap.
In the open category, which can be used for any type of vehicles, premiums soared from S$52,200 to S$62,100 — a 19 per cent spike.
The last time the COE prices were close to these amounts for the above two categories was in November 2015.
For goods vehicles and buses, COE prices rose the most by about 22 per cent to S$44,001 — up from S$36,134.
However, premiums remained steady at S$8,000 in the motorcycle category.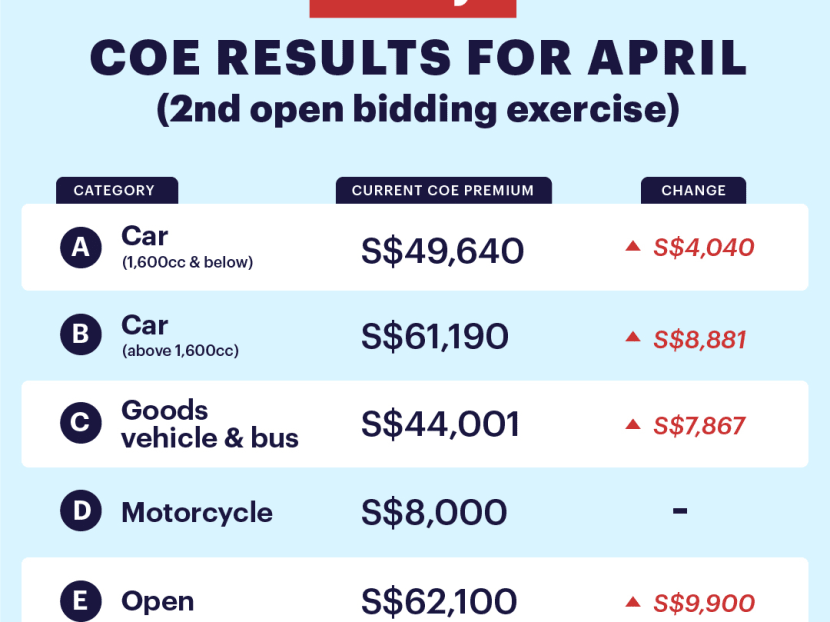 COE prices across all categories have been rising steadily since late 2018 and early 2019, but never at such large margins across just one bidding exercise. 
For comparison, the prices in the first bidding exercise in December 2018 were:
Category A (small cars): S$23,568
Category B (large cars): S$31,001
Category C (goods vehicles and buses): S$27,009
Category D (motorcycles): S$3,399
Category E (open): S$30,851
Mr Neo Nam Heng, chairman of diversified motor group Prime, said that the huge jump seen across most of the categories on Wednesday were "beyond market expectations".  
Still, the adviser of the Automobile Importer & Exporter Association believes that prices have reached their peak and it is likely that there will be a market correction in the next round of bidding in two weeks' time.
He explained that although there will be a big cut in the COE quotas then, its effects have already been felt in the last two rounds of bidding, with prices having risen continuously.
On April 15, the Land Transport Authority announced that the COE quota for May to July this year had been set at 16,010. This is the lowest in more than six years.
This quota for the upcoming three-month period is a drop from the 17,511 that was available from February to April, which was already lower than the 19,994 for the November 2020 to January 2021 period.
For this reason, Mr Raymond Tang, honorary secretary of the Singapore Vehicle Traders Association, disagreed with Mr Neo's assessment, predicting that prices will continue to rise until the end of the year.
Mr Tang, who is also the director of Yong Lee Seng Motor, said that it is a simple supply-and-demand issue.
With fewer COE quotas in the next quarter, he said "everybody will be rushing into the market to secure theirs", which will in turn push up prices.
Furthermore, Mr Tang said that rising COE prices will not only affect the cost of new cars, but will also have a knock-on effect for used ones.
With drivers being forced to pay more for a new car, due to the higher COE, it stands to reason that they would similarly sell their old cars for a higher price.
As to how much this increase could be, Mr Tang estimated it to be around "a few thousand dollars higher". 
Beyond the smaller COE quotas, there is the enhanced VES, which took effect on Jan 1 this year and will last until Dec 31 next year. 
The scheme was introduced in 2018 to encourage drivers to choose vehicles with lower emissions across five pollutants, including carbon dioxide, hydrocarbons and carbon monoxide.
Rebates and surcharges, which were revised upwards in the enhanced VES, are determined by a vehicle's band under the scheme: A1, A2, B, C1 or C2 — with A1 being the cleanest and C2 being the most pollutive.
Under the enhanced VES, the total rebates was brought up for cars and taxis in both the AI and A2 categories. For instance, rebates went up from S$20,000 to S$25,000 for A1 cars and from S$15,000 to S$22,500 for A2 taxis.
On the flip side, new surcharges were set at S$15,000 for C1 cars and S$22,500 for C1 taxis, an increase of S$5,000 and S$7,500 respectively.
Similarly, surcharges for C2 cars and C2 taxis went up by S$5,000 to S$25,000 and by S$7,500 to S$37,500 respectively.
As the increased surcharges will kick in on July 1, Mr Dominic Lee, a sales executive at The Car Regency, said that car agents are hoping to quickly offload the vehicles that will be affected by the scheme.
Mr Tang agreed and said that customers are likewise hoping to make their vehicle purchases soon to avoid paying any extra surcharges.