ComfortDelGro cabbies' earnings take a hit after joining UberFlash
SINGAPORE — Just a week after Uber and ComfortDelGro rolled out their UberFlash booking service, many drivers from the taxi operator have stopped participating in it after complaining that earnings have been hit by low fares.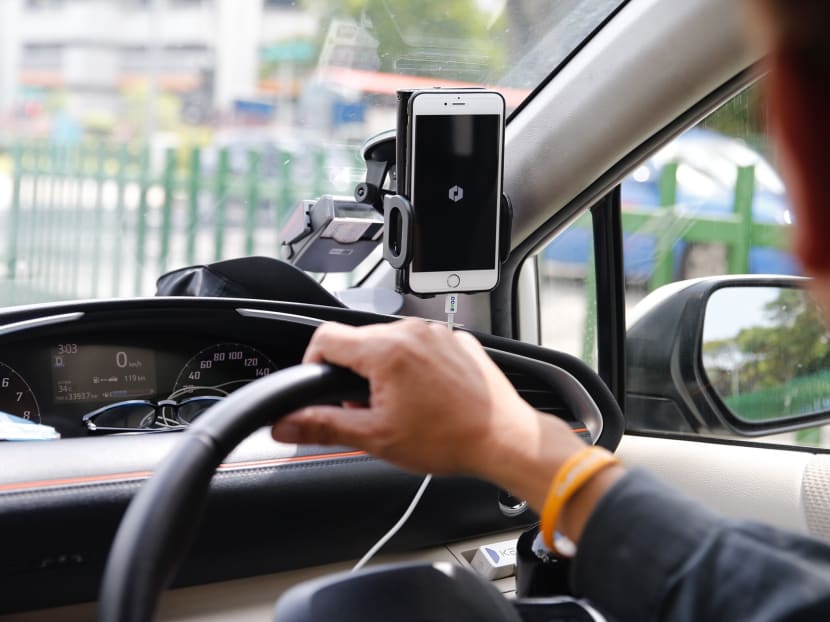 SINGAPORE — Just a week after Uber and ComfortDelGro rolled out their UberFlash booking service, many drivers from the taxi operator have stopped participating in it after complaining that earnings have been hit by low fares.
About 30 per cent of ComfortDelGro drivers who signed up for the service are not using it, according to Uber. 
UberFlash combines cars from the American ride-hailing company's low-cost UberX service with ComfortDelGro taxis on the former's app. The service went live last Friday (Jan 19).
Uber and ComfortDelGro, Singapore's largest taxi company, said earlier that the new service would offer fares up to 10 per cent cheaper than the regular price on UberX. That has not gone down well with some drivers.
ComfortDelGro taxi driver Alan Chua, 39, said that a fare from Chua Chu Kang to Changi Airport, for instance, was S$22 on UberFlash, which was S$5 to S$6 lower than the usual metered fare. Moreover, Uber draws a 10 per cent commission from bookings taken up by ComfortDelGro taxi drivers. "The fares are too low … I believe ComfortDelGro is trying to gain market share, but at the expense of the driver," said Mr Chua.
For fellow ComfortDelGro driver Raymond Kiew, 45, an UberFlash ride from Jurong West Street 52 to Ghim Moh Market and Food Centre in the morning earlier this week yielded a fare of just S$5.50. Usually, he gets S$18 for the same trip.
Although bookings via UberFlash are almost back-to-back during off-peak periods, the fares mostly range between S$4 and S$6 per trip, drivers said.
"It's better if I queue at the taxi stands; I'll get more fares. The time I travel to pick a passenger up is equivalent to the time I wait at the taxi stand … For every street job, I have to do three UberFlash jobs," said Mr Kiew. Since he started using the service, he earns about S$110 a day, after deducting the taxi rent and fuel. Previously, he took home an average of S$150 daily.
Still, Mr Kiew, who drives in the day, said the service would be useful for drivers pulling the late shift from 4pm to 11pm because fares are subject to dynamic pricing where fares are higher when demand rises.
His colleagues have seen fares rise between 2 and 2.4 times during the evening periods, or about 10 to 20 per cent above taxi metered fares, he said.
Another ComfortDelGro cabbie, who gave his name only as Mr Sim, said he received a fare of S$7 for a trip from the city fringe to Ang Mo Kio, about half the usual price. "It's ridiculous to drive more for less… We're just lowering the whole market price. It's a price war," said the 36-year-old.
To entice drivers to use the app, ComfortDelGro is offering a S$5 daily rebate to drivers who have signed up for and logged into the Uber driver app between Jan 29 and Mar 31. From Apr 1, they will need to turn on the app for at least eight hours a day, for a minimum 22 days each month, to qualify for the rebate. Said Mr Sim: "(A S$5 rebate) is kind of lame."
For the moment, the drivers interviewed by TODAY said they were not planning to continue using UberFlash and would rely on ComfortDelGro's own booking app instead.
In March last year, rival ride-hailing company Grab launched a similar service called JustGrab with five taxi operators: Trans-Cab, SMRT Taxis, Prime Taxi, Premier Taxis and HDT Singapore Taxi. The service is also subject to dynamic pricing.
Taxi driver Wong Hui Fong, 35, who is with HDT, said that while the fares are low, Grab's loyalty programme for drivers was a motivating factor.
For instance, Grab's driver-partners can earn between S$200 and S$370 a week if they meet targets, such as clocking a certain number of trips weekly, he said. "It serves as secondary income for us … You just need to put in the effort to work, drive and clock your hours," said Mr Wong.
However, a Trans-Cab driver, who wanted to be known only as Mr Lim, 56, said he has not tried the JustGrab service because the fares are "too low". "It's good for the customers, but bad for the drivers … I won't pay attention to (the incentives) — you have to put in a lot of effort and there will be requirements to meet," he added.
 
FARES ARE ONLY ONE FACTOR: UBER, COMFORTDELGRO
Uber Singapore general manager Warren Tseng said on Thursday that so far, about 70 per cent of the ComfortDelGro drivers who signed up for UberFlash are using it. This indicated a "positive adoption of the product", he said.
"We expect (the proportion) to improve further as driver-partners become more familiar with the product," Mr Tseng added.
He reiterated that fares are "only one factor to consider when it comes to driver-partners' earnings" — a point echoed by ComfortDelGro.
Higher fares would not matter "if the vehicle remains idle or unoccupied most of the time", said Mr Tseng. "It is more useful to leverage our technology to efficiently match driver-partners to rides, giving them the potential to earn more money through increased efficiency," he said. "UberFlash is still in its early days and we stay committed to ensuring the product meets the needs of riders, drivers and Singapore."
ComfortDelGro group corporate communications officer Tammy Tan said that regardless of the booking platform, the operator is focused on helping its drivers maximise their earning potential, and keeping fares as affordable as possible for passengers. "We realise that these two may seem contradictory but they don't necessarily have to be," she said.
Ms Tan added: "If our cabbies get more jobs, they will be able to increase their daily takings even if prices do not increase. This is why we are constantly looking at ways to increase the number of jobs available to our drivers. With dynamic pricing, fares fluctuate depending on demand. Feedback from our drivers is important and we will continue to engage them together with Uber to improve the overall driving experience."
For now, it appears that commuters stand to gain the most from the low fares.
Commuter Mervyn Tan, 52, who has used the UberFlash service on five occasions since its launch, said: "It's beneficial to riders… Low fares are a given. We're already used to low fares."
Nevertheless, he said all five UberFlash trips which he has taken were served by Uber's private-hire cars, with none by ComfortDelGro cabbies.
The launch of UberFlash came more than a month after Uber and ComfortDelGro announced a S$642 million tie-up that will see the transport operator acquire a 51 per cent stake in Uber's car-rental arm here. The deal is still being reviewed by the Competition Commission of Singapore.