ComfortDelGro enjoys jump in bookings following Uber's exit
SINGAPORE — ComfortDelGro said on Wednesday (June 6) that its May bookings grew by almost 9 per cent year-on-year – the biggest year-on-year jump since September 2014 – as they recorded a marginal uptick in bookings in the first five months of the year.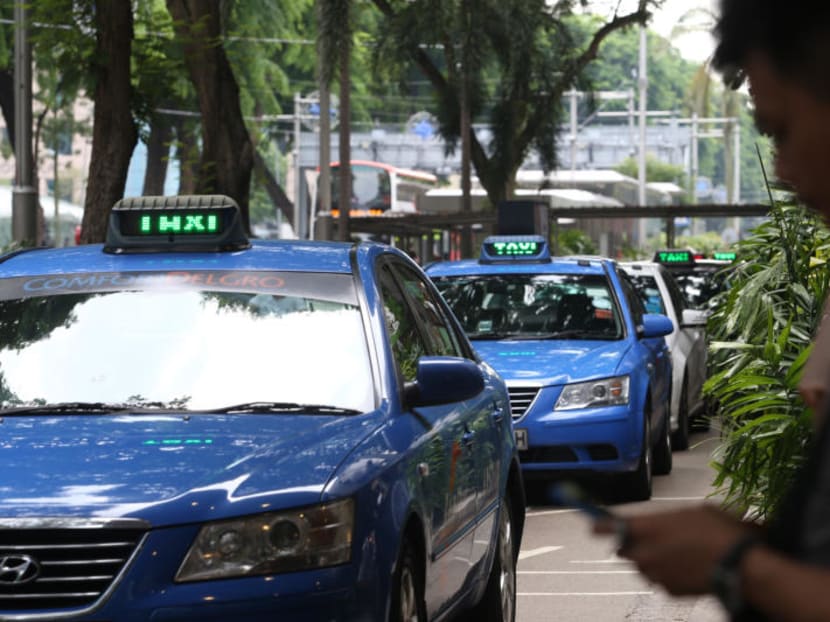 SINGAPORE — ComfortDelGro said on Wednesday (June 6) that its May bookings grew by almost 9 per cent year-on-year – the biggest year-on-year jump since September 2014 – as they recorded a marginal uptick in bookings in the first five months of the year.
From January to May, ComfortDelGro saw 12.1 million bookings made through its call centre and phone app, versus 12 million for the same period last year, the taxi operator told TODAY.
It attributed the trend partly to the slew of promotional codes and discounts which it has been doling out – at a time when its rival Grab is scaling back such marketing efforts after American ride-hailing firm Uber exited the Singapore market.
In April and May, users of ComfortDelGro's app redeemed about 57,000 promo codes in all. They were offered S$3 off their flat fares during off peak hours and S$8 off fares if they hailed a ride from the city between 1am and 5am. This would have cost the taxi company at least S$85,000 per month.
"We have been rolling out very targeted booking promotions and this, we believe, has helped to boost the demand," said ComfortDelGro Taxi chief executive Ang Wei Neng.
Asked if the company will continue with its promo codes, ComfortDelGro group corporate communications officer Tammy Tan said it will "continue to push out new promotions to attract commuters to ride with us", citing an ongoing promotion - that will stretch till June 29 - in which riders can enjoy S$3 off fares for trips made between 10am and noon, and 2pm to 5pm.
Grab, however, is not swayed by ComfortDelGro's sterling results to deviate on its new direction, by offering a loyalty programme, GrabRewards, instead of direct discounts on fares. Asked if they might consider bringing back promo codes, a Grab spokesperson told TODAY their "focus remains the same" in finding "more and different ways to enrich our customers' experience on Grab".
While figures are looking up for ComfortDelGro, analysts TODAY spoke to are divided over whether this marks a silver lining for its business since Grab acquired Uber's Southeast Asia operations. They noted that the question lies in whether ComfortDelGro's profitability and taxi rental rates would improve.
"It might be a one-off blip, or it could be something that spike a new trend… It is something of which the signals are still not very clear yet," said Associate Professor Lawrence Loh of the National University of Singapore Business School.
He added: "Obviously, when you give promo codes or any incentives, there will certainly be almost an instantaneous reaction from commuters to switch (operators). But, again, how long can you continue to have promo codes, which is not in line with the real cost structure?"
Assoc Prof Loh, who is director of the Centre for Governance, Institutions and Organisations, said that promotional codes are "transient marketing tools" at best that do not necessarily translate to a growing market share in the long run. It still remains to be seen if ComfortDelGro's app has staying power the day they end their promotions, he noted.
"If they are really serious in lowering the price, why don't they just lower the price?" he said, pointing out that the ride-hailing industry is "still in a stage of flux" moving towards a "multi-market, multi-product competition".
Commenting on why Grab might not be engaging on a "promo code war" as they did with Uber, Assoc Prof Loh said Grab has nothing to fear at this stage unless ComfortDelGro partners more established ride-hailing companies in the region, such as GoJek.
Singapore University of Social Sciences (SUSS) transport economist Walter Theseira said it is too early to tell if the subsidy strategy is actually profitable to ComfortDelGro, noting that its main source of revenue is in boosting demand for taxi rentals. As such, a better indicator would be ComfortDelGro's order of another 700 taxis to add to its fleet, announced last month.
"Comfort receives nearly all revenue from taxi rentals, and has no share in a driver's trip revenue… A ride hailing company by contrast at least sees revenue come back directly when they stimulate demand, through the commission," said Dr Theseira.
"Of course, taxi companies do collect booking fees, but their business model at present doesn't give them a strong incentive to boost market share or increase rider demand if demand to hire cabs is robust."
SUSS associate professor Park Byung-joon views that ComfortDelGro should instead ride on the different "mood in the air" since Uber left. It is still offering the same hefty promotions to buy in market share when "right now the momentum is that there will be no more free lunch offered by the ride hailing company", he said.
Instead, he suggested that ComfortDelGro should focus making taxi-driving more attractive by allowing more flexible hours and other sorts of benefits a private hire driver is afforded.
Assistant Professor Terence Fan, a transport specialist with the Singapore Management University, felt the figures signalled that consumers are willing to try out other options besides Grab.
"A lot of people used to be on the Uber platform, so now they have to go somewhere, and it is not surprising that some chose the Comfort platform," he said.
Dr Fan added: "I think it is a good result for Comfort, but (in the larger scheme of things) one wonders whether they are back where they were before, or whether they have some way to go."