Commuters outraged as main MRT lines crippled
SINGAPORE — In a breakdown of unprecedented scale, the Republic's two main MRT lines came to a complete halt simultaneously during the evening peak period yesterday, resulting in swathes of stranded passengers across the island at all 54 stations on the North-South and East-West lines.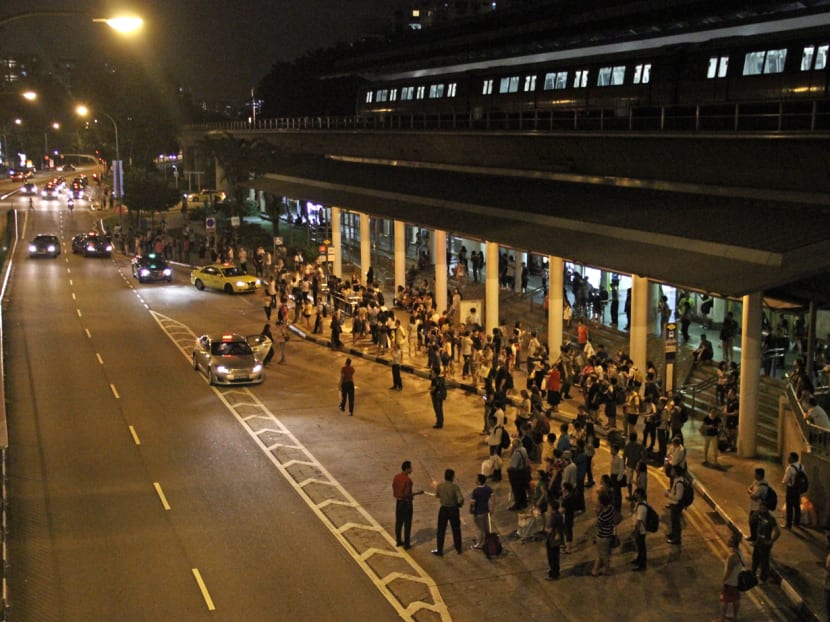 SINGAPORE — In a breakdown of unprecedented scale, the Republic's two main MRT lines came to a complete halt simultaneously during the evening peak period yesterday, resulting in swathes of stranded passengers across the island at all 54 stations on the North-South and East-West lines.
Services between the Pasir Ris and Joo Koon stations were restored after two hours with trains travelling at a slower speed as a precaution, while services on the North-South Line resumed 75 minutes later, at 10.35pm.
Preliminary investigations discovered a faulty train which could have caused the power to trip.
"The power surge caused the protective relays across the entire North South East West lines network to be activated, leading to a shutdown of power across the two lines," the Land Transport Authority (LTA) said. SMRT said the first signs of problems emerged more than an hour before the breakdown, when its Operation Control Centre detected "multiple power trips" on the two lines — which are the oldest in the Republic's MRT network.
"But as we tried to identify the cause of the power fault, the frequency and impact of power trips intensified," said SMRT Trains managing director Lee Ling Wee. Staff from LTA and SMRT — which operates both lines — worked through the night to fully recover train services. However, SMRT advised commuters to make alternative travel plans, as only limited services may resume this morning. Until the resumption of full train services, free bus services will be available and fare gates at MRT stations on the two lines will be open.
Apologising for the breakdown, Transport Minister Lui Tuck Yew said he was "extremely concerned" about what happened. "This is the first time that services on both the North-South and East-West Lines were affected at the same time. I am sorry that so many commuters experienced massive disruptions to their journeys during the evening peak hours."
The incident brought back memories of the massive breakdown during evening peak period on Dec 16, 2011 — which affected 127,000 commuters at 11 MRT stations on the North-South Line, and was one of two major outages in three days which led to the setting up of a Committee of Inquiry, and subsequently the resignation of former SMRT CEO Saw Phaik Hwa.
Yesterday's breakdown began at 7.15pm, when lights in the trains flickered and then went out completely.
At Eunos MRT Station, for example, commuters were unsure of what to do, after announcements were made that services had been halted. SMRT staff belatedly arrived on the scene to give directions after commuters started making their way out of the trains and headed towards the gantries. Commuters were handed leaflets detailing alternative modes of transport, such as taxis or free public buses to other stations.
Outside Eunos MRT Station, buses that arrived were quickly packed with passengers, and crowds spilled onto the roads. Long lines also formed at the taxi stand. Similar scenes were played out at MRT stations islandwide. Social media were rife with complaints from stranded commuters, many of whom — including Muslims breaking fast and others rushing home from work — were frustrated with SMRT's handling of the breakdown. Some also questioned why commuters on the other lines were not informed of the breakdown. As a result, they could not transfer to the affected train services.
Indian tourist Balaji Madabushi, who was with his wife and four-year-old son, was stranded at Buona Vista MRT Station after taking a train on the Circle Line. "I was shocked to find out there was no more train service to Jurong East. I didn't expect Singapore to be like that. I've always heard stories from friends and others on how efficient Singapore is," he said.
Engineer Nelson Teh, 38, who was on his way home to Admiralty from Toa Payoh, said the directions from the SMRT staff were "not clear". "They said there were free buses but a lot of people didn't know which exit to take (the buses from). We had to ask the officers one by one," he said.
He added that the wait for the buses were long, with half an hour passing without any arriving.
Another commuter, Mr Gordon Yeo, 62, was about to board a train at Raffles Place Station when services came to stop. "At first they told us the train journey would take 10 minutes longer, then 20 minutes ... Then they told us the trains had stopped," he said. He reached home by bus more than three hours later, at about 10.30pm.
The LTA said that announcements were made at all MRT stations to inform commuters. Information was also disseminated by the authority and SMRT via social media. Free bus services were activated at 7.23pm, eight minutes after the breakdown, LTA said. "All available bus assets were activated across the whole island to provide free bus service for affected commuters," it added. The police also helped with crowd control. "We apologise to all commuters who were affected by this disruption," LTA said.
The breakdown occurred despite considerable efforts by both LTA and SMRT to improve the reliability of the MRT system. In March during the Committee of Supply debate, Mr Lui addressed Parliament on his ministry's plans for the year right on the heels of a spate of MRT disruptions. He expressed his unhappiness about the situation and described the incidents — including a 23-hour Bukit Panjang LRT system breakdown that occurred over two days — as "stark reminders" that there is still some way to go in improving train reliability.
Public transport was one of the hot topics during the previous General Election (GE) in 2011. With the next GE expected to be around the corner, political analyst Eugene Tan said the unprecedented breakdown was something the Government "could do without". "(It) has put in quite a lot and I can see the improvements when I take the train, but unfortunately, it's these major disruptions that take away what it has done," said the Singapore Management University law don.
"They stick in people's minds ... (The breakdown) reinforces the fact that public transport remains a major issue — perhaps what has been done, while significant, may fall short of what Singaporeans expect."