Conduct large-scale study to assess benefits of small class sizes in schools: NCMP
SINGAPORE — Mr Leon Perera from the Workers' Party (WP) called for a "large randomised trial" in Singapore to study the impact of having fewer students per class, saying that there are benefits to having smaller classes in schools.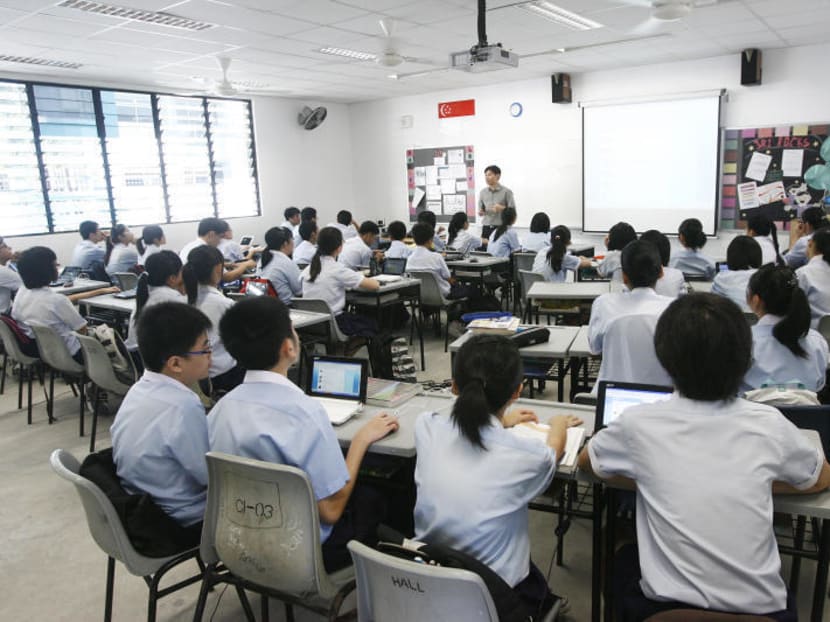 SINGAPORE — Mr Leon Perera from the Workers' Party (WP) called for a "large randomised trial" in Singapore to study the impact of having fewer students per class, saying that there are benefits to having smaller classes in schools.
In Parliament on Tuesday (Nov 7), the Non-Constituency Member of Parliament (NCMP) filed the adjournment motion on maximising students' potential in classrooms of the future.
He brought up a study which examined the effect of having smaller class sizes in Tennessee, United States. Project Star — which started in 1985 and was conducted in three phases — found that "students placed in smaller classrooms performed better than their peers in larger classrooms across all grade levels tested and across all geographic regions", he said.
He added that while the US study may not be perfect, it "meets the basic gold standard for research" because it was a controlled, randomised experiment.
Mr Perera proposed that a similar study be done here, to look at reducing the average and median form class sizes to within a range of 20 to 25 students per class.
The figure strikes "a good balance point between what is desirable and what is feasible in respect of costs and availability of teachers", he said.
Highlighting that there had been positive outcome after the Ministry of Education (MOE) reduced the average class sizes for Primary 1 and 2 pupils, Mr Perera called on the House not to "shrink" from giving students the benefits of small class sizes, to make the changes needed "to turn Singapore's future classrooms into incubators of innovation and catalysts for equality of opportunity".
Without stating whether or not MOE would consider the proposal, Education Minister (Schools) Ng Chee Meng said that class sizes are not indicative of the learning support and attention students receive.
In August, he had told Parliament that the average form class size in primary and secondary schools last year was 33 and 34 respectively, while the median form class size was 32 in primary schools and 36 in secondary schools.
He also said then that schools do group students in smaller classes based on their learning needs. For instance, the Learning Support Programme — an early intervention effort to help students who are weaker in certain subjects — are conducted in "pull-out" classes of eight and 10 students.
SMALL CLASSES HELP DEVELOP SOFT SKILLS
Mr Perera said on Tuesday that Singapore's average and median class sizes are still "above the norm" compared to other developed countries, and are larger than those under MOE's Gifted Education Programme as well as those in private tuition centres.
Several international studies, he added, concluded that small class sizes allow weaker students to be more engaged during lessons because they have less room to stay quiet. It also helps them to develop soft skills such as confidence and curiosity.
This would, in turn, lead to less reliance on tuition or remedial classes, Mr Perera said, noting that such extra classes "may stigmatise students and erode their self-confidence".
Teachers may also benefit from small classes, because they get better satisfaction in organising more and better enrichment activities. It might also help reduce the attrition rate for those in the profession.
To this, Mr Ng said that the teaching force has grown by 20 per cent in the last decade, and having competent teachers is key to improving students' learning outcomes.
He noted that MOE remains committed in investing in the continuing professional development of teachers, having just launched an online portal called the Singapore Teaching Practice, which provides learning resources for educators to adapt their teaching strategies according to students' profiles.
'FUTURE CLASSROOMS' NOT JUST ABOUT CLASS SIZES
He stressed that there are other variables, apart from class sizes, influencing students' success.
With the Government driving the move to put less emphasis on academic results and more focus on students' strengths and passion, Mr Ng said that students are encouraged to have an "entrepreneurial dare", to develop an enterprising spirit, which can be used to solve real-world problems creatively.
Students are also exposed to programmes such as coding, which takes place outside the classrooms to give them hands-on experience. With the new online portal called Singapore Student Learning Space, students will be able to learn at their own pace and revisit concepts.
"This is learning in the future classroom, beyond class sizes," Mr Ng said. "Don't fixate on a single dimension to success in education."
He added: "MOE is embarking on many exciting changes, but in all that we are doing, we are guided by values and character education that will always remain at the core of our children's education."