Construction firms facing higher costs from foreign labour crunch may officially reprice business contracts
SINGAPORE — Construction companies facing a manpower crunch due to the restricted flow of migrant workers into Singapore may apply to adjust the value of their commercial contracts to factor in unplanned increases in labour costs. The applications have to be made to a registrar of assessors appointed by National Development Minister Desmond Lee.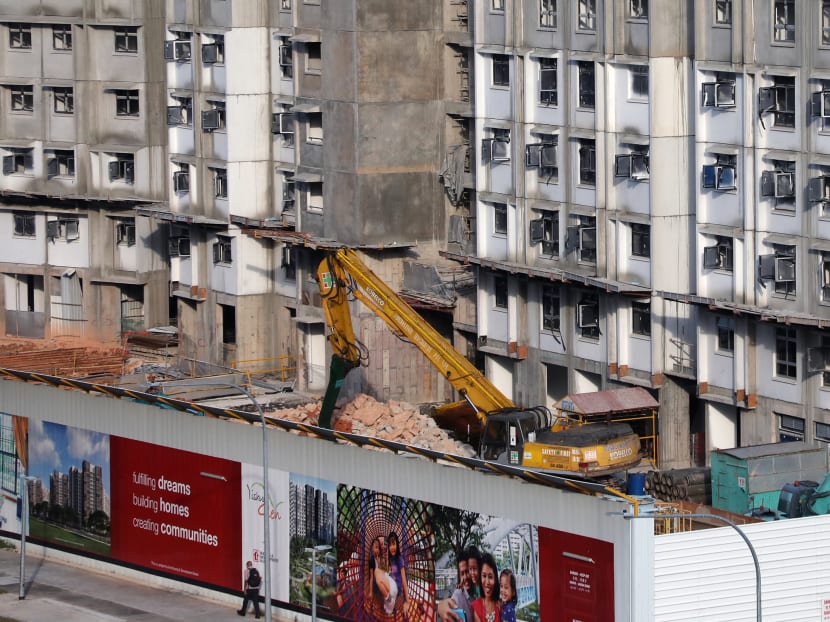 Construction companies may apply to adjust the value of their business contracts
This is in view of unexpected cost increases in foreign manpower due to Covid-19 border restrictions
Legislative changes passed in Parliament are aimed at having different parties share the cost burden
The changes cover contracts signed before Oct 1, 2020
They take into account unexpected cost increases from then to Sept 30, 2021
SINGAPORE — Construction companies facing a manpower crunch due to the restricted flow of migrant workers into Singapore may apply to adjust the value of their commercial contracts to factor in unplanned increases in labour costs. 
The applications have to be made to a registrar of assessors appointed by National Development Minister Desmond Lee. 
These relief measures for construction businesses were legislated when amendments to the Covid-19 (Temporary Measures) Bill were passed in Parliament on Tuesday (May 11).
Speaking during the debate in Parliament, Mr Lee said that there is still a need to provide more support for construction companies that have not factored in unexpected increase in foreign manpower costs while bidding for projects. 
"Because the costs have increased beyond their expectation at that point in time when they bid for these contracts, should we or should we not pass legislation to facilitate the sharing of these additional costs?" he asked the House. 
"This is to ensure that no one single stakeholder group in the construction industry bears a disproportionate share of the burden imposed by Covid-19," he added. 
All long-term pass holders from India and Bangladesh, from which Singapore takes most of its construction workers, have been banned from entering or passing through here after both countries experienced a surge of coronavirus infections. 
Besides these latest amendments to the law, the Government has also tried to reduce the impact of these border restrictions through other support measures, such as increasing the foreign worker levy rebates from S$90 a month for each worker to S$250 from May to December this year. 
Mr Lee said that the number of work permit holders in the construction sector has dropped by about 15 per cent and this number is likely to fall in the months ahead. 
Construction manpower costs are rising at the same time, with median wages in March increasing by 15 to 30 per cent compared with pre-pandemic times. 
The latest amendments cover:
Contracts for construction work as these generally involve structural works and take a longer time to complete

Contracts inked before Oct 1, 2020, since companies may not have fully priced in foreign manpower costs increases before this date due to the substantial waivers and rebates from the Government 

Wage fluctuations that occur between Oct 1, 2020 and September 30, 2021, which may be extended
They exclude projects that have been completed or were terminated.
The amended provisions also state that construction firms must make a "reasonable attempt" to negotiate a contract sum with the other party before asking for appointed assessors under the Covid-19 (Temporary Measures) Act to decide on the amount to be adjusted. 
Mr Lee encourages all parties affected by the pandemic to negotiate with each other "in good faith, before triggering the adjudicatory process". 
"Construction projects involve many parties, often in long interlocking contractual value chains, and if one goes down, the entire project may be put at risk.
"Moreover, many of the developers and contractors in the construction sector have long-term relationships."
During the debate, Members of Parliament (MP) brought up several areas of concern, including the impact on property prices, whether it is possible to source for more workers from other countries, and Singapore's over-reliance on low-skilled and low-wage foreign labourers. 
Given that some of the contracts that could see an increase in adjusted value are for government projects such as the building of new Housing and Development Board (HDB) flats, Leader of the Opposition Pritam Singh asked whether any adjustment in prices of HDB contracts would affect homebuyers.
To this, Mr Lee said that existing contracts for new HDB flats would be for Build-To-Order (BTO) flats that have already been sold, so there would not be any price increases for those flats. 
However, Mr Lee acknowledged that new BTO contracts will cost more as a whole, but these amended laws are not a factor in determining BTO prices since the flats are not priced to cover construction or land costs. 
On a related note, Nee Soon Group Representation Constituency (GRC) MP Louis Ng asked about the potential impact that adjustments made to government contracts would have on state coffers.
Mr Lee replied that government agencies still need to maintain fiscal discipline while it shares some of the cost burden.
Assessors appointed to decide on the amount to be adjusted in construction contracts would consider the amount of government support already provided, such as foreign worker levy rebates, and determine a just and equitable outcome, he noted. 
Mr Ng and Kebun Baru MP Henry Kwek also asked whether the Government would consider allowing the construction sector to hire more work permit holders from a more diversified list of source countries. 
The Building and Construction Authority has now relaxed rules to allow construction companies to recruit workers from China.  
While the Government is prepared to consider various options, Mr Lee said that it has to consider the Covid-19 situation in these countries and the construction industry's demand for workers from such source countries. 
"Adding more sources may not necessarily be the solution, as the pandemic seems to be worsening globally." 
Associate Professor Jamus Lim, Workers' Party MP for Sengkang GRC, as well as Non-Constituency MP Leong Mun Wai from the Progress Singapore Party also said that the construction sector relies too much on low-wage foreign workers and should be looking to increase its productivity. 
Mr Leong asked whether relief measures given to firms could come with conditions where they are required to accelerate their plans to embrace greater automation.
Mr Lee then said that the sector has been undergoing such transformation since the launch of its Industry Transformation Map in 2017.
In response to the new amendments, the Real Estate Developers' Association of Singapore (Redas) said that developers have been bearing the heavy burden of supporting their main contractors and other partners by extending their schedule and sharing their costs. 
While it appreciates the latest changes and is sympathetic to the challenges contractors are facing, Redas said that developers suffer added costs in the form of extra property taxes, land holding costs, as well as additional bank interests incurred because payments collected have been delayed.
"We would therefore appreciate the Government's understanding that property developers are also badly affected by disruptions to construction timelines, rising construction and other related costs, which have escalated significantly in recent months," a Redas spokesperson said. 
The association added that the Additional Buyer's Stamp Duty, which property developers may not be able to claw back for failing to sell all units after five years of acquiring land, as well as the damages they may have to pay to buyers for delivering the completed units later than the stated possession date — would all weigh heavily on their readiness to bear the cost-sharing burden.