Couple in viral video fined S$2,700 for insulting, abusing elderly man
SINGAPORE — The couple caught insulting and abusing an elderly man in a video that went viral online were fined S$2,700 on Friday (Aug 11), after they pleaded guilty to their offences.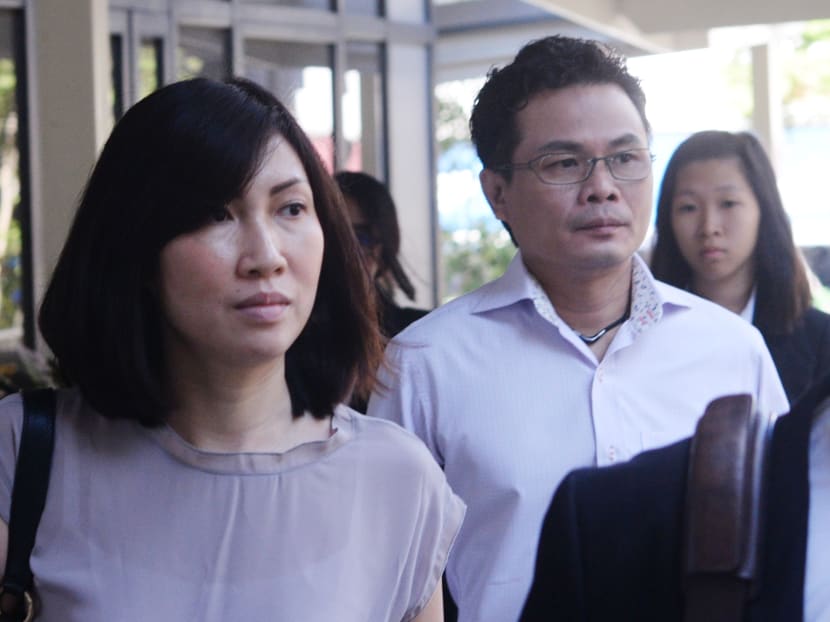 SINGAPORE — The couple caught insulting and abusing an elderly man in a video that went viral online were fined S$2,700 on Friday (Aug 11), after they pleaded guilty to their offences.
The incident happened at a Toa Payoh hawker centre in April.
Chow Chuin Yee, 45, was fined S$1,500 after admitting to one count of using criminal force on Mr Ng Ai Hua, 76. Another count of causing public nuisance was taken into consideration during sentencing.
Tay Puay Leng, 38, was fined S$1,200 for one count of harass-ment.
The court heard that on the evening of April 21, the couple had gone to the hawker centre at Block 210, Toa Payoh Lorong 8, for dinner.
A dispute arose when Tay refused to share the table — which can seat five — with Mr Ng, who had approached the table carrying his dinner.
While arguing with Mr Ng, Tay used vulgarities on him. She called Chow, who was away buying his dinner, for help.
When Chow arrived, he pushed Mr Ng's back forcefully, and the older man had to break his fall by holding onto the table.
Deputy Public Prosecutor Kumaresan Gohulabalan said that Chow was "behaving in a thuggish fashion" by barging into Mr Ng even before speaking to him.
Mr Ng then left to sit at another table after the dispute with the couple.
A member of the public, who had witnessed the altercation, approached Chow and told him that he should not have pushed Mr Ng.
Chow reacted angrily, pushing some bowls and plates off the table onto the ground.
The couple's behaviour, filmed by a bystander, was posted on Facebook and the video went viral. An online petition calling for civil action against the couple gathered more than 8,000 signa-tures.
Chow and Tay were arrested by the police on April 25.
On Friday, defence counsel S Balamurugan, who was representing the couple, said in mitigation that his clients were aware their actions were "shameful, selfish, and appalling".
In sentencing the pair, District Judge Kan Shuk Weng said that Tay's actions were "totally uncalled for, and unacceptable". There was also "no justification" for Chow's "irreprehensible" actions, she added.
Both were expressionless when their sentences were delivered.
In the courtroom on Friday were also staff members of Novel Learning Centre, where Chow is a director, and Tay, a teacher. 
Speaking to the media as they left the court, the couple said that they were sorry for their actions.
Tay sounded emotional when she said she was "relieved that it is over". She added that during the time of the offence, she was "going through a very tough time" caring for her bedridden grandmother who was diagnosed with advanced dementia.
"I didn't mean to dispute with Uncle (Mr Ng), but I just snapped that day," Tay said.
Choking back tears, she said that she hopes to apologise to Mr Ng in person some day.
Chow told reporters that he has been trying to lay low after the incident, adding that it was "difficult" to go about their daily routines without having others "pointing fingers at us".
"There's no excuse for my behaviour… after watching the video, I feel disgusted with myself. I would like to apologise not only to Mr Ng, but also to the general public … to the netizens, that my behaviour has tarnished Singaporeans," he said.
For using criminal force on Mr Ng, Chow could have been jailed up to three months, and/or fined up to S$1,500.
For harassing Mr Ng with abusive language, Tay could have been jailed for up to six months, or fined up to S$5,000, or both.