Covid-19: All nightlife spots that pivoted to F&B must close for 2 weeks to curb community spread of KTV cluster
SINGAPORE — Nightlife establishments that have pivoted their business to food and beverage (F&B) will be required to suspend operations immediately for two weeks, Finance Minister Lawrence Wong said on Friday (July 16).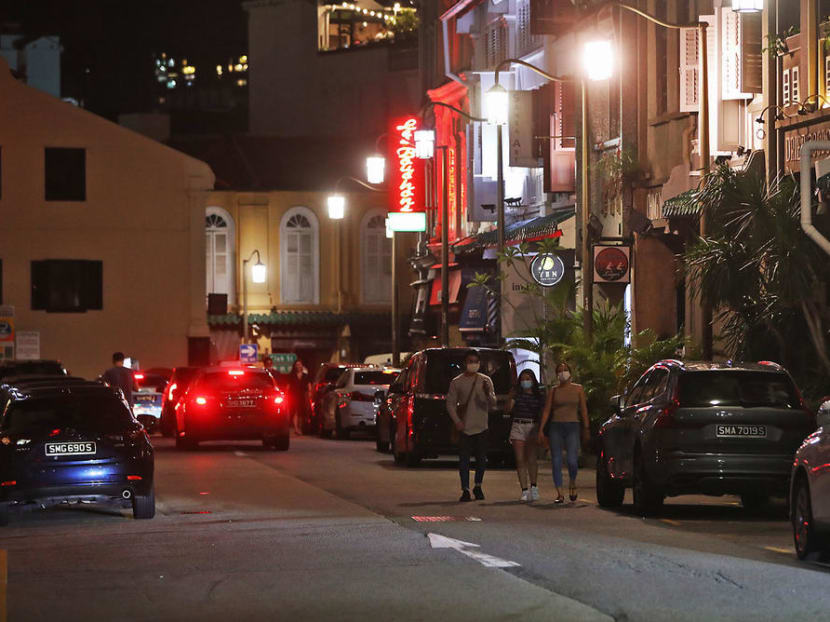 Since October 2020, nightlife operators have been allowed to switch to food and beverage outlets
All such operators are required to cease operations for two weeks from Friday, Finance Minister Lawrence Wong said
This is to help stop community transmission from the KTV Covid-19 cluster
SINGAPORE — Nightlife establishments that have pivoted their business to food and beverage (F&B) will be required to suspend operations immediately for two weeks, Finance Minister Lawrence Wong said on Friday (July 16).
The suspension will apply from Friday to July 30, the Ministry of Sustainability and the Environment (MSE) said in a press release, noting that these establishments had been allowed to make the pivot since late last year.
"This suspension of operations is intended to break community transmission from the latest cluster of Covid-19 cases involving nightlife establishments," MSE added.
Mr Wong, who co-chairs the multi-ministry task force handling Singapore's response to Covid-19, said that some of these establishments "have flouted the rules" and the Government "will take some action against them". 
"As an additional precaution, we will also suspend all of the different establishments for two weeks," he said, adding that illegal gatherings are "not new".
During this two-week period, the Government will test the staff members and workers at these places and will inspect all the establishments' safe management measures and protocols, he said.
"We will only allow them to resume when satisfied that safe management measures are well in place," Mr Wong said.
"I think the onus is very much now on the (Singapore Nightlife Business) Association and its members to show us that they can get their act together and behave properly," he added.
MSE said that outlets will only be allowed to resume operations after July 30 if they pass the inspection and receive approval from the Singapore Food Agency (SFA) to resume operations. 
Some of the requirements to be met include all employees having undergone polymerase chain reaction (PCR) tests for Covid-19 and agencies having conducted checks and are satisfied that safe management measures protocols are in place.
This includes measures to ensure that:
Patrons will adhere to prevailing group size limits 

Groups of patrons are seated at least 1m apart 

There will be no intermingling between patrons and the staff members 

There will not be singing, playing of loud music and any other forms of entertainment 

SafeEntry check-in scanners are in place for both entry and exit to facilitate contact tracing
"All pivoted nightlife establishments must comply strictly with this suspension. Any outlet found to be operating during this period will face firm enforcement action, including prosecution and the permanent cancellation of licences for food, public entertainment and liquor," MSE said.
It added that given the recent "flagrant" violation of safety regulations by a number of nightlife operators that have converted their business, all applications from such operators seeking conversion will be suspended with immediate effect.
The suspension of applications will be in force for three months, pending further review. 
Mr Wong said that some people have asked why some hostesses working at certain premises were allowed to travel to Singapore and he replied that these "ladies were in Singapore earlier, either on valid work permits, or visit passes sponsored by Singaporeans".
"For example, the index case was sponsored by a boyfriend, a Singaporean, and at that time, Vietnam was a low-risk country. We had a unilateral opening for Vietnam travellers, so she came in, sponsored by her boyfriend on a visit pass. These visit passes are typically for family reasons and arrivals were tested. 
"It's clear they didn't bring in the virus." 
He also said that these hostesses caught the virus while in Singapore. 
"How and exactly what happened, it's probably through one of the cryptic cases that still has been circulating within the community but they caught it in Singapore, and that's how it spread to the rest of the KTV operations." 
The problem that has arisen, however, is that these pass holders, seemingly on valid passes — be it work process or social visit passes — have breached the rules by moonlighting as hostesses, Mr Wong said.
He added that the Government will take enforcement action against them and also against any of their sponsors in Singapore who may not have given accurate information to the Immigration and Checkpoints Authority in their applications.
Mr Wong was also asked why there was not more enforcement taken by the authorities to prevent such incidents from happening after illegal gatherings of large groups partying were found in Golden Mile Complex last year, since such cases should have made the authorities aware that regulations alone would not be enough to keep such incidents from occurring.
He responded by saying that enforcement agencies continue to work very hard across the whole of Singapore.
"It's not just in places like these. We know of illegal gatherings outside of KTV lounges. It has happened at homes, in hotels, in restaurants, even in warehouses," Mr Wong said.
He added that the enforcement agencies "are stretched, they are working round the clock, pursuing every lead that they receive but the illegal activities have not stopped".
Mr Wong said that the authorities "will pursue and take very firm and tough enforcement action against anyone" breaching the rules.