Covid-19 clusters at malls: Some retail workers worry about getting infected, hope to get priority for vaccine
SINGAPORE — When the Covid-19 cases in the community stabilised at the end of last year, staff members at Shunji Matsuo Hair Studio had, like many others, started to let their guard down, believing that the situation here had mostly returned to normal.
Some retail workers are worried about getting Covid-19
They continue to face customers daily despite the tightened restrictions
Retail operators and workers hope they can get vaccinated early
The added protection from the vaccine will give them peace of mind, they said
SINGAPORE — When the Covid-19 cases in the community stabilised at the end of last year, staff members at Shunji Matsuo Hair Studio had, like many others, started to let their guard down, believing that the situation here had mostly returned to normal.
That was until last month, when a customer they served at their salon in Ngee Ann City tested positive for the coronavirus.
The employee who served the customer on April 25 had to be quarantined, while the rest of the staff members were swabbed and placed on phone surveillance by the Ministry of Health (MOH).
The hair salon's director Tay Tat Sin, 39, said that though none of them got infected, the episode was a wake-up call for the hair salon to be more careful, especially now that there are more coronavirus cases here in the past month or so.
With a few malls now having clusters of infections, some retail workers here are starting to feel worried that they may get the infectious disease as they continue to serve customers on a daily basis.
As of Thursday (May 27) afternoon, the Covid-19 cluster at Jem and Westgate malls in Jurong East has the second-largest active cluster with 60 cases so far, after the Changi Airport one. The two malls have closed temporarily to curb the spread of the disease there.
White Sands mall in Pasir Ris has another cluster that started with a worker at Wok Hey food stall, and Jewel, the retail and leisure complex at the airport, is also shut to the public temporarily.
People who have been to all four malls have been offered free testing for Covid-19 by the Government.
Because of this, some retail workers who spoke to TODAY are hoping to be prioritised for the vaccination exercise soon because the added protection would give them peace of mind as they go about their work.
So far, the Covid-19 vaccine has been offered to only frontline workers such as those in healthcare or who are hawkers and teachers, as well as those above the age of 40.
MOH said last week that the vaccination programmes will now be rolled out in five-year bands and progressively move to younger age groups.
WORRIED ABOUT GOING TO WORK
In the meantime, some workers are unnerved because of the various clusters in the community.
Ms Bahirah, 22, who goes by one name and works at shoe store Clarks at Ion Orchard mall, said: "Right now, it's not a lockdown yet so we still have to go out every day. It's very scary and we have no choice."
This is also the case for one retail worker from another store in Ion who cannot be named because she is not authorised to speak to the media. 
Though the worker has already received her first of two shots of the Covid-19 vaccine, she told TODAY that she is still worried about getting infected, especially since there are new virus strains that are more infectious.
Both workers said that they would prefer that the authorities impose a lockdown, similar to the circuit breaker period last year when non-essential activities and business have to stop.
This would help to keep retail workers safe and save on operation costs, given that sales have fallen significantly since tighter movement restrictions were imposed earlier this month, they reasoned. 
If a lockdown is not possible, they hope that the authorities would consider allowing retail workers to get to the front of the queue for the Covid-19 vaccination so that they may be better protected as they continue to come in contact with customers.
Retail operators who spoke to TODAY would also like their staff members to be prioritised for the vaccine.
Mr R Dhinakaran, president of the Singapore Retailers Association, said that many of its members have indicated that they want their customer-facing employees to get vaccinated as soon as possible.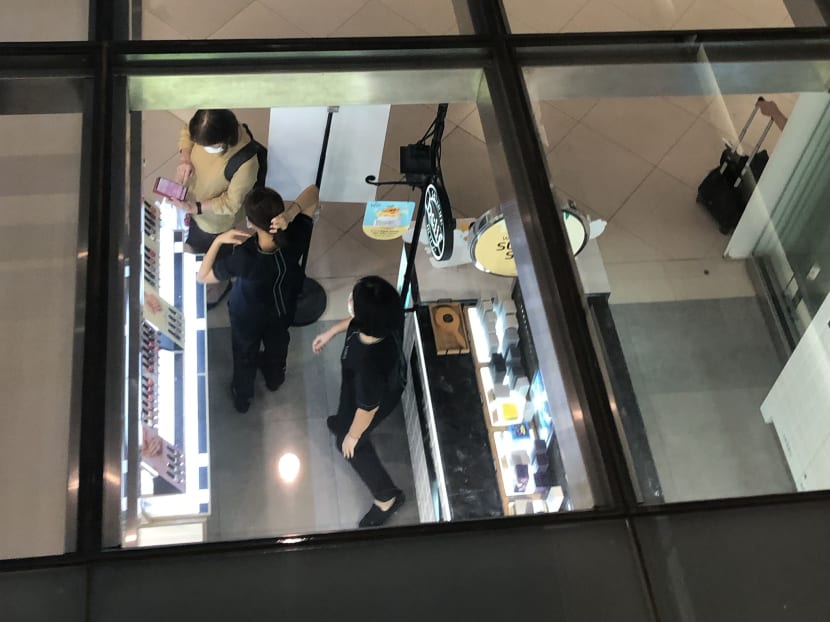 Mr Tay, Shunji Matsuo's director, said that he has appealed to the authorities twice for his employees to get vaccinated. However, he was rejected both times. 
Right now, an appeal to be vaccinated earlier may be made only by Singapore citizens and permanent residents with urgent needs, such as those who need to travel on compassionate grounds, or for work or study purposes where working or studying remotely is not an option. 
Mr Tay said that he has considered closing his salon in Ngee Ann City during this period, but the contract with the landlord states that he has to operate every day. He cannot cut his operating hours either.
In response to TODAY's queries, Mr Dhinakaran said that the association had asked the Ministry of Trade and Industry last year if retail workers can get priority for the Covid-19 vaccine, but was told that it was too early for such discussions to take place as the programme had not yet begun.
The association has since submitted a second request a week ago and is waiting to hear back from the authorities.
TAKING PRECAUTIONS AS BEST PROTECTION
Among the 13 retail operators and workers interviewed by TODAY, many said that they have put in place robust safety measures to protect themselves and their customers.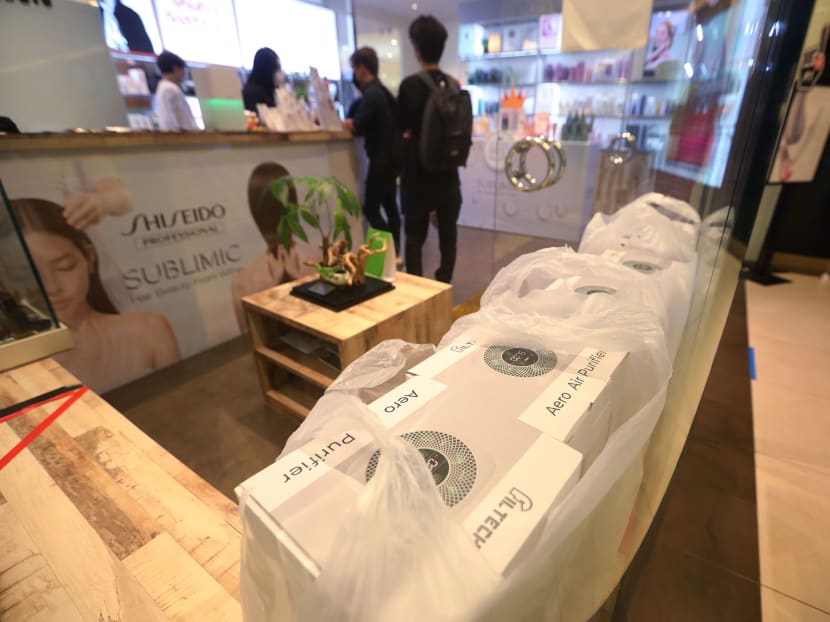 A spokesperson for Valiram Group, which manages brands such as Bath and Body Works, said that it adheres to all the standard operating procedures put in place by the governments of the countries in which it operates.
She added that the group, which has its headquarters in Kuala Lumpur, Malaysia, is also "guided by the landlords of malls we operate in and retail associations we are a part of".
Nail technician Ayumi, 33, who goes by one name and works at Nailz Haus in IMM mall in Jurong East, said that she is not afraid of getting infected even though IMM is close to Jem and Westgate.
That is because she and her colleagues make sure to sanitise their work stations frequently. She also goes straight home after work and tries not to interact with too many people.
Ms Evangeline Seah, 41, who owns FE The Nail Lounge at Raffles City Shopping Centre on North Bridge Road, ensures that employees adhere to hygiene measures such as wearing gloves, sanitising the shop and taking their temperature regularly. 
"Since we re-opened after the circuit breaker last year, we have been cleaning a lot. We clean after every customer," she said.
Like some of the workers interviewed, Ms Ayumi from the nail salon at IMM said that they would rather the stores remain open because they are more concerned about losing out on their salaries than being sick.
"We still have to earn money to provide for our families and pay for everyday expenses. If the shop remains open, at least we still have a salary," she said in Mandarin.