Covid-19: This hotel admin executive learnt bed-making as part of govt programme to diversify skills
SINGAPORE — When Covid-19 hit the hotel industry last year, Parkroyal Kitchener operations executive Jonathan Chan was keen to remain in his job.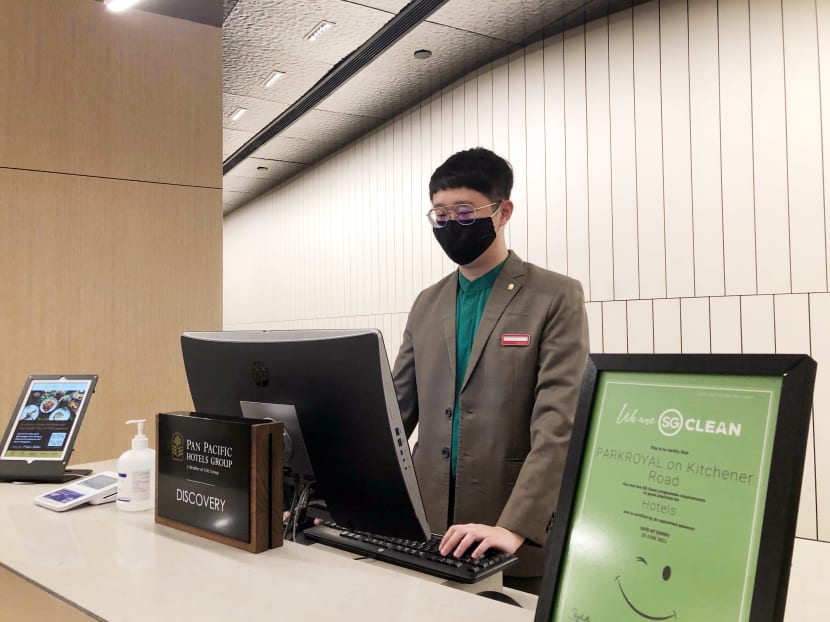 Despite Covid-19, hotel operations executive Jonathan Chan was keen to stay in his role
His workplace arranged training through Workforce Singapore to diversify his skills 
This is an example of how companies can retain employees, Manpower Minister Josephine Teo said
More than 10,000 firms and 55,000 workers have benefitted from Workforce Singapore's initiatives
SINGAPORE — When Covid-19 hit the hotel industry last year, Parkroyal Kitchener operations executive Jonathan Chan was keen to remain in his job.
The 32-year-old decided that he would help his employer weather the pandemic by using additional skills he learnt under a programme run by Workforce Singapore (WSG) to help hotels upskill their workers.
Before Covid-19, his role was solely administrative and centred around the hotel's finances and front desk.
Under the WSG programme, Mr Chan has picked up more skills on the job such as housekeeping, where he learned to make beds, for example.
This has made him even more valuable to the hotel, given that many foreign staff members returned to their home countries during the pandemic, leading to a shortage of manpower.
"Being able to cross over to other departments to help during their busy period, which is during our lull period, is very essential," he said.
For example, he has been able to fulfil many roles by inspecting rooms and checking in guests at the hotel on the same day.
Now that he can do more at the hotel, Mr Chan enjoys the way that no two days are the same, and he gets to interact with people from all walks of life.
He is one of 1,400 workers across more than 55 hotels that came under the WSG programme to help hotels train and upskill workers since it began in November 2019.
The Jobs Redesign Reskilling programme helps workers whose jobs are being redesigned and enhanced due to the implementation of new technology to undergo training, which includes in-house classroom training or on-the-job training, WSG said.
Hotels can receive up to 90 per cent of the course fee funding and salary support for the duration of the training, which is capped at three months.
HOW EMPLOYERS CAN BETTER ATTRACT WORKERS
Mr Chan was featured in the latest job situation report released by the Ministry of Manpower on Friday (March 12), as an example of an employee who stayed on and picked up new skills during the pandemic.
Speaking at a media briefing at Parkroyal Kitchener, Manpower Minister Josephine Teo highlighted several ways in which employers may improve their hiring processes to hire more workers and retain them.
First, she said that successful employers have invested in topping up the skills of employees rather than look for those with pre-existing skills and industry experience.
Mrs Teo added that these firms will plug the skills gap by seeking government-supported on-the-job training, or have their own in-house initiatives.
"These kinds of employers tend to find greater success," she said. "Those that are looking for a 100 per cent fit… in a landscape where there is so much transformation in the job nature and jobseeker interest, I think those kinds of employers will find it very difficult."
Second, she said that employers have to look beyond wages, but also take note of jobseekers' higher aspirations.
"(Jobseekers) have high aspirations not just for themselves, but they are looking to belong to an organisation that they consider as doing something meaningful, possibly something impactful to society."
She added that employers will be more successful if they are able to convince jobseekers and potential recruits of their career prospects in a given role, the company's overall vision and how the job will evolve.
Lastly, she said that employers also have to rethink job descriptions, since it is often the first point of contact between the jobseeker and the employer.
"If it is articulated in such a way as to not give the prospective recruit a complete picture, then you won't even get any applicants." 
To increase the pool of applicants, she said that employers should consider indicating that they are open to applicants from other sectors. Employers can also reconsider if they want to indicate "so many years of experience" for entry-level job roles.
"Younger applicants or people with fewer years in that sector may therefore think (the employer) will not even consider them," she said "As a result, they narrow the pool in which they can choose."
JOB INITIATIVES BY WSG AND PARTNERS
In the job situation report, MOM said that in 2020, WSG and its partners supported more than 10,000 employers from a broad range of sectors, a 45 per cent increase compared to 2019.
This has, in turn, helped 55,000 resident workers find jobs, traineeships and attachments under WSG and its partners' initiatives.
Through MOM and WSG's efforts last year:
The career conversion programmes for new mid-career hires benefitted 1,500 employers, a 10 per cent increase from the 2019 figures

More than 35,600 employers have posted opportunities on the MyCareersFuture portal, a 54 per cent jump from 2019

More than 140 events, such as career fairs and job interviews, have been organised to help employers access talent, a 20 per cent rise from 2019
The Jobs Redesign Reskilling programme for the hotel industry will also be better streamlined this year, with skills training for 16 white-listed job roles created after consultation with hotels. These roles will have recommended technology implementations and a summary of skills and competencies that participants can learn.
They include:
Engineer and sustainability lead, who will head sustainability initiatives and monitor their performance

Kitchen officer, who will support hygiene audits and monitor stock for kitchen supplies and food

Human resource generalist, who will work with hiring managers to review hiring needs and requirements