Covid-19: Loudhailers used by NParks at East Coast Park to curb crowding, but some still break rules
SINGAPORE — Crowds at the East Coast Park beach appeared to be somewhat smaller on Sunday (July 26) amid a strong police presence and National Parks Board (NParks) safe distancing ambassadors with loudhailers, but some beach-goers still flouted the rules.
Loudhailers warned beach-goers to stay in groups of no more than five people
Some groups admitted to breaking the rules
Other groups obeyed the rules, rejecting requests by some family members to attend
Police patrolled the East Coast Park beach to enforce safe distancing rules
SINGAPORE — Crowds at the East Coast Park beach appeared to be somewhat smaller on Sunday (July 26) amid a strong police presence and National Parks Board (NParks) safe distancing ambassadors with loudhailers, but some beach-goers still flouted the rules.
When TODAY visited the area at about 5pm on Sunday, the NParks ambassadors were patrolling the more crowded spots with loudhailers blaring out a pre-recorded message on loop: "For your safety, groups of more than five people are not permitted. Intermingling is not allowed."
An NParks spokesperson noted that the loudhailers had been in use since last weekend, which marked the start of a one-week school holiday.
The safe distancing ambassadors were backed by a strong police presence.
Near East Coast Lagoon Food Village, for instance, a police vehicle was parked prominently on the park's cycling path as more than five police officers were seen patrolling the area surrounding the vehicle.
An NParks safe distancing ambassador said that there was still a substantial crowd at the beach on Sunday before a downpour broke up the crowds at about 4pm.
But by 5pm, the beach started filling up with groups laying their picnic mats on the sand as bicycle rental queues grew, although beach-goers were able to comfortably stick to the 1m distancing rule between groups by then.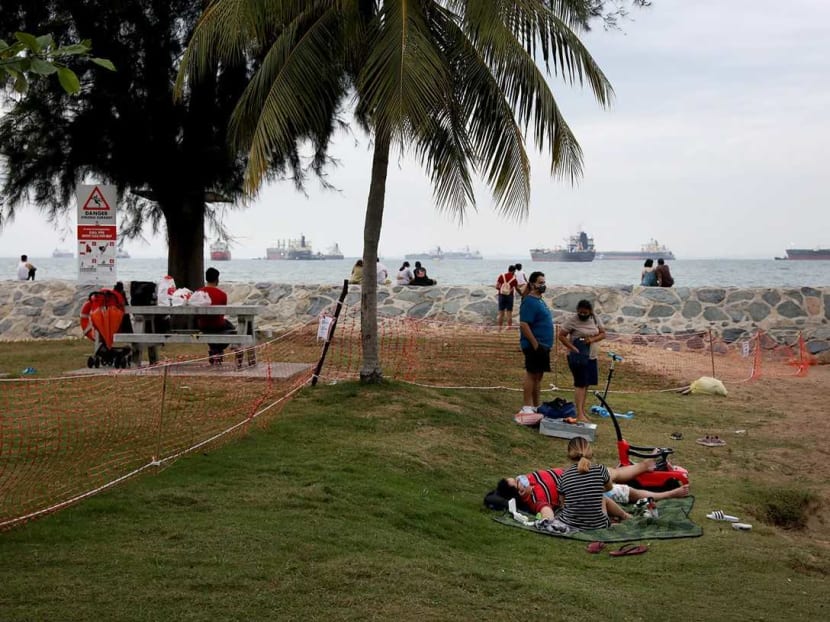 The crowd situation came under the spotlight when Mr Masagos Zulkifli, then-Minister for the Environment and Water Resources, said on July 21 that people may be getting complacent about staying safe during the ongoing coronavirus pandemic.
Noting that beaches at East Coast Park and Sentosa were "extremely crowded" last weekend, he said that safe distancing ambassadors and enforcement officers encountered many groups comprising more than 10 people who were from extended families, or were friends.
Under safe distancing regulations, people may gather only in groups of up to five, with 1m distancing between groups.
Mr Zulkifli, who is now Minister for Social and Family Development and Second Minister for Health following Saturday's Cabinet reshuffle, said that a good number did not wear masks even when reminded, as they pointed out that they were eating and drinking.
It prompted the minister to remind the public that extended exposure among people who do not wear masks and in crowded places increases the risk of contracting Covid-19.
GROUPS OF MORE THAN FIVE AT THE BEACH
The congregation of groups of more than five was still a problem on Sunday.
Two out of eight groups of park-goers interviewed by TODAY confessed that they had broken the rule, and tried to get around it by sitting farther apart and having friends or family members stray from the group whenever enforcement officers were nearby.
One was an extended family of 12, comprising two siblings' families with six children in total.
They had gone to the beach because one of the siblings, a 33-year-old man, had contracted cancer and had just completed the first round of chemotherapy. He wanted to spend some quality time with his family and three children by taking them out to cycle.
His sister, a 37-year-old housewife, admitted that it had been hard to ensure that all six children kept strictly to a 1m distance from other beach-goers as they went on their own to play.
They came with two mats and placed them slightly apart to give the impression that they belonged to two groups of people.
She said that when they arrived at 3pm, the beach was "very crowded". During the first hour they were there, she heard the loudhailers repeating the same message more than five times.
It prompted her to think about adhering to the rules, but her family was only able to stick to the 1m rule on one side. Another group had encroached into their 1m circle on the other side.
Another group breaking the rules was a group of six. A 46-year-old cargo officer living in Tampines had taken his family of five to the beach, and one of his daughters came with a friend.
He said he decided to still go ahead with his plans because Sunday was the last day of his children's school holiday. "They had a one-week holiday and they were home every day. Today was the only exception," he added.
Some beach-goers stuck to the rules, noting that it is best for everyone's health.
Ms Selvi Suppiah, a teacher at St Stephen's School, said that she had to reject two family members who had wanted to tag along with her group of four, which included a toddler.
"I know they want to come. Family bonding is there. But then, they must also know that it is the Covid-19 period. We have to take measures and have to be responsible," the 52-year-old said.
She also restricted the time that her family spent cycling to one to two hours, to cut down on any possible exposure to the disease.
Based on TODAY's observations, beach-goers stuck to the rules on wearing masks.
In a statement on Sunday, NParks said that it had "segmented popular beachfronts with designated entry points at East Coast Park, in front of Marine Cove and East Coast Lagoon Food Village, to ensure safe management measures can be observed".