Covid-19: New SAF mobile swab station allows quick, safer testing of migrant workers
SINGAPORE — It takes only 15 minutes to set up and disassemble, can be operated by three people, and cuts the risk of infection for front-line crew conducting Covid-19 swab tests.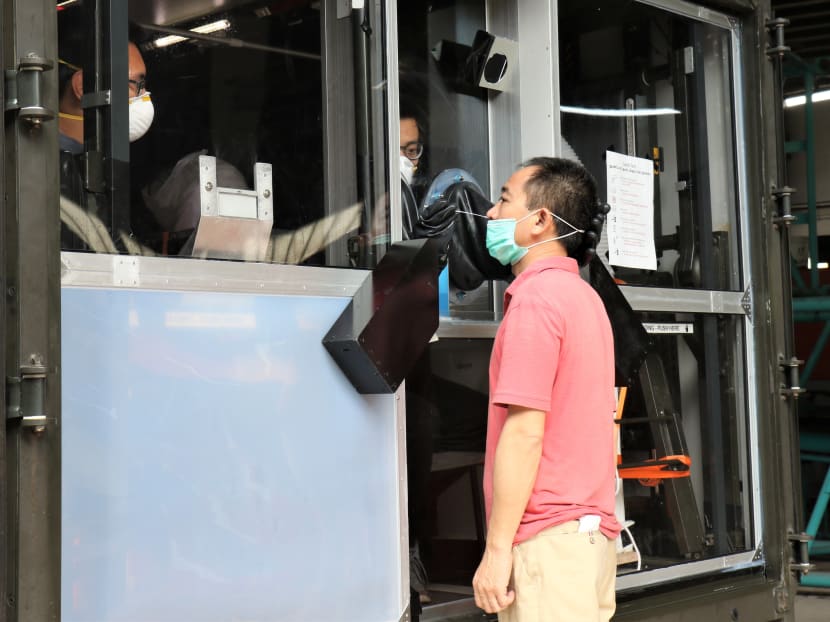 SINGAPORE — It takes only 15 minutes to set up and disassemble, can be operated by three people, and cuts the risk of infection for front-line crew conducting Covid-19 swab tests. 
A mobile swab station, converted from a military cross-country ambulance by the Singapore Armed Forces (SAF), has been deployed to non-purpose-built migrant workers' dormitories since Monday (May 11). The vehicle has so far been dispatched to three dormitories, the locations of which were not revealed. 
Dormitories that are not purpose-built include "factory-converted" dormitories (which are partially converted from industrial or warehouse developments), construction temporary quarters, and private residential premises.   
The mobile swab station, which was up and running three weeks after it was conceptualised in April, was developed by the SAF, the Defence Science and Technology Agency (DSTA), and technology, defence and engineering group ST Engineering.
Designed to increase safety for medical swab teams and limit their exposure to the coronavirus, it houses a tester inside the vehicle, with a transparent screen separating him or her from the migrant worker being tested outside. The screen is similar to the one used by the Singapore General Hospital's transparent booth system that protects healthcare workers doing swab tests from the risk of infection.
The station obviates the need to transport patients who have potentially contracted the virus to separate medical facilities for testing, as this can be done on-site. 
While in the air-conditioned station, the tester administers the swab test through the gloves attached to the screen. 
The station also features a ventilation and filtration system that provides the cabin with positive air pressure, allowing only clean air and aerosol droplets to enter.
It can be deployed in half the time needed to set up a conventional swab test station, which usually takes about 30 minutes. 
The team is working on two other prototypes, which are due to be ready by the end of next month. One involves a swab station being mounted on an SAF multi-role utility vehicle, which can be used for various purposes such as transporting items or as an ambulance. The other prototype features three swab stations being housed in a 20-foot container.
SAFER, MORE EFFICIENT 
The roll-out of the mobile swab station comes as Singapore continues an aggressive campaign to test migrant workers, who are typically housed in cramped dormitories. 
Migrant workers in dormitories continue to form an overwhelming majority of Covid-19 cases in the country, which stood at 25,346 as of Wednesday. 
An inter-agency task force tackling the outbreak at the dormitories plans to expand swab tests in non-purpose-built dormitories, the Ministry of Defence (Mindef) said in a statement on Wednesday. 
On Tuesday, National Development Minister Lawrence Wong said that all 323,000 migrant workers in dormitories would be tested for Covid-19, with around 3,000 tests being done daily at present. So far, about 10 per cent of these workers have been tested. 
Mindef said swab tests were an integral part of the fight against the disease, as it determines whether a person has been infected. "Swab tests are also highly risky, as they are done in proximity to the patients," the ministry said.
Captain (Dr) Ivan Low, 26, a medical swab team leader working in the mobile swab station, told reporters that the station makes testing more efficient, as the tester is the only medically trained staff member needed on-site.
In a typical swab operation, more medical crew, such as nurses and nursing assistants, function as swabbing assistants, he said.
Apart from the tester, the mobile swab station is operated by a driver and another crew member whose role is to collect swab samples after the tests. 
"My team feels much safer operating from within a clean environment. This is made possible by the ventilation and filtration system, which essentially transforms the cabin into a giant N95 mask," said Capt (Dr) Low.
Separately, Army engineers have also developed a smartphone application that allows staff members to scan the work passes of migrant workers registering for swab tests, cutting the average time needed for registration from four minutes to less than one.
It also minimises error by automating the extraction of data and storing the information in a secure central database.
Since last Saturday, Mindef said it has deployed 10 scanners to 38 sites islandwide, registering about 2,000 patients. It did not disclose where these sites are. 
Mr Sebastian Lim, 45, head of capability development for wheeled vehicles at DSTA, said that the mobile scanners would be integrated into the mobile swab station to offer a "one-stop solution" by housing the tests and registration in one vehicle.
Right now, scanners used to register migrant workers are located outside the station. Mindef did not say when the integration would be done.