Covid-19: New visitors with recent travel history to S.Korea's outbreak epicentres to be barred from entering, transiting through Singapore
SINGAPORE — From Wednesday (Feb 26), new visitors who have travelled to Cheongdo county or Daegu city in South Korea in the past 14 days will not be allowed to enter or transit through Singapore.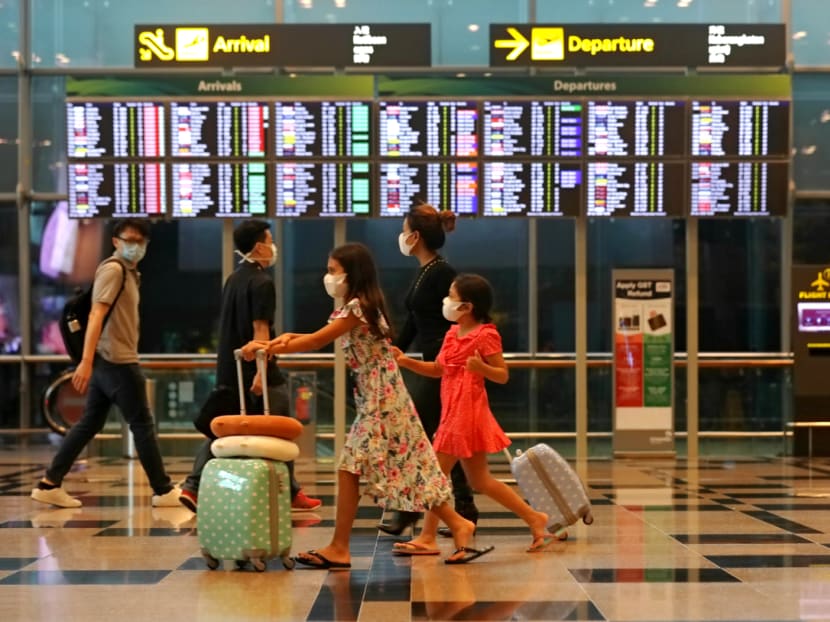 SINGAPORE — From Wednesday (Feb 26), new visitors who have travelled to Cheongdo county or Daegu city in South Korea in the past 14 days will not be allowed to enter or transit through Singapore. 
Returning Singapore residents and long-term pass holders who have been to either of the two places in the past 14 days will be issued with a stay-home notice that will require them to remain in their homes at all times for 14 days.
A multi-ministry task force dealing with the Covid-19 situation here announced these moves on Tuesday.
It noted that these two places have seen the bulk of Covid-19 infections in South Korea, which is now the country with the highest number of confirmed cases outside China.
These measures will take effect from 11:59pm on Tuesday.
As of noon on Tuesday, South Korea had reported 893 confirmed cases of Covid-19 infections.
Of these, 501 are linked to the Shincheonji Church of Jesus in Daegu, while 113 are linked to Daenam Hospital in Cheongdo.
Another 246 are under investigation and are not linked to either cluster.
South Korea has designated both places as "special care zones" and raised its alert level on the Covid-19 outbreak to the highest one of "serious".
The governmental task force here said in a statement: "With the rapidly evolving situation in these regions, visitors and returning travellers from Daegu and Cheongdo pose a heightened risk to Singapore." 
As announced on Sunday, the Ministry of Health advises travellers to avoid all non-essential travel to Daegu and Cheongdo, and to exercise caution when travelling to South Korea.
ENTRY APPROVAL REQUIRED
Starting Wednesday at 11.59pm, all work pass holders and their dependants with a travel history to Daegu and Cheongdo within the last 14 days will need to obtain the Ministry of Manpower's (MOM's) approval before they begin their journey to Singapore.
This is regardless of the nationality of the work pass holder, MOM said in a press release on Tuesday evening.
This requirement applies to existing work pass holders now out of Singapore and in-principle approval holders who have yet to enter Singapore.
"Upon arrival in Singapore, all affected work pass holders will be placed on a mandatory 14-day stay-home notice," MOM said.
"Employers will be required to declare to MOM that they have arranged for suitable premises to house these returning employees for the duration of their stay-home notice when applying for entry approval."
The ministry warned that both employers and work pass holders must comply with this stay-home notice or risk the revocation of work passes and withdrawal of work pass privileges.
MOM added that employers are responsible for ensuring that their work pass holders on stay-home notice can obtain meals and other daily essentials.
"If the work pass holder is unable to make his own arrangements, the employer will have to make the necessary arrangements," it said.
"If support from employers is not forthcoming, work pass holders should report their difficulties to MOM."
It added that employers must apply for entry approval using an online form that will be available from 8am on Wednesday onwards on MOM's website.
Employers should inform their affected employees, including their dependants, not to make travel plans to Singapore until approval has been received from the ministry.
"The employers will be required to send the MOM approval letter to the employees who will need to show it to the airline staff upon check-in and at the ICA (Immigration and Checkpoints Authority) checkpoint upon arrival in Singapore."
'CAN'T AFFORD TO SHUT OURSELVES OUT'
While Singapore is doing everything it can to contain the spread of the virus, National Development Minister Lawrence Wong said that how the situation develops in other countries is a big unknown.
"There is a lot of uncertainty," Mr Wong said on Tuesday at a media briefing organised by the multi-ministry task force.
"If it is not contained well in other countries, including in countries where the health systems may not be of the same standard as what you see in developed countries, if the virus continues to spread in these countries, you may well start to see sustained widespread transmission of the virus around the world."
However, he questioned whether Singapore could afford to shut itself out from the world. "If the virus truly transmits everywhere in the world, we have to expect another wave of new imported cases coming into Singapore and we have to be prepared for that."
Mr Wong added there might well be a scenario where the virus becomes endemic in the human population, and that we have to learn how to live with it, while taking the necessary precautions.
"We really don't know what will happen because the situation is evolving so rapidly and it's so fluid. We continue to be alert and vigilant, and we call on all Singaporeans to do so," he said.
"There may well be, hopefully, some medication that can be promising by then, but at the same time, we have to keep calm and carry on with life, continue to live life as it is but with appropriate precautions," Mr Wong said, reminding the public again to uphold good personal hygiene.