Covid-19: No hassle with revised dining rules at F&B places but problems expected over weekend
SINGAPORE — Eateries looking to more people dining out and hoping to boost a struggling business are bracing themselves for the tension and confrontations ahead.
Up to five fully vaccinated persons from the same household may dine out together from Nov 10
Strict enforcement actions will be taken against anyone who pretends to be from the same household, the authorities said
Same for F&B places that do not conduct necessary checks 
At a few malls, TODAY observed most customers were dining alone or in pairs during lunch time on the first day
Some restaurant managers expect to face resistance when enforcing checks over the weekend
SINGAPORE — Eateries looking to more people dining out and hoping to boost a struggling business are bracing themselves for the tension and confrontations ahead.
Wednesday (Nov 10) was the start of a new regulation that allows up to five fully vaccinated people from the same household to eat together at food-and-beverage (F&B) establishments, and things looked relatively calm.
Most of the eateries TODAY interviewed did not encounter much trouble but the real test is the weekend crowd, they said.
A joint advisory from various government statutory boards on Wednesday said that the penalties for errant customers will be a fine, and immediate closures for F&B businesses, if either are caught breaking the rules.
This will apply even if they are first-time offenders.  
F&B establishments have the right to deny entry for customers who do not meet the requirements, the agencies said.
The warning, which was issued by Enterprise Singapore, the Housing and Development Board, the Singapore Food Agency, the Singapore Tourism Board and the Urban Redevelopment Authority, came two days after the Government announced the slight relaxation of rules for people dining out at F&B places, excluding coffee shops or hawker centres. 
Finance Minister Lawrence Wong, co-chair of the national task force against Covid-19, said during the announcement that F&B establishments would have to check the status of diners before they are seated and this would be "enforced strictly".
To a question on how restaurants would verify the addresses of children if they have no identification cards, he said that the Government would take a "practical approach" as adults with children are very likely from the same household.
On Tuesday, TODAY reported that some F&B outlets were saying they would check the National Registration Identity Cards (NRICs) of diners to verify if they are from the same household.
Aside from checking NRICs to establish proof of residence for groups of more than two, the latest joint advisory from the government agencies said that F&B businesses may also check a patron's Singpass mobile application.
Children without these forms of identification can be allowed entry based on a declaration of their place of residence, the advisory stated.
However, it warned that "strict enforcement actions" would be taken against anyone who pretends to be from the same household, as well as on business operators that do not do necessary checks.
Under the Covid-19 (Temporary Measures) Act, first-time offenders will face a fine of up to S$10,000 or be jailed up to six months, or both. 
WHAT F&B BUSINESSES SAY
On the first day of the rules taking effect, TODAY dropped by a few malls during lunch time: Jem and Westgate in Jurong East, Star Vista in Buona Vista and Lot 1 in Chua Chu Kang.
They were relatively quiet and diners were generally seen eating alone or in pairs at various eateries.
Of the eight F&B outlets that TODAY approached, half said that they received groups of more than two for lunch, but only two encountered groups that were not from the same household.
The managers from these two restaurants said the customers were told that they would not be able to sit together and they had to be placed at different ends of the restaurant.  
The rest of the restaurants said that they did not face objections from families when their staff members asked to verify that they were indeed from the same household.
However, the situation might very well change over the weekend when more customers are expected to be dining out, a waiter from a Japanese restaurant at Lot 1 said. He cannot be named as he is not authorised to speak to the media.  
"Customers might get impatient if we have to check the place of residence for every group that comes in, because it might mean they will have to wait in the queue a little longer," he added in Mandarin.
Other foreseeable problems include having to deal with groups from the same family who are not living in the same household.
Mr Johnson Lim, a manager of a branch of the Morganfield's restaurant located at Star Vista, said he is worried about people who cause a scene when told they are not allowed to sit together.
However, the restaurant will have no choice but to follow the rules, he added.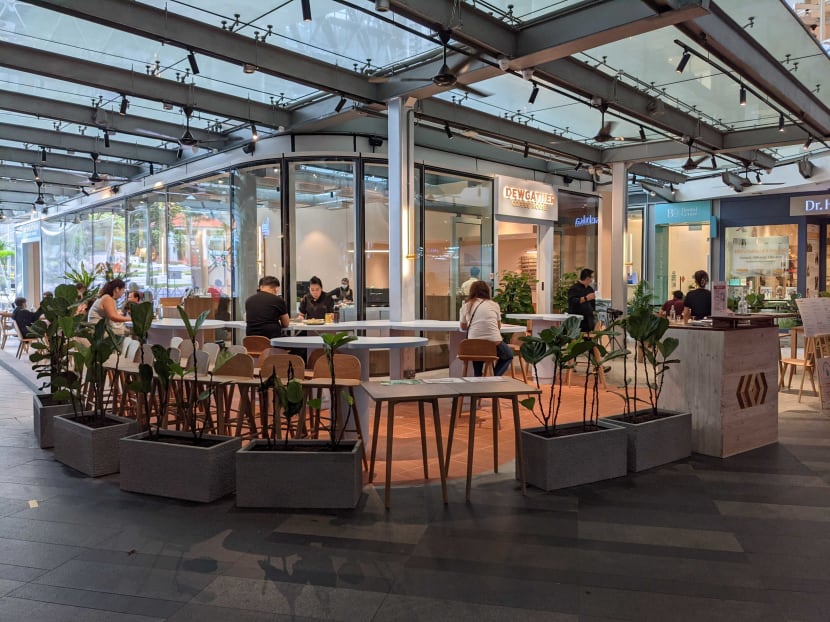 Mr Ronald Tan, a manager of the Dewgather Coffee House at Star Vista, also expects to face resistance when customers are required to show him their Singpass app or NRIC.
Some people might argue that this goes against the law protecting personal data, although lawyers told TODAY that it is legal for business owners to check NRICs to verify if diners are from the same household — so long as they do not note down, reproduce or take a snapshot of the identity card. 
Another headache during weekends, Mr Tan said, is when customers are uncooperative.
The restaurant will then have no choice but to turn them away.
"It will be a pity for us because every customer that we turn away, that's a loss in dollars..."