Covid-19: Orange Ballroom, manager fined for holding 3 wedding receptions on same day with 235 guests
SINGAPORE — Popular events venue Orange Ballroom was fined S$8,000 on Monday (Dec 20) for flouting Covid-19 laws by hosting a wedding event that had 235 guests, more than double the 100 people allowed at the time.
Members of the public had lodged several complaints against Orange Ballroom
Then, in January 2021, the events venue hosted three wedding receptions with more than double the number of people allowed
Safe distancing ambassadors found the premises violating Covid-19 regulations when conducting checks
SINGAPORE — Popular events venue Orange Ballroom was fined S$8,000 on Monday (Dec 20) for flouting Covid-19 laws by hosting a wedding event that had 235 guests, more than double the 100 people allowed at the time.
Its manager Osman Arrifin, 60, was fined S$6,000 over the same event, which took place on Jan 30 this year.
Osman pleaded guilty to two charges of contravening Covid-19 regulations and also admitted on behalf of the company to a single charge — the first such charge in relation to breaking Covid-19 laws for marriage solemnisations and wedding receptions.
The court heard that Osman was a business development consultant and manager at Orange Ballroom, responsible for its day-to-day operations such as disseminating information on safe management measures to staff members.
From October last year to January this year, the Singapore Land Authority (SLA) received multiple complaints from members of the public against Orange Ballroom, which is located at Tanjong Katong Complex in Geylang, regarding breaches of safety regulations.
These included:
Wedding guests entering without completing their check-ins on the SafeEntry contact-tracing system on Oct 12 last year
A wedding held on Dec 22 last year with guests dancing and singing without masks or safe distancing
Events being held with up to 300 people
Safe distancing ambassadors who responded to these complaints had cautioned Orange Ballroom's employees against these violations.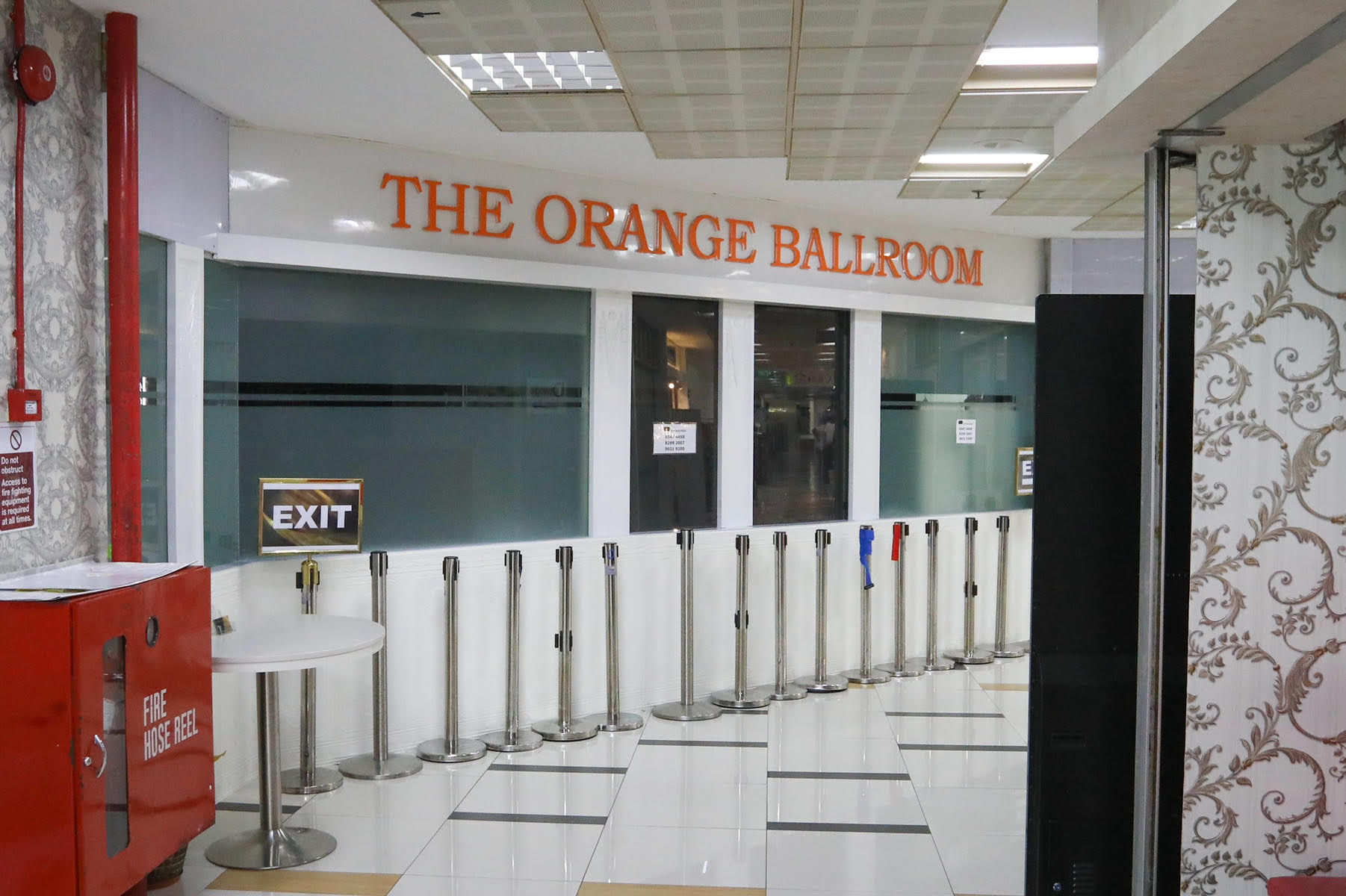 When more safe distancing ambassadors from SLA conducted checks on Jan 30 this year, they observed three wedding receptions being held there:
For the first one, 62 guests attended the banquet from 10.30am to 12pm
For the second, 73 guests were present from 1.30pm to 3pm
For the third, 60 guests were there from 4.30pm to 6pm
At the time, a maximum of 100 people were allowed to attend a wedding event, while up to 50 people were allowed to attend each time slot.
Osman also allowed 18 guests to attend multiple wedding receptions that day, when only the wedding party — including the bridal couple — could do so.
The authorities' investigations revealed that late last year, the couple had contacted Orange Ballroom and spoken to another staff member who reported to Osman.
She offered a package list, which indicated that its premises could be booked for events for 100 to 1,000 people, and told them that they needed to hold multiple receptions with breaks in between.
At the time, Osman had instructed staff members that Orange Ballroom could hold events for 1,000 people.
In September last year, the couple signed an agreement with Orange Ballroom to rent its premises for 300 guests.
Osman approved the booking and authorised his subordinate to accept it despite knowing that it went against existing regulations, the court heard.
A few days before the wedding, Osman invited the couple for a meeting and asked if they could extend their reception, originally slated from 10am to 4pm, to 10am to 10pm. This was so that the premises could be sanitised.
The couple agreed to extend it until 6pm.
Osman did not tell the couple to reduce their guest list to 100 people and did not give the "ballroom captain" — who was responsible for ensuring people adhered to safe distancing measures — specific instructions on the guests.
As the reception was broken up into a few sessions, 18 guests went for the various sessions that day instead of just one.
Following the discovery of these offences, the authorities ordered Orange Ballroom to shut down for 20 days from March 22 to April 10 this year.
Osman, who was not represented by a lawyer, said in mitigation that Orange Ballroom had not held any receptions from April to August last year due to the pandemic and had to refund almost half a million dollars to affected clients.
The firm also spent at least S$25,000 to move more clients to other venues when it was most recently ordered shut, he added.
Those convicted of Covid-19 breaches can be fined up to S$10,000 or jailed for up to six months, or both.