Covid-19: PM Lee makes 'special appeal' to older S'poreans to stay home for their own safety
SINGAPORE — A day after Singapore reported its highest ever daily tally of Covid-19 cases, Prime Minister Lee Hsien Loong on Friday (April 10) made a "special appeal" to older Singaporeans like himself to stay home for their own safety.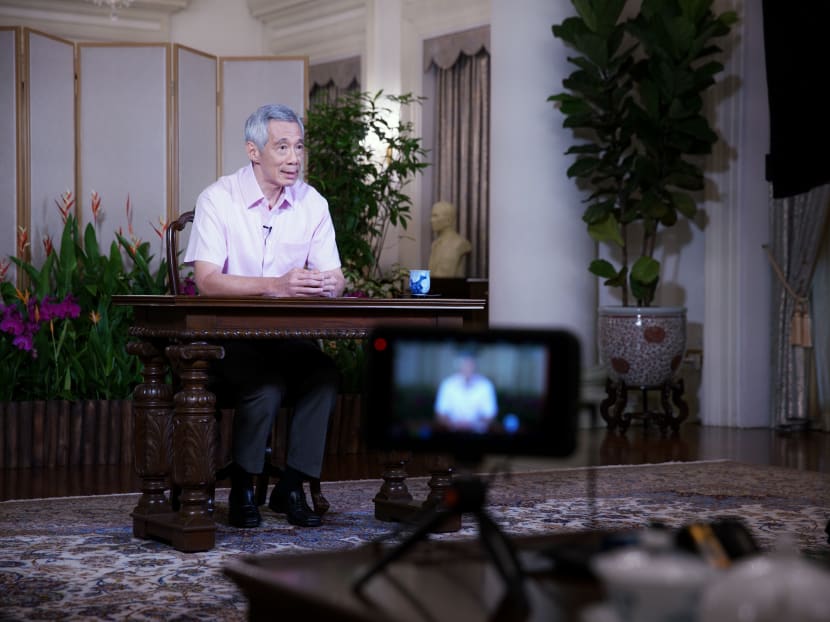 SINGAPORE — A day after Singapore reported its highest ever daily tally of Covid-19 cases, Prime Minister Lee Hsien Loong on Friday (April 10) made a "special appeal" to older Singaporeans like himself to stay home for their own safety.  
"Our chances of dying are much higher, and if we get infected and spread the virus to our friends around our age, or bring the virus back home to our families, then, we put them in grave danger," he said in a video posted on his Facebook page. 
Addressing the nation for the fourth time on the Covid-19 situation since the coronavirus first emerged in Singapore on Jan 23, Mr Lee posted three video messages in English, Chinese and Malay lasting between seven-and-a-half minutes and 10 minutes. 
In his English message, Mr Lee, 68, said he understood that being cooped up at home could make older Singaporeans "frustrated and restless". "I am one of you, so I know how you feel," he said on Day Four of the "circuit breaker" period where residents are only allowed to leave their home for essential work or services.
During this period, starting from Tuesday till May 4, enhanced safe-distancing measures are also being enforced. 
"We want to meet our friends, visit our grandchildren, stretch our legs, and resume our familiar routines — qigong sessions, karaoke groups, hanging out for kopi or a beer with friends. But please understand: We are telling you to stay at home for your own safety. Older people are more vulnerable to the virus."
He asked seniors to use this period to spend more time with their family or to watch their favourite television programmes. 
If they need something to be bought from the shops, they should ask others to purchase it for them, he reiterated. 
In situations where seniors have no choice but to leave their homes, he asked that they wear a mask and keep a safe distance from others.  "Don't linger and don't dawdle – come home once you have completed your errand," he said. 
Appealing to the general population, Mr Lee urged everyone to take the "circuit breaker" measures "very seriously". 
"Stay at home; stop socialising in person with others, even with extended family members who do not live with you... Please comply not just with the letter of the rules, but their spirit," he said. 
He stressed that the "circuit breaker" needed to be implemented as the number of cases in the general community had gone up and many of these cases were unlinked. 
"We do not know how they got infected, or from whom. So the persons who infected them are probably still out there, and still infecting more people," he said.
The Government had expected the surge to happen and the numbers would go up even after the implementation of the "circuit breaker", he noted. 
With the "circuit breaker" in place, the number of new cases will fall but this will take some time. 
This has been the experience in countries such as China, South Korea and New Zealand, all of which adopted similar tough measures after a rise in cases. 
Mr Lee had said on Thursday that if everyone complies with the "circuit breaker", Singapore should hopefully see positive results by April 17, or the 11th day, as New Zealand did when it imposed similar measures.
"So we have to be patient, but we also have to be resolute," he reiterated in his message on Friday. 
Mr Lee said he understood that some individuals were concerned about elderly parents who lived alone and needed help with their daily lives. "There is some flexibility in the law to accommodate your situation, but if it is at all possible, do not visit between households, not even close kin, not even elderly parents," he said. 
He gave the example of grandparents helping to care for their grandchildren while their parents were working. Parents should let their children stay with the grandparents for this period, he said. 
"Do not drop them off and pick them up every day. This is to protect our seniors, and also to protect other people in Singapore," he said. 
Mr Lee acknowledged that the measures are "very inconvenient" and "come at high cost to our economy".
"But the more strictly we observe the restrictions, the faster they will work, and the sooner we can ease up on them," he said.
"If some of us fail to comply strictly with the measures, the circuit breaker will fail, then all our inconvenience, pain and sacrifice will have been in vain. Covid-19 is very contagious. It only takes a few people to let down their guard, and the virus will slip through. We need everyone to play their part."
Mr Lee's video messages were put up on Good Friday, which he noted was a special time for Christians to reflect on the sacrifice of Christ.
"For Singaporeans, it is a time to acknowledge the sacrifices of our frontline workers, since COVID-19 broke out in Singapore," he said. "And for every one of us, it is a time to make our own sacrifices, to observe the circuit breaker strictly, in order to stop the virus from spreading among us."
ON FOREIGN WORKERS
Mr Lee also spoke about the welfare of foreign workers, an issue which the Government is "paying close attention" to. 
"They came to Singapore to work hard for a living, and provide for their families back home. They have played an important part building our HDB flats, Changi Airport, MRT lines," he said. 
There are currently several outbreaks in several foreign worker dormitories with five of them being gazetted as isolation areas. 
Mr Lee said the Government has been responding "comprehensively" to contain this spread and to protect foreign workers. 
The Ministry of Health, Ministry of Manpower, the Singapore Armed Forces, and the Home Team are involved in this effort, with Chief Guards Officer Seet Uei Lim taking charge and Senior Minister Teo Chee Hean advising the ministers. 
Forward Assurance and Support Teams, which are teams working closely with the dormitory operators to respond quickly to the workers' essential needs, have been set up in all the dormitories. 
These teams are setting up medical facilities and triage clinics, bringing in supplies and food, and managing the logistics and housekeeping. 
They are also ensuring the foreign workers have food and water, as well as WiFi to keep in touch with families back home and friends here, and for entertainment. 
The Government is also working closely with employers to ensure they are paid their salaries so that they can remit money home and their medical needs will be provided for, added PM Lee. 
"We feel responsible for their well-being. We will do our best to take care of their health, livelihood and welfare here, and to let them go home, safe and sound, to you. On behalf of all Singaporeans, I wish you well," he said.