Covid-19: Sports coaches struggle with fewer students, safe distancing measures and limited slots for bookings
SINGAPORE — It is coming to two months since June 19 that sporting facilities may reopen after restrictions were lifted for Covid-19 containment, but not everyone is keen to get back to their regular activities.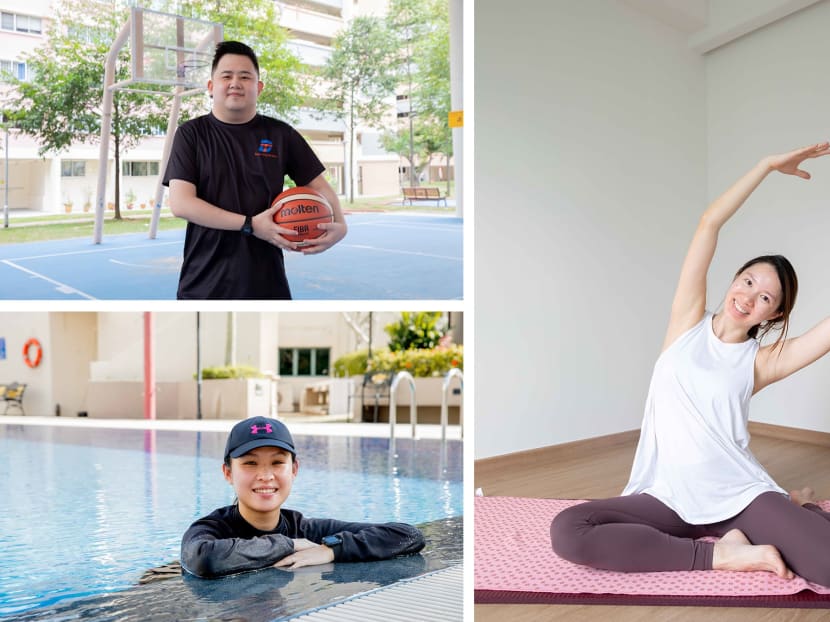 Fear over the coronavirus has led to some students cancelling lessons 
To get by, coaches have turned to odd jobs; some offer online lessons
Some coaches have difficulty booking public facilities due to new booking rules
SportSG said that it will continue seeking feedback from coaches to "adjust and refine" booking system

SINGAPORE — It is coming to two months since sporting facilities reopened on June 19 after restrictions were lifted for Covid-19 containment, but not everyone is keen to get back to their regular activities.     
Swimming coach Jolene Wong, 29, for example, has seen seven out of around 30 students drop out of her swimming classes, with students' parents saying that they are concerned about the Covid-19 pandemic and wanted to stop the lessons. 
"For now, I've just resumed my one-to-one classes, because (parents) also feel that group classes are risky," Ms Wong, who has been a freelance coach for 11 years, said. 
She now conducts just a third of the number of lessons she used to do in a week before the coronavirus outbreak struck early this year. 
As a result, her income has been slashed from about S$6,000 a month to S$3,000. 
Other sports coaches interviewed by TODAY said that they were similarly facing a drop in income with students choosing not to restart lessons. Other coaches said that safe distancing rules limited the number of students for each class, making it difficult for them to hold classes effectively.  
Badminton coach Wong Shoon Keat, for example, has resumed coaching at secondary schools and tertiary institutions in the past week, but his income from private classes on weekends has shrunk significantly because he can no longer teach more than four students in one lesson. 
He used to conduct classes with as many as 20 students each session. 
The 63-year-old who used to earn about S$8,000 a month — of which S$2,000 was from private lessons — has not earned a single cent since April when the circuit breaker to contain Covid-19 was imposed, and he is waiting for his first payment for his school coaching sessions.
He said that the Self-Employed Person Income Relief Scheme (Sirs), where eligible self-employed workers will receive three quarterly cash payouts from the Government totalling S$9,000, has helped tide his family through this period. 
"This is something we have to endure maybe until the end of the year… we will try to cut down on a lot of (spending)," Mr Wong said.
For basketball coach Shawn Liew, 31, his income has taken a hit as he relies on coaching primary school pupils. 
Sports activities may have resumed in secondary schools and tertiary institutions, but primary schools have yet to receive the green light. 
BOOKINGS FOR PUBLIC FACILITIES LIMITED
Besides grappling with fewer students and having to adhere to safe distancing rules, coaches are also facing difficulties booking public facilities. 
One of the more accessible facility provider is ActiveSG, which allows people to make bookings at sports centres or book activities to keep active.
Mr Wong said that he spent more than a month trying to book a slot at ActiveSG badminton courts since their reopening on June 19, but has been unsuccessful despite numerous attempts. 
Within seconds of the booking session opening, all time slots are snapped up, he said. 
Even if he is successful, everytime he logs in, it allows just a single one-hour booking a day. 
"One hour a day is not enough, because (the coaches') livelihoods are affected." 
Ms Wong ran into similar difficulties bidding for coaching slots at swimming complexes. 
While she had once been allocated a timeslot, the location of the swimming complex was not among her top choices. 
"(The swimming complex) is an ulu (out of the way) one, and I don't go there," the 29-year-old said. "None of my students go there either, so there's no point." 
SEEKING FEEDBACK
Responding to queries from TODAY, Mr Sng Hock Lin from national sports agency Sport Singapore (SportSG), who is chief of the ActiveSG national sports movement, said that the board has been "monitoring our usage rates" of its facilities and is seeking feedback from industry players and the public. 
Mr Sng said that SportSG is aware of the high demand for badminton courts and that the situation is "exacerbated by safe management limits on capacity" as well as the unavailability of the Dual-Use Scheme, where members of the public may book sporting facilities in schools on weekends, due to Covid-19 restrictions. 
"Therefore, we cannot give priority to freelance badminton coaches above the rest, beyond the allocation for learn-to-play programmes and academy programmes by ActiveSG and the Singapore Badminton Association," Mr Sng said.
"We will continue to monitor the situation on the ground and encourage coaches to provide us with their thoughts at sport_qsm [at] sport.gov.sg." 
COACHES FINDING WAYS TO GET BY  
To make up for the shortfall in income, some coaches are turning to alternative streams of revenue. 
Mr Liew, who used to earn about S$3,000 from coaching before the pandemic, now works part-time as a sports retailer to promote sports products and also as an interior designer assisting in renovation projects.
The extra jobs have helped him maintain earnings of about S$2,000 a month.
He conducts lessons for his students through video conferences, focusing on fitness and conditioning as well as ball-handling skills. 
"I am quite fortunate because I've found other alternatives," Mr Liew, who has been a coach for a year, said. 
He added that the pandemic has taught him the importance of being flexible and resilient. 
Pilates instructor Kelly Wong, 29, like many other instructors, moved her lessons online to stay in line with safe distancing regulations. 
During this period, however, she has moved into a space in which she is seeing more demand: Online lessons for companies who want to engage their employees who are working from home. 
She has had five different corporate engagements, sometimes with hundreds of employees at once over video conferencing platforms. 
Ms Wong, who is freelancing at various studios and gyms, now earns about 70 per cent of the income she was drawing before the pandemic.
However, not all coaches are confident about switching career paths or changing their coaching style.
Mr Wong, for instance, is a former national shuttler and has been a badminton coach for 30 years. 
"It's something that I love very much, so if you ask me to switch to other (careers), at this moment, I've never thought of it," he said.