Covid-19: Taxi, private hire drivers get green light to make deliveries as demand grows
SINGAPORE — With increasing demand for home deliveries as more Singaporeans work from home amid the Covid-19 outbreak, taxi and private hire car drivers will be allowed to make grocery and food deliveries, said Transport Minister Khaw Boon Wan on Sunday (March 29).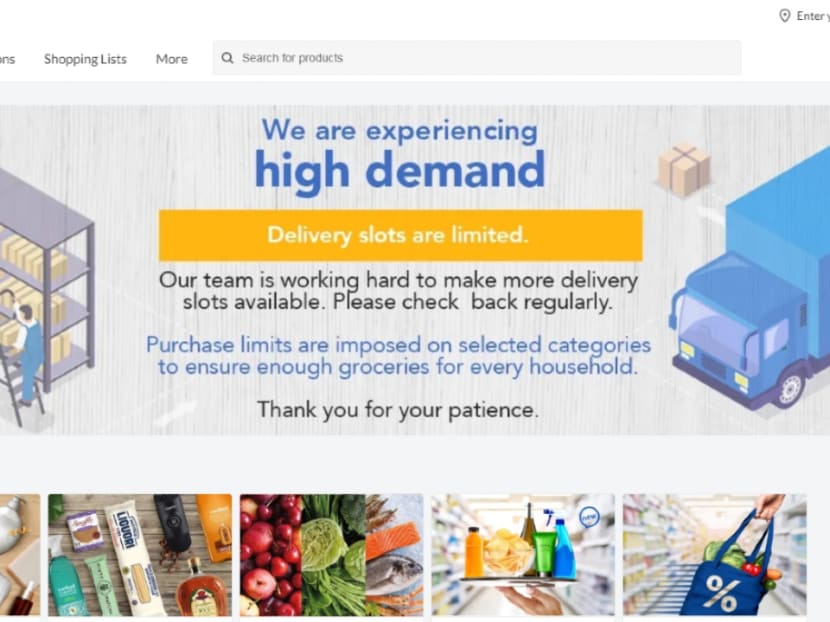 SINGAPORE — With increasing demand for home deliveries as more Singaporeans work from home amid the Covid-19 outbreak, taxi and private hire car drivers will be allowed to make grocery and food deliveries, said Transport Minister Khaw Boon Wan on Sunday (March 29).
He said that anecdotally, it is difficult to get a delivery slot on the various online grocery platforms and that there has been a dip in fulfilment rates for online food deliveries.
When TODAY checked FairPrice Online at about 3pm on Sunday, the only available delivery slot was from 8am to 10am on Monday. By about 8pm, there were no more delivery slots available.
"The demand for home delivery will only increase in the upcoming weeks as we push for more people to work from home," Mr Khaw wrote in a Facebook post.
Currently, ride-hailing service Grab is undergoing a trial that allows its drivers to deliver goods and food.
This trial will be expanded to taxi and other private-hire car drivers who wish to provide delivery services to supplement their income, with immediate effect until the end of June.
Mr Khaw said that this will be a "temporary liberalisation" of point-to-point regulations, which do not allow taxi drivers to use their vehicles to make deliveries.
"We were concerned about such service affecting the traditional passenger service, and contributing to traffic jams, Mr Khaw said.
"But this is an unusual time, with reduced demand for point-to-point transport and less traffic on the road."
DRIVERS LUKEWARM TO IDEA
While many have seen a fall in their takings, drivers TODAY spoke to appear lukewarm to the idea of delivering food and groceries, citing their advanced age, inexperience in food handling and possibility of incurring additional costs as reasons.
In fact, taxi drivers Feroz Mohd, 52, and Kirsty Foo, 60, said their biggest concern is cross-contamination and not being able to deliver food on time.
Ms Foo said: "Food is not easy to handle. I think it's not appropriate to send food in a taxi. I could be taking passengers in between (different orders) so there is a high risk of contamination."
She added that if the driver gets stuck in traffic, the food could also get cold by the time it reaches the customer.
Agreeing, Mr Feroz added: "Many of us taxi drivers are not young. We cannot move around quickly or carry heavy things."
However, Mr Feroz said it is a good alternative to waiting for hours at empty taxi stands.
Meanwhile, a Grab driver who wants to be known only as Vanessa, 45, said making food and grocery deliveries is not economically viable for her, recounting her experience with the ride-hailing firm's courier service GrabExpress.
"Maybe the riders have a better experience but if you drive, it's very troublesome. You have to park your car, collect the item and repeat the process when you send it."
"And there will be extra charges for parking or ERP. All that will come out of your own pocket," she said.
Ms Vanessa said that excluding all these charges, she made only about S$10 per job, which took her about an hour to complete.
Similarly, Grab driver Henry Ang, 56, said: "If we drive, we cannot park by the side of the road like motorcyclists and cyclists. If we do, even if it's just for a while, we could be fined.
"And that fine will come out of whose pocket?"
TAXI OPERATORS WELCOME THE TRIAL
In response to TODAY's queries, Mr Andrew Chan, Head of Transport at Grab Singapore, said the firm has been actively looking for additional opportunities for its drivers to supplement their earnings as the demand for transport rides in Singapore declines.
"We started discussing with the Land Transport Authority (LTA) last month to extend the deadline of and increase the number of driver-partners under the GrabExpress Car pilot programme," he said.
Launched in September 2019, the programme allows its drivers to provide parcel and food delivery services during off-peak commuting hours.
To date, thousands of Grab drivers have signed up for the programme, which allows them to deliver food and parcel during all hours outside the 7am to 10am window on weekdays and all day on weekends, said Mr Chan.
"The authorities gave their approval last week, and we are grateful that the programme is now extended till the end of June 2020 and is expanded to more driver-partners — up to 15 per cent of our total pool of driver-partners can now benefit from it," he said.
"While the situation remains fluid and uncertain, we will continue to monitor closely and will announce additional forms of support for our partners progressively."
Ms Tammy Tan, group chief corporate communications officer of ComfortDelGro, said: "In difficult times like these, any additional job which our cabbies can take is welcome.
"We hope this will help further supplement their income and also cater to growing delivery needs as people work from and stay at home."
SMRT Road Holdings senior vice president, Mr Tony Heng said this was "good news" and the company had been exploring various ways to increase the number of trips for its cabbies during this time. 
Meanwhile, a Trans-Cab spokesperson said it is working with LTA and the National Taxi Association to iron out the details of the programme.