Covid-19: Govt unveils S$800m package for firms and individuals including wage support, new cash payouts for some tenants
SINGAPORE — To aid businesses and individuals whose livelihoods are hurt by the stricter curbs on high-risk activities, the Government on Friday (May 28) announced an S$800 million support package to help those in the worst-hit sectors.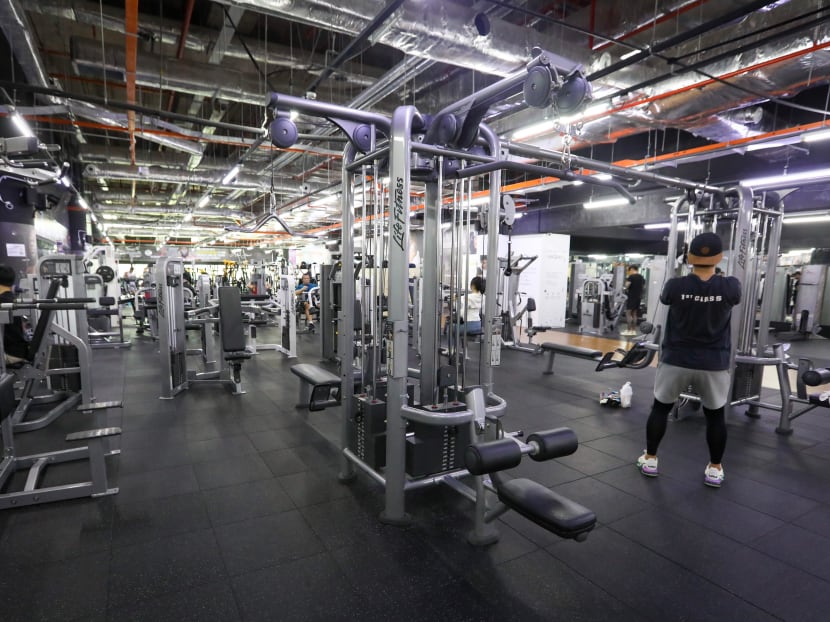 The Jobs Support Scheme will be extended to more businesses including retail, sports and entertainment 
Up to one month of rental relief will be given to SMEs and smaller non-profit organisations
A new scheme is launched to give cash payouts directly to tenants who rent shop space in commercial properties
No additional draw on past reserves expected, Finance Minister Lawrence Wong said
SINGAPORE — To aid businesses and individuals whose livelihoods are hurt by the stricter curbs on high-risk activities, the Government on Friday (May 28) announced an S$800 million support package to help those in the worst-hit sectors. 
The relief, which includes greater wage support and rental rebates, will help various businesses including restaurants, retail shops, entertainment businesses and hawkers cope with the Phase Two (heightened alert) curbs from May 16 to June 13.
The new support package comes after the Government's Covid-19 task force announced on May 14 that it would provide wage support and rental relief for food-and-beverage businesses only, in line with stricter safety measures that stopped people from dining in at eateries and food centres and limited gatherings to groups of no more than two people.
The support is not expected to necessitate any more draws on the national reserves since the budget will be reallocated from development expenditure, which will be partially funded by government borrowing, the Ministry of Finance (MOF) said in a statement.
It added that a new Supplementary Supply Bill will be tabled in Parliament in July for this reallocation.
WAGE SUPPORT
For sectors that are required to suspend many, if not all, of their operations during this period, the Government will provide 50 per cent of the wages for manpower from May 16 to June 13 through the Jobs Support Scheme. 
Businesses that will benefit from this enhancement include gyms, fitness studios, performing arts organisations and arts education centres, MOF said.
The Jobs Support Scheme is a wage subsidy programme aimed to help companies retain and pay their workers as businesses take a hit from the pandemic. The Government co-funds a portion of the monthly wages paid to each Singaporean or permanent resident employee.
The latest financial aid from this scheme will replace the operating grant for gyms and fitness studios under the Ministry of Community, Culture and Youth's Sports Resilience Package, which covers up to 25 per cent of their total operating expenses capped at S$15,000 a month until December.
For businesses that are not required to suspend operations, but are still significantly affected by the tightened measures, they will get 30 per cent support from the Jobs Support Scheme for the same period.  
This is targeted at businesses in the retail sector, personal care services that are affected by the restrictions, museums, art galleries, historical sites, cinemas, indoor playgrounds and other family entertainment centres. 
Supermarkets, convenience stores and online retailers, however, are excluded from this enhanced support, MOF said.
It added that other businesses that are significantly affected may also appeal for enhanced support from the Jobs Support Scheme at www.go.gov.sg/jss.
These payouts, which are based on wages paid in April to June, will be disbursed in September.
"As (the) payouts are intended to offset and protect local employees' wages, employers who put local employees on mandatory no-pay leave or retrench them will not be eligible for (these) payouts for those employees," the ministry said.
For hawkers, the Ministry of Sustainability and the Environment had announced last week that the Government will subsidise all fees for table-cleaning and centralised dishwashing services for around 6,000 cooked-food stallholders in hawker centres managed by the National Environment Agency (NEA), or NEA-appointed operators.
This support will apply throughout the period when no dining-in is allowed, MOF said.
RENTAL REBATES
Small- and medium-sized enterprises (SMEs) and non-profit organisations with an annual revenue under S$100 million, and which pay rent to qualifying commercial properties, will be given rental relief of up to one month.  
Qualifying commercial properties include hotels, tourist attractions and convention centres.
For government-owned commercial properties, eligible tenants will be given a month of rental relief, in line with the rental waiver for hawker stalls and coffee shops announced by NEA earlier this month.
Tenants of such properties are required to pass down rental relief to any qualifying sub-tenants, MOF said.
NEW RENTAL SUPPORT SCHEME 
For privately owned commercial properties, the Inland Revenue Authority of Singapore (Iras) will be directly disbursing half a month of rental relief through cash payouts to qualifying tenants under a new Rental Support Scheme.
This is a change in approach compared with past rental reliefs, in which cash grants were given to landlords under a rental relief framework and for the landlords to pass on the relief to tenants through rental waivers.
MOF said it recognised that some landlords have already given rental waivers or rebates to support their tenants during this heightened alert period and so, its latest move is a form of added support for tenants.
The payout will be disbursed from mid-August and will be calculated based on the latest contractual gross rent within the period of May 14 to 29.
MOF said that property owners who run an SME business or a non-profit organisation on their own property will also be eligible for a cash payout, calculated based on the annual value of the property for 2021 as at May 14.
Although most eligible tenants and owner-occupiers will automatically receive the cash payout, some will need to apply to Iras and provide supporting documents in order to receive the relief, the ministry said.
This affects tenants who rent only part of a property, or those who rent a mixed-use property, for example, a shophouse for both retail and residential use, or lease to licensees. 
Iras will provide more details of the Rental Support Scheme and application process on its website by mid-June, MOF said.
NOT A SECOND BUDGET PACKAGE
Announcing these measures to the media at an online press conference, Finance Minister Lawrence Wong said that these support measures do not constitute a second Budget package for this year as the Government is not increasing its overall spending. 
Mr Wong's predecessor Heng Swee Keat delivered five financial aid packages as part of the Budget last year in response to the escalating situation of the Covid-19 pandemic. 
Mr Wong added that these support measures are meant to be a one-off exercise and not a recurrent ongoing expenditure. 
However, the Government will not rule out having to pump in more money in the event that restrictions have to be tightened in response to another future outbreak. 
"If it's another outbreak that is not so significant, we don't need to go into a full circuit breaker, for example, we should be able to find some ways to reprioritise and do a package of similar scale or a bit smaller just to help businesses tide along," he said. 
"But if it's a much greater outbreak and we have to do much further tightening, then obviously these sorts of reallocation exercises will not yield sufficient resources to cover a package that would be much greater in scope. And under such an emergency scenario, then we will have to consider possibly going to the President and seeking permission to draw on past reserves." 
Mr Wong said that the Government is only announcing these extra support measures two weeks after Singapore went into a state of heightened alert because the immediate focus then was on businesses directly impacted by the stricter measures. 
"Since then, with a bit more time, we've had the chance to engage more with business leaders, unions and workers and also to get a better sense of how other businesses have been impacted by these restrictions."
The payouts will be made only in September as that is the timeframe that government agencies can work with due to operational constraints. 
When asked whether the economic benefits of keeping borders open during this period will outweigh the S$800 million worth of support measures to be given, Mr Wong said that Singapore's overall posture has always been to maintain a tight control on its borders and domestic environment.
However, he added that outbreaks can still happen now and then even in countries with tight border controls such as Australia and China. 
"So these occasional outbreaks will happen and we have to be mentally prepared that despite the best precautions and safeguards, one case will leak through and any case can easily cause an outbreak, particularly with the new strains that are much more infectious." ADDITIONAL REPORTING BY JANICE LIM