CPF contribution rates for older workers, relevance of retirement age to be reviewed: Josephine Teo
SINGAPORE — A tripartite workgroup will be set up to relook the Central Provident Fund (CPF) contribution rates for older workers and study the "relevance of retirement and re-employment age", Manpower Minister Josephine Teo announced on Monday (May 28).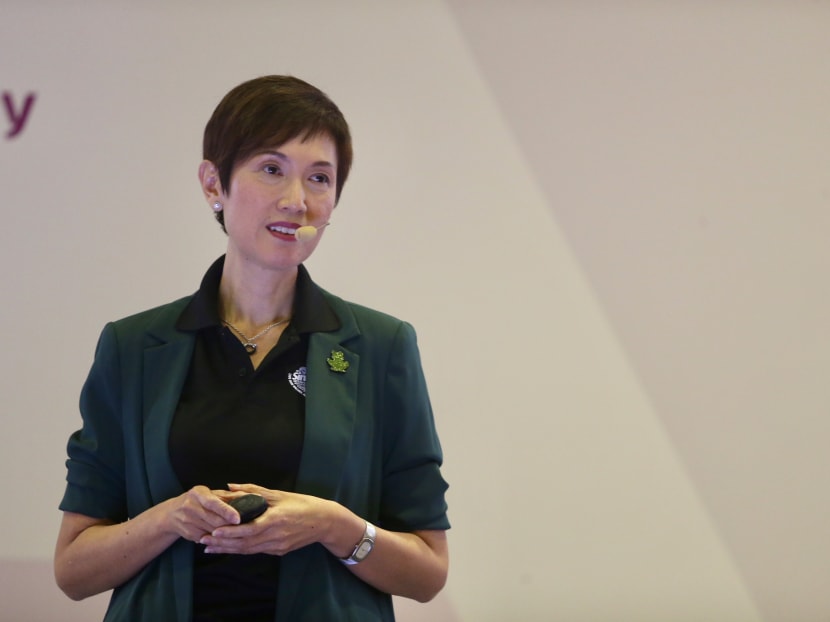 SINGAPORE — A tripartite workgroup will be set up to relook the Central Provident Fund (CPF) contribution rates for older workers and study the "relevance of retirement and re-employment age", Manpower Minister Josephine Teo announced on Monday (May 28).
Speaking at the Ministry of Manpower's annual workplan seminar, Mrs Teo — who took over the manpower portfolio this month — said the new Tripartite Workgroup on Older Workers will also look into ensuring fair treatment of mature employees at the workplace.
The workgroup will be chaired by Permanent Secretary (Manpower) Aubeck Kam and will consist of representatives from tripartite partners, with Mrs Teo, labour chief Ng Chee Meng, and Singapore National Employers Federation President Robert Yap as the group's advisors.
CPF contribution rates for older workers were last increased in 2015, to bring the contribution rate of those in the above 50 to 55 age group in line with that of their younger counterparts.
Currently, the contribution rates for those aged above 55 and 60 stand at 13 per cent of a worker's monthly wage from the employer, and a similar amount from the individual. The rates for those between the ages of 60 and 65 are at 9 and 7.5 per cent, respectively.
Adding that CPF contribution rates for older workers will be re-examined to assess their impact on retirement adequacy, Mrs Teo reiterated that one in three Singapore residents in the workforce today is aged 50 and above, and this group is anxious about their job security, particularly as "technology disrupts businesses and jobs".
Stressing that society should not view older workers as a "drag", she said: "How can we turn this into a competitive edge for our economy and society? How to make longevity equal opportunity for Singapore?"
Speaking to reporters, Mrs Teo was asked about the need for a review, just three years after the rates were adjusted. "Aspirations change and what people expect in retirement also changes," she said.
She added that the Government's approach has always been to look ahead and in this case, not assume that even though the rates were changed recently, there is no need to make any further adjustments.
Nevertheless, she did not want to pre-empt the tripartite workgroup's recommendation in this regard, and asked that it be given time to examine the issue. "They might very well come to the conclusion...that in the immediate and medium term, it works (as it is)," said Mrs Teo, adding that no timeframe has been set for the workgroup to come up with their recommendations.
Singapore does not have compulsory retirement but has a retirement age, like many other societies. The retirement age in Singapore is 62, though the re-employment age was raised from 65 to 67 last year. Workers turning 62 can opt to retire or continue working until the re-employment age ceiling.
In 2011, the United Kingdom, for example, abolished its mandatory retirement age, while other countries are also studying the issue.
Speaking at a dialogue at the World Cities Summit in 2016, Deputy Prime Minister Tharman Shanmugaratnam said Singapore's retirement age has to go "at some point", noting that it is critical that older workers be seen as assets to be continually invested in.
The issue of whether the Government should scrap the retirement age has cropped up from time to time. In 2016, then-Manpower Minister Lim Swee Say said in response to a parliamentary question from East Coast GRC MP Jessica Tan that removing it could be detrimental for workers, as it would mean that companies can terminate their employees' services earlier.
During this year's Budget debate in February, National Trades Union Congress (NTUC) deputy secretary-general Heng Chee How called for the formation of a committee to look into the need for a statutory retirement age. Mr Heng, who is also Senior Minister of State in the Prime Minister's Office, noted that the raising of the retirement or re-employment age to 67 was recommended by the Tripartite Committee on the Extension of the Retirement Age back in July 1997, and it has now been achieved.
In her speech, Mrs Teo also said the Government fully supports the NTUC's push to help low-wage workers, and will work closely with the labour movement in this area. Earlier this month, Mr Ng announced the expansion of NTUC's Inclusive Growth Programme to help these employees.
The programme promotes job redesign, the use of equipment and technology as well as best-sourcing initiatives. "(It) goes beyond wage improvements but also addresses concerns about the skills development and career progression of low wage workers," Mrs Teo noted.
Turning the attention to employers, Mrs Teo announced the Skillsfuture For Enterprises (SFE) initiative by the MOM and the Workforce Singapore (WSG) which will help companies build human capital development capabilities. This will be implemented through a network of intermediaries, such as the trade associations and chambers, and human resource consultancies.
Mrs Teo said that through the initiative, companies will be taught to put in place human resource systems, structures and process, as well as "transform" their human capital practices to provide better training and development for their employees.
"While we have many exemplary employers with progressive workplace practices, there are still many others that are not able to keep pace with the transformation of industries," said Mrs Teo. "Just because tripartisim is in good working order today, it does not mean we can take it for granted, or that we cannot strengthen it further."