Day 2 of Budget debate: MPs ask for easy access to data and a Climate Change Act
SINGAPORE — Members of Parliament (MPs) called for clearer communication of policies and more support for those with mental health issues on the second day of the Budget 2019 debate on Wednesday (Feb 27).
SINGAPORE — Members of Parliament (MPs) called for clearer communication of policies and more support for those with mental health issues on the second day of the Budget 2019 debate on Wednesday (Feb 27).
Over six hours, 25 Members of Parliament (MPs) — including Manpower Minister Josephine Teo and Minister of State (Manpower and National Development) Zaqy Mohamad — spoke on the Budget, which was delivered by Finance Minister Heng Swee Keat last week.
The MPs raised wide-ranging issues such as the rising cost of living, providing more support to women and a proposal to ban streaming in secondary schools.
"Health" was the most frequently cited word during the second day of the Budget debate, coming up 157 times. This was followed by "work" and "help", which were mentioned 81 and 77 times, respectively.
WHY THE BUDGET DEBATE MATTERS
The Budget debate is important to ensure public accountability. The Government, which is entrusted with billions of dollars of public funds, has to answer to Parliament on how these funds are used.
During Parliamentary sittings, especially Budget debates, MPs may call the Government to account by raising issues and questions relating to public policies, programmes and financial management.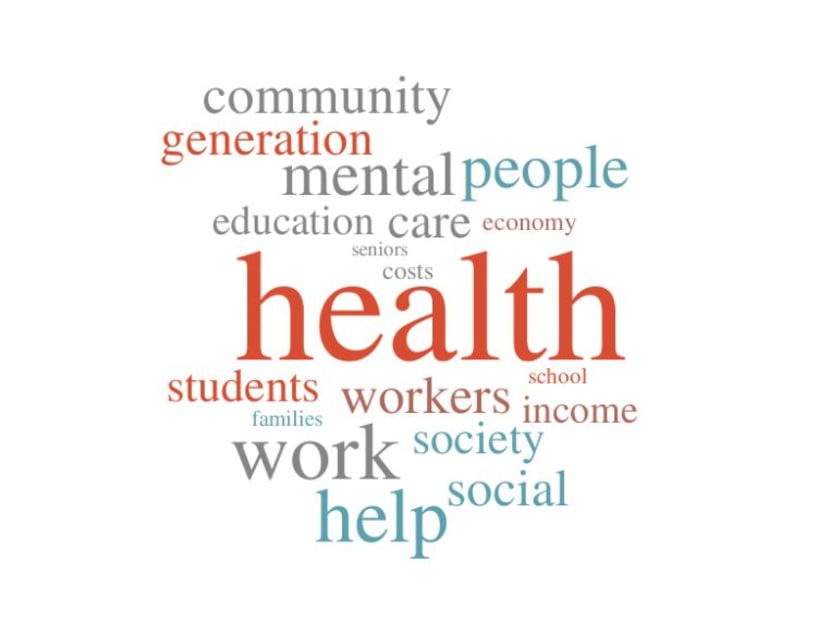 WHAT MPs RAISED:
1. TRANSPARENCY AND PUBLIC CONFIDENCE
Tampines GRC MP Cheng Li Hui said confidence in the Government has been "shaken" in the last few months due to "a spate of accidents and incidents".
Referring to the case of an eye patient who received only S$4.50 from the MediShield Life insurance scheme for his subsidised bill of S$4,477, Ms Cheng said: "If it was a mistake, just make things right again. If it was a misunderstanding or special case, let's lay out the facts to the people.
"At the end of the day, if we provide a proper explanation to the people, they will understand, and they can be reassured that MediShield Life does work as intended."
She also said that the Government should strive to better communicate policies and measures so that they are more "easily understood".
Nominated MP Walter Theseira called for easier access to data and information, especially for those who are not in Government, so that they can contribute to "complex policy debates".
Parliament has formed independent committees made up of MPs that, for instance, follow up on lapses in the administration of public funds and examine the implementation of policies enacted in each year's Budget.
Singapore's parliamentary system largely relies on MPs asking hard and critical questions, but there is currently "no formal capacity" to assist Parliament in coming up with independent answers, said Dr Theseira.
"MPs do not have automatic access to the relevant professional expertise to contribute to complex policy debates," he said.
Instead of Government ministries, Dr Theseira suggested commissioning expert secretariat staff that answer to the committees.
The Government could consider providing additional Parliamentary assistance to help the Opposition "discharge their functions", Dr Theseira added.
Information released in response to parliamentary questions could be regularly published, he said. He said a "Transparency Fund" could be set up to cover the costs associated with such data releases and to provide this data through data.gov.sg.
2. YOUTHS
Other MPs said the Government needs to pay attention to the issues that youths are concerned about, such as climate change.
Dr Lim Wee Kiak pushed for the Government to have a Climate Change Act, to show the Republic's commitment to mitigate climate change. He urged the Government to develop more "concrete measures to create a culture of environmental consciousness in our country", such as making electric car charging points a fixture in buildings to encourage uptake of electric vehicles.
Fengshan MP Cheryl Chan said the millennials of today will eventually make up most of the workforce in time to come, as many baby boomers will retire in the next two decades.
While youths will have different skill sets to meet future workplace demands, Ms Chan called for more "inter-generation and inter-workplace" knowledge transfers, as this may help start-ups reduce their learning curve or go global.
3. COST OF LIVING, GOVERNMENT REVENUE AND EXPENDITURE
Marsiling-Yew Tee GRC MP Ong Teng Koon spoke about the rising cost of living, especially for young couples. Mr Ong said young couples "face intense financial pressure" at early points in their life, such as coping with wedding expenses, buying and renovating a new home, and planning for parenthood.
He suggested subsidising school bus fees and extending a longer period of paid maternity leave for mothers, as "even the little things add up".
On Government expenditure for an ageing population, Dr Theseira asked: "To what extent were our lifecycle costs anticipated and prefunded, versus unanticipated (costs) requiring new expenditure today?"
4. INEQUALITY
Nee Soon GRC MP Louis Ng argued that streaming in secondary schools should be abolished, as it plays a role in Singapore's social divide.
MP Cheryl Chan also suggested that the Government implement a net wealth tax and inheritance tax for the "ultra-high net worth individuals", which make up about 1 to 2 per cent of society.
5. MENTAL HEALTH AND HEALTHCARE NEEDS
NMP Anthea Ong said mental health education should be compulsory in schools and institutes of higher learning.
Despite rising prevalence of mental health issues among children and youths, programmes such as the Holistic Health Framework by the Health Promotion Board "are still optional" currently, she said. "The way we look at mental health reminds me of climate change... It's invisible, and so it gets parked mindlessly and incorrectly in the 'important but not urgent' quadrant of our awareness."
Tanjong Pagar GRC MP Joan Pereira called for more community support for seniors with mental health issues.
A suitable Voluntary Welfare Organisation (VWO) can be set up in each constituency to tend to seniors with mental health needs, she suggested. These VWOs should be within walking distance of the seniors' flats. 
6. OVER-REGULATION?
Jurong GRC MP Ang Wei Neng cautioned against over-regulation. "We need to strike a balance between laws that are so general and simplistic that they become ambiguous, and regulations which go into such nitty-gritty that it becomes a nightmare to observe and abide by," said Mr Ang.
Private companies may be afraid to speak out against unnecessary regulations. Based on feedback he received, companies were afraid to speak out against regulators "as they do not want to bite the hand that feeds them", especially when they have to bid for contracts from the regulators.
7. WOMEN
Jurong GRC MP Rahayu Mahzam said more can be done to support women who return to the workforce after having children or taking care of others.
Manpower Minister Josephine Teo said that Bicentennial Bonus Central Provident Fund top-up is a tribute to these women, as it recognises that they had "fewer years to build up their retirement savings". Six in 10 of the 300,000 citizens who will benefit from the top-up are women in their 50s and 60s, she added.