Tuas West Extension suspended until Sun; no service for Joo Koon-Gul Circle for 1 month
SINGAPORE — The Tuas West Extension on the East-West Line will be suspended until Sunday (Nov 19), said the Land Transport Authority on Thursday night (Nov 16). Bridging buses will ply the route along Joo Koon, Gul Circle, Tuas Crescent, Tuas West Road and Tuas Link MRT stations.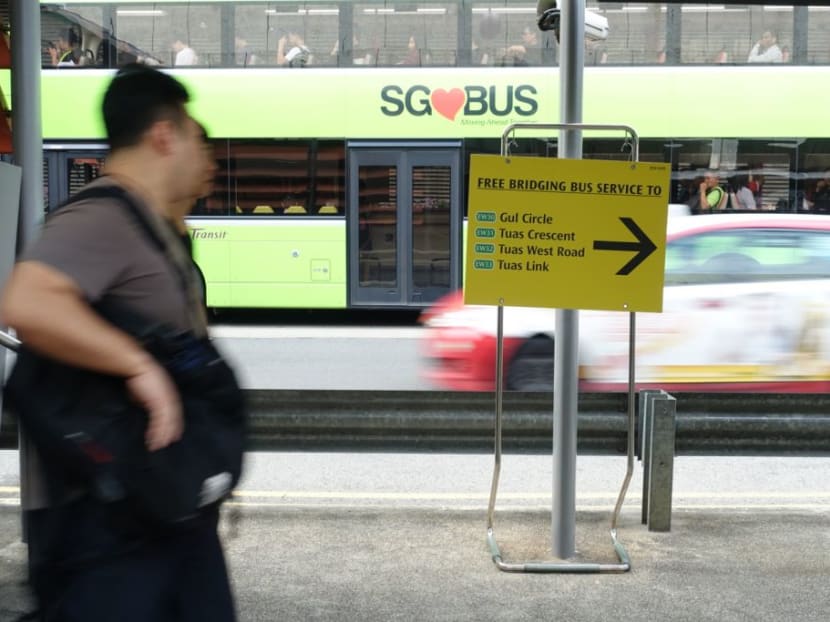 SINGAPORE — The Tuas West Extension on the East-West Line will be suspended until Sunday (Nov 19), said the Land Transport Authority on Thursday night (Nov 16). Bridging buses will ply the route along Joo Koon, Gul Circle, Tuas Crescent, Tuas West Road and Tuas Link MRT stations.
From Monday, train service between Gul Circle and Tuas Link will resume, but there will be no train service between Gul Circle and Joo Koon for up to a month. Bridging buses will ferry commuters between the two stations.
The authorities have decided to isolate and separate the sections of the East-West Line operating under two different signalling systems, to carry out assurance checks.
After Wednesday's collision of two trains at Joo Koon station, one of them was found to be to have a software protection feature disabled by a defective trackside device. The faulty train was transiting between the old signalling system (which runs from Pasir Ris to Pioneer) and the new one (which runs from Joo Koon to Tuas Link).
The LTA said 33 buses were deployed for the suspension of Tuas West Extension on Thursday. They arrived three to five minutes apart in the morning, and several bus trips were added to trunk services in Tuas. Service was satisfactory, said the LTA.
The LTA, rail operator SMRT and Thales, the supplier of the new signalling system, will continue to investigate the incident.
On Wednesday, LTA's deputy chief executive Chua Chong Kheng had said investigations would cover why the safety feature of the faulty train was "inadvertently" disabled. This caused the train behind it to detect it as a three-car train instead of a six-car train, and move forward and hit it. 
Thursday's suspension of train services between Joo Koon and Tuas Link MRT stations led some commuters to leave their homes earlier in the morning as a precaution.
Admin assistant Faith Neo was late for work by two hours on Wednesday due to the accident, and her colleague had to pick her up from Joo Koon station in order for her to get to her Tuas Crescent office. The 30-year-old left her home about 30min earlier on Thursday to factor in extra travelling time, and she did not experience any delays. She also noted that there were signs directing commuters to the bridging bus services.
While she got to work on time, Ms Neo was unhappy with the inconvenience caused by the SMRT's train issues. "Every now and then there are problems with the train... it's troublesome (for commuters)," she said.
Polytechnic student Viviana Chow, 18, said she left her home about 15 minutes earlier to travel to school for a 9am lecture. While she has not been affected by a breakdown, some of her family members warned her to get to Jurong East station earlier to catch the train.
"I'm quite concerned, especially after the injuries that happened yesterday. It seems like trains are getting more crowded. Everyone just wants a smooth — and now safe — ride," she said.
There were no unexpected congestion or crowds for train services along the western part of the East-West Line when TODAY visited the Joo Koon and Jurong East stations on Thursday morning.
Research assistant Fatimah Mohidin was one of the commuters making her way to the bridging buses at Joo Koon Station as she had a work event at Tuas Link.
While there were no delays when she took the train from Bukit Batok to Joo Koon, she said she was a bit worried about the time needed to get to her destination.
"I'm thinking (the bus) might be slower because I'm taking all the way to Tuas Link... Usually, whenever the train doesn't work or something, the roads will be more crowded, there'll be traffic jams," said the 31-year-old.
When a TODAY reporter boarded the bridging bus at Joo Koon at about 8:20am, traffic was relatively smooth and the journey to Tuas Link took about 20 to 25 minutes.
Not all commuters were aware of the train service suspension, however, as 70-year-old crane operator Lim Seow Hin said he only learned that there were no train services after Joo Koon station when he alighted from the train on Thursday morning.
"It was a little troublesome because I went to the wrong side of the road to catch the bus," he said in Mandarin.
While Mr Lim had been experiencing delays on the East West Line, he said train services are still quicker and more frequent than the bus, which is subject to road congestion.
Retail assistant Nurliza Matin, who took the train from Lakeside to Jurong East station, said that train services on Thursday morning were quite smooth. "It's not bad today, not very crowded. I think (SMRT is) doing their best to make things better after yesterday's accident. Even though it's frustrating, we should let SMRT improve the train services," added the 23-year-old.
Mr Teh Bee Wah, 67, said he was concerned that accidents will happen again. While the retiree will continue taking the train, he now takes the bus more often, especially if he is tired and wants a hassle-free ride.
Mr Teh added: "People need to know if they can rely on the trains, and if they are safe. I've never seen this kind of safety issue after so many years."
Mr Randall Lee, an entrepreneur who recently broke his leg and is currently confined to a wheelchair, said that those with mobility issues would have greater challenges. The 29-year-old said he considered hailing a taxi before taking the train with his girlfriend.
"Normally, I am already concerned and worried, but being in a wheelchair makes it even harder, especially when I have to plan my journey more thoroughly," he said. ADDITIONAL REPORTING BY LOW YOUJIN