DBS digital banking services, including PayLah!, restored after day-long outage
SINGAPORE — Digital services of Singapore's largest bank came back online on Wednesday evening (March 29) after an outage lasting most of the day.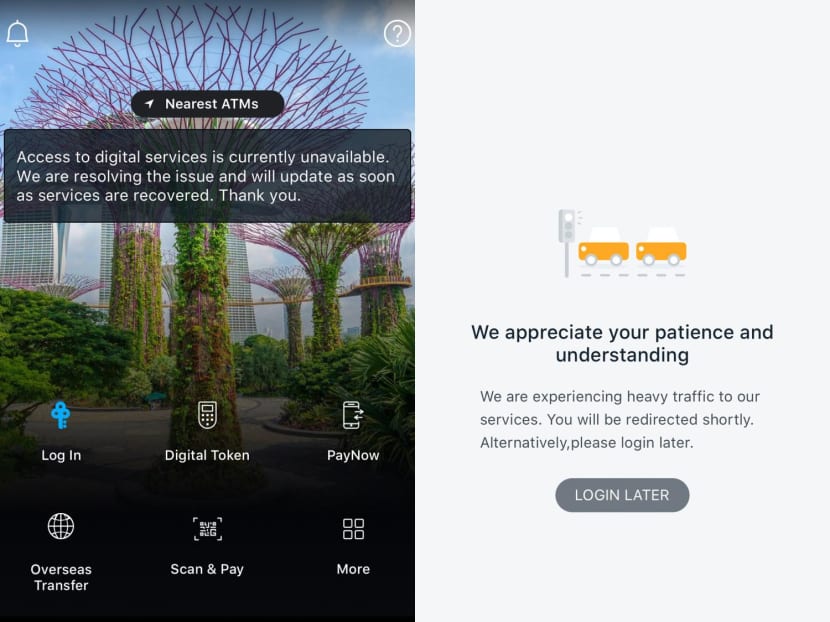 SINGAPORE — Digital services of Singapore's largest bank came back online on Wednesday evening (March 29) after an outage lasting most of the day.
DBS customers had been unable to log in to online banking platforms such as the PayLah! mobile wallet, with reports of service outages beginning to surge at about 8.30am, the Downdetector website showed.
In a 7.30pm update, the bank said that as of 5.45pm, its digital services — Digibank Mobile and Online, PayLah! and mTrading — had returned to normal.
OPENING HOURS EXTENDED
At 4.50pm, with services still unavailable, DBS had announced a two-hour extension for the opening hours at all DBS and POSB branches, as well as its Treasures Centres.
"We are doing our best to resolve the situation," it said in a Facebook post, apologising for the inconvenience.
"Customers can also continue to use their DBS/POSB cards for transactions. Please be assured that your deposits and monies are safe and secure.
"We are closely monitoring the situation. We appreciate your patience and are sorry for the inconvenience caused." 
INTERMITTENT ACCESS
The bank said in an earlier update that access to digital services such as Vickers mTrading and PayLah! was intermittent and customers might experience "some slowness" during login. 
When CNA tried to access the bank's online banking services at about 9am, one-time passwords were also not received on mobile phones.
DBS customers took to the bank's Facebook page to voice their frustrations, with some users saying they needed to use the app urgently.
"Please restore it ASAP," Facebook user Karen Boo said. "How would you feel if you are the customer who needs to use the service urgently? This is so frustrating!" 
Another user William Tan said: "The last time your system had a major breakdown which caused a lot of problems and inconvenience for users."
Others also said that they did not receive one-time passwords. One user said that they thought they "got hacked" until they read the comments online.
In reply to a Facebook comment from a user who said that she needed money to pay her hospital bills, the bank said that customers can still use their cards to withdraw money from automated teller machines.
DBS' digital banking services previously suffered a two-day disruption in November 2021.
The bank said at the time that its systems "remain secure" and it was not the target of a cyber attack. 
The Monetary Authority of Singapore (MAS) deemed the issue a "serious disruption" and imposed more capital requirements on DBS, which had to apply a multiplier of 1.5 times to its risk-weighted assets for operational risk.
That translated to S$930 million in additional regulatory capital, MAS said in February last year. The sum was based on DBS' reported financial statements as of Sept 30, 2021.
In comparison, that was four times higher than the amount for a similar disruption that DBS experienced in 2010.
CNA has contacted MAS for comment on the latest disruption. CNA