Defamation suit: Influencer Rachel Wong fails in bid to find woman, who accused her of infidelity, in contempt
SINGAPORE — Social media influencer Rachel Wong has encountered another stumbling block in her defamation suit against another woman, who had accused her on Instagram of being unfaithful to her ex-husband and branding her as the "Cheater of 2020".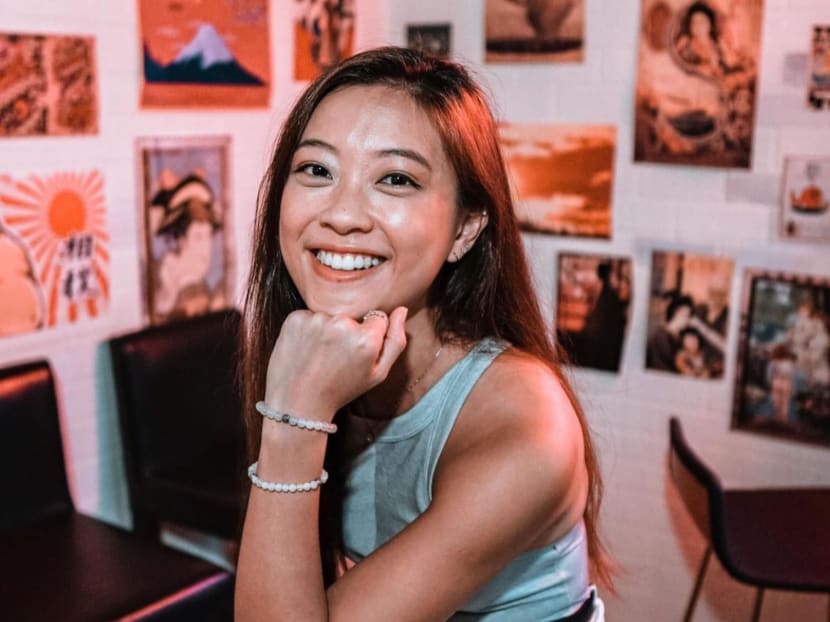 Ms Rachel Wong, 27, has sued Ms Olivia Wu for defamation over the latter's Instagram Stories
Ms Wu alleged that the influencer was unfaithful to her ex-husband, national footballer Anders Aplin
The couple tied the knot in December 2019 but annulled the marriage four months later
The defamation trial has not taken place yet, after Ms Wong was ordered in February to turn over certain correspondence to Ms Wu
Ms Wong then began contempt of court proceedings against Ms Wu, but a judge ruled against her on April 29
SINGAPORE — Social media influencer Rachel Wong has encountered another stumbling block in her defamation suit against another woman, who had accused her on Instagram of being unfaithful to her ex-husband and branding her as the "Cheater of 2020".
On Friday (April 29), a district court judge found that her accuser, Ms Olivia Wu, did not commit contempt of court. This was after Ms Wong, 27, initiated contempt proceedings against Ms Wu, saying that she did not follow timelines given by the court.
Parties in civil lawsuits must file and exchange affidavits of evidence-in-chief, which act as witnesses' trial testimonies, before a trial can take place. However, Ms Wu did not file her affidavit before the deadline on Jan 6.
Friday's development came after Ms Wong was separately ordered by a district court registrar in February to turn over her diary entries and correspondence with two men to Ms Wu to support the infidelity claims.
Ms Wong's appeal against this decision was rejected by Principal District Judge Victor Yeo last month. She has since lodged an appeal with the High Court.
WHAT HAPPENED
The defamation lawsuit, filed by Ms Wong last August, was sparked by six Instagram Stories titled "Cheater of 2020" that Ms Wu had posted on her account in December 2020.
Ms Wong is seeking damages of S$150,000, including aggravated damages, from Ms Wu over the Instagram posts.
Ms Wong was married to national footballer Anders Aplin, and Ms Wu alleged in the posts that Ms Wong cheated on him. The couple met while studying at Nanyang Technological University and dated for six years before getting married on Dec 27, 2019.
About four months later, they decided to annul the marriage. Their annulment was completed around March last year.
In her Instagram Stories, Ms Wu, who is an acquaintance of Mr Aplin's current girlfriend, accused Ms Wong of being intimate with her gym trainer and another friend. The friend was also the emcee at the wedding.
Ms Wu further asserted that Ms Wong had sex with the emcee, Mr Alan Wan, on her wedding night.
As for the gym trainer, Ms Wu alleged that he engaged in "intimate and sexual conversations" with Ms Wong through text messages on Telegram when she was dating Mr Aplin.
Ms Wong then sued Ms Wu for defamation, claiming that the Instagram Stories caused her to suffer damage to her reputation as a full-time social media influencer who depends on her image to secure business deals on partnerships.
She filed the lawsuit when Ms Wu refused to apologise over the posts, denying that they were defamatory.
In her statement of claim, Ms Wong claimed that if she had not truly intended to marry Mr Aplin, she would not have had a highly publicised pre-wedding photoshoot. She said that she had "fully intended" to marry him leading up to the wedding.
She also claimed that on the night of their wedding, she, Mr Wan and another friend helped Mr Aplin to their hotel room when he passed out from alcohol intoxication. She added that she was never alone with Mr Wan in the hotel room then.
Ms Wu countered that the posts were not defamatory because they were "true in substance". She has invoked the defence of fair comment.
PREVIOUS COURT PROCEEDINGS
In February, district court registrar Lewis Tan approved Ms Wu's application to get correspondence from 2016 to 2020 between Ms Wong and the two men, as well as her diary entries from 2018 to 2020 about Mr Wan.
Ms Wong's lawyer Clarence Lun from Fervent Chambers had opposed the application, saying it was a "fishing expedition" that would violate her privacy and confidentiality.
However, Mr Tan called the materials "plainly relevant" as they would help determine the truth.
Earlier that same month, Ms Wong was granted leave to file separate contempt of court proceedings against Ms Wu. A two-day trial was then held over this matter.
NOT EVERY MISSED DEADLINE EQUALS CONTEMPT
Then on Friday, District Judge Tan May Tee ruled that despite Ms Wu's breach of the court order regarding the stipulated timeline, she had not committed contempt.
The judge noted that 10 days before the deadline to file their affidavits, Ms Wu had proposed through her lawyers to defer the timeline in order for her to apply for Ms Wong's correspondence.
Mr Lun rejected this proposal, calling it an abuse of court process. He then put Ms Wu on notice that she would breach the court order if she failed to file and exchange affidavits by Jan 6.
When Ms Wu did not do so, Ms Wong filed for leave to begin contempt proceedings.
District Judge Tan ruled that not every breach amounts to contempt. She then found that Ms Wong had not proven beyond a reasonable doubt that the breach was so bad and wilful that it undermined the fair administration of justice.
The judge agreed that Ms Wu could have filed and exchanged affidavits on time, in compliance with the court order, before requesting Ms Wong's correspondence.
However, deferring the timeline would result in a "more expeditious and economic disposal of action", rather than both sides filing supplementary affidavits at a later date, the judge pointed out.
District Judge Tan also noted that Ms Wu's request for Ms Wong's correspondence was granted anyway, and this buttressed her argument that there was merit to defer the timeline.
Ms Wu's failure to file and exchange affidavits could not be said to be blatant or inexcusable or in clear defiance of the court, the judge added.
The judge then ordered Ms Wong to pay S$5,200 in costs to Ms Wu — a lower sum than what Ms Wu's lawyer Gerard Quek had suggested.
COMPLAINTS FILED AGAINST DEEPFAKE VIDEOS
Following the hearing on Friday, Mr Lun told TODAY that they were disappointed with the outcome, noting that Ms Wu had sought Ms Wong's correspondence as early as before the lawsuit was filed.
Ms Wong has not decided whether or not to appeal against District Judge Tan's decision.
The influencer told TODAY that she does not know Ms Wu and has not spoken to Mr Aplin since mid-2020.
He has been named as one of Ms Wu's witnesses during the trial over the lawsuit, for which dates have not been set yet.
Ms Wong said that she took a month-long solo trip to India after their wedding because she "didn't feel like how I should be feeling as a person that just got married", and wanted to be away from everyone. "In that one month, that's when I realised this just wasn't the life I wanted," she added.
Ms Wong also said that she was cyber-bullied after the allegations emerged, and that deepfake videos of her — where her face was spliced onto pornographic videos — began circulating online. She has filed a magistrate's complaint over the videos.
She added that she had initially wanted to stay silent when Ms Wu posted the allegations but the situation then "got out of hand".
She said: "If they are not going to learn when to stop, and they're not going to stop and realise this bullying has to stop, then don't blame me for doing something about it.
"Whether I win the case or not, I took the step to stand up for myself."