Defence Minister Ng Eng Hen tests positive for Covid-19, says infection waning after 5 days
SINGAPORE — Minister for Defence Ng Eng Hen has tested positive for Covid-19 and is now recovering from the infection.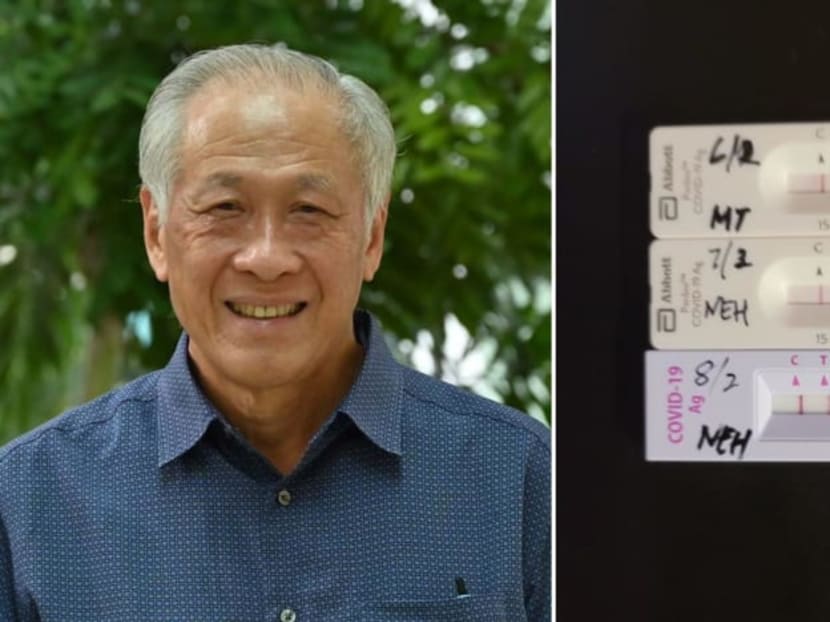 SINGAPORE — Minister for Defence Ng Eng Hen has tested positive for Covid-19 and is now recovering from the infection.
Dr Ng shared his experience in a Facebook post entitled "A personal encounter with Covid-19" on Tuesday (Feb 8).
"It's been an interesting past few days, as a patient with Covid-19," he said. "Sharing my experience, with the caveat that individual reactions vary widely."
Dr Ng, 63, said he "expected that it would be a matter of time" before he contracted Covid-19, due to the contagious nature of the Omicron coronavirus variant.
"With the highly infectious Omicron causing the largest waves since the start of the pandemic in Singapore, it would be hard to avoid this variant, unless one became a recluse," he added.
"The assurance was that having had two shots of the vaccine with the booster, serious illness could be avoided."
Dr Ng took an antigen rapid test after learning that his grandchild had tested positive. The test "showed two lines", indicating an infection. Dr Ng did not state the date of this first positive test.
He went on to provide a day-by-day account of his experience in the post, describing symptoms including a fever, body aches and a sore throat.
As of the fifth day following his positive test, his infection was waning, he said.
"The positive line on my antigen rapid test today is now less intense – yah! I'm better with the infection waning, and none the worse for wear," Dr Ng said.
"It could have turned out differently. If I got infected two years ago with the original strain, unprotected without vaccines, I would have feared for my life literally."
Dr Ng said that he would follow the Ministry of Health's Protocol 2 and work from home in the meantime.
Protocol 2 guidelines are for Covid-19 patients who are experiencing very mild or no symptoms. With a positive antigen rapid test result, they must isolate themselves for 72 hours and can leave their home only after the third day of isolation if they test negative for Covid-19.
Dr Ng added: "Met my Government Parliamentary Committee (Defence and Foreign Affairs) colleagues today via video conferencing and have a number of meetings lined up later this week.
"Video conferencing has really enabled us to work remotely." CNA
For more stories like this, visit cna.asia.