Delayed milestones, but mum soldiers on to help daughter shine
SINGAPORE — The first time Amor Perez sang "Twinkle, twinkle, little star" at 3.5 years old, she was so tuneless that her uncle jokingly asked if she was reciting a Harry Potter spell.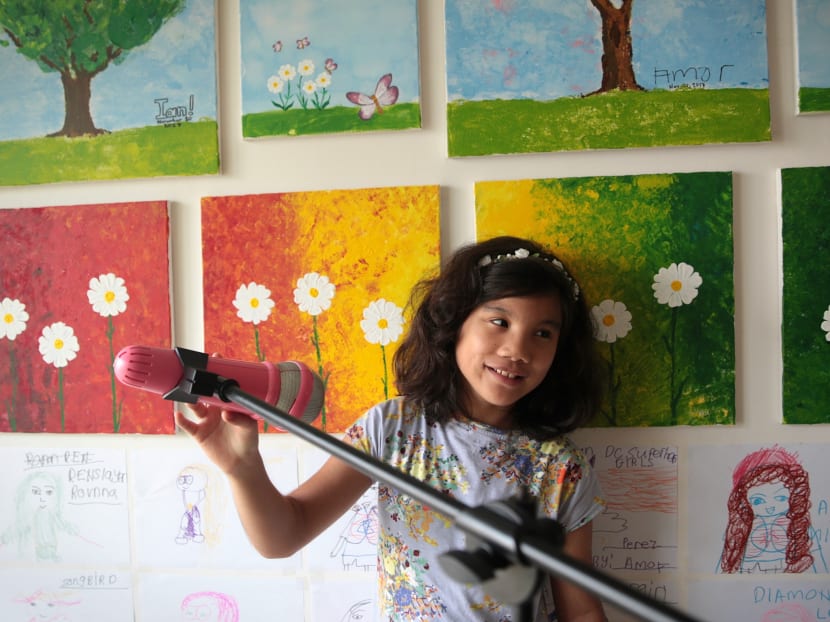 SINGAPORE — The first time Amor Perez sang "Twinkle, twinkle, little star" at 3.5 years old, she was so tuneless that her uncle jokingly asked if she was reciting a Harry Potter spell.
Born two months premature and with spastic muscles, Amor suffered significant delays in her motor skills, language, cognitive and social developmental milestones. She also experienced frequent seizures, and the way she processed touch and sounds was affected. Her twin brother Nathan has cerebral palsy and autism.
"Since Amor could not hear well due to a hearing sensitivity, she could not sing nursery rhymes properly. But of course, we never told her (how out of tune she was)," said Amor's mother Christian Perez, 42, with a smile.
Amor Perez (C), 11, who has global developmental delay, poses for a photo, with her grandmother Dalisay Sena Yu (L) and mother Chris Perez, in front of artwork made by her. Photo: Jason Quah/TODAY
"For us, it was enough that she had the interest to sing. Every time she sang, we celebrated, not for accurate pitch and melody, but for her grit and determination."
Three years ago, Amor made her debut solo school performance at the Genesis School for Special Education after a teacher recognised her vocal flair. The 11-year-old now sings regularly at school events.
"When I saw her singing onstage for the first time, I teared. It was a 'proud mum' moment. I never imagined she would be able to capture melodies of songs," said Mrs Perez, a homemaker, who later engaged a music teacher for Amor.
In hindsight, Mrs Perez said she was in denial about her daughter's developmental delays and thought she would "somehow catch up with her peers over time".
"Compared to her twin brother who needed a lot more help, I had high expectations for Amor because she had no problems taking instruction. But when she started kindergarten, the realisation that she needed so much more help with her developmental issues hit me hard," said Mrs Perez, who has a younger son aged nine.
DEVELOPMENTAL DELAYS ON THE RISE
As parents and teachers here become more adept at picking up early signs of developmental delays, experts are seeing an increasing number of young children who have trouble meeting their developmental milestones.
Children under five who have significant delays in two or more areas of development – including motor skills, communication, cognition and social skills – are described to have global developmental delay (GDD).
In Singapore, delays are usually picked up by parents, at the preschool or during routine developmental check-ups, said Dr Velda Han of the National University Hospital's (NUH) division of paediatric neurology. NUH sees more than 120 cases of GDD each year, and the number is rising, said Dr Han.
Private treatment centre Think Kids has seen a 50 to 60 per cent increase in children with developmental disorders, including GDD and autism spectrum disorder, in the last two years.
While the causes of GDD vary, children of parents who are older appear to be at greater risk, said Ms Vyda Chai, a clinical psychologist at Think Psychological Services.
"We are seeing more parents having children later in life and a number of mothers reporting complications during or after pregnancy, such as premature births. And about 60 to 70 per cent report a family history of developmental delay," said Ms Chai.
Some more identifiable causes of GDD are pregnancy and birth-related, such as prematurity or infections such as meningitis, said Dr Yeleswarapu Sita Padmini, consultant at the department of child development at KK Women's and Children's Hospital (KKH), which has seen 300 to 400 mild to severe cases of GDD per year over the last three years.
Other causes include genetic conditions such as Down Syndrome, Fragile-X, an underactive thyroid gland and other metabolic conditions.
"In some children with mild to moderate GDD, it may be due to lack of opportunities to learn skills because of the way these children are being cared for," said Dr Padmini.
However, there are often no clear answers why some children have developmental delays. Even with modern technology, the exact cause of GDD is unknown in about 40 to 50 per cent of children, said Dr Padmini.
Mrs Perez said her twins' developmental issues are due to their premature birth. She suffered three miscarriages before conceiving Amor and Nathan and had a difficult pregnancy, during which she was on bedrest for two months due to early contractions.
"I sometimes wonder if (their developmental issues) are linked to the multiple medications I was prescribed during my pregnancy or the medications they later took after birth, but I guess we'll never know for sure. I don't want to keep thinking about what went wrong but (instead) focus on helping them now," she said.
While a thorough evaluation and further tests like brain scans, blood tests and genetic tests may help identify the cause of GDD, not all parents are keen for a full evaluation, said Dr Han.
"This can be due to various reasons including concerns (over) sleep medications needed for brain scans, cost or implications of results from genetic tests," she said.
EARLY INTERVENTION CAN HELP
Although there is no known "cure" for children with GDD, getting a diagnosis would help the child to get started on the appropriate psychological, educational and social intervention, said Ms Chai.
The aim, said Dr Han, is to catch developmental challenges early and for the child to catch up in the pre-school phase.
Many of these children do not actually have a disability and have good potential for recovery, said Dr Padmini.
Early evaluation would also help identify whether there are treatable conditions, and if the GDD can be prevented for subsequent pregnancies, added Dr Han.
"With the right intervention, children with GDD can learn life skills that allow them to integrate into mainstream society and have a better quality of life as much as possible," said Ms Chai.
In recent years, interventions provided by the Early Intervention Programme for Infants and Children (EIPIC) has narrowed the learning gap for many children with developmental delays and maximised their potential.
"As a result, we are seeing good progress in these children. An increasing number of children with GDD are able to access mainstream schools and complete formal education," said Dr Padmini.
Under EIPIC, children below seven who are assessed to be at risk of moderate to severe developmental delays are referred for early intervention. About 2,600 children were enrolled in the programme last year, and a total of 3,200 EIPIC places will be made available by the end of this year, said a Ministry of Social and Family Development spokesperson.
Mrs Perez and her husband initially sought intensive therapies for Amor and Nathan but incorporated a home-based therapy using the Son-Rise method when they were five. The parent-directed programme is for children with autism spectrum disorder and other developmental issues.
"I used to be very stressed by what Amor could not do. But I've learnt to celebrate the positives and all good things. For example, Amor started writing and reading fine print only in the past year or so... We also noticed that speaking to her in a loving voice is more effective in motivating her," she said.
While Amor still lags behind her peers cognitively and academically, her parents are proud that she has overcome many challenges.
Now "concert-ready", Amor will be singing at a mini concert called "Let The Rhythm In Me Shine!" on April 28 featuring performances by children with special needs and their siblings. Asked about her song choice for the concert, Amor said she is considering "Firework" by her favourite singer Katy Perry and "Beautiful" by Christina Aguilera.
Mrs Perez, who organised the event with support from music and movement provider Rhythm in Me and professional entertainers STAR Association, said it would allow the children to showcase their musical talents and build self-confidence. A total of 12 children from 10 families, whom she got to know from various special needs groups, will be performing at the event.
"I want to show that children with special needs can shine despite their dim prognoses," she said.
"I also hope that it might help Amor find her purpose in life. For now, she loves singing so I want to do all I can and see where this takes us. Despite their special needs, I hope my daughter and son will be able to say at the end of their lives that they've lived a good life, one filled with purpose."
The Let The Rhythm In Me Shine! concert will be held on April 28 (Saturday) from 4.30pm to 6.30pm at Level 2 of Depot Heights Shopping Centre. Tickets cost S$18 per adult and S$10 per child. For queries, email rhythminmeshine [at] 4ourkidz.com or visit http://bit.ly/SpecialKidsConcert to register.