Dental implants costly, but gaining popularity among baby boomers
SINGAPORE — When Mr Tan Lye Soon, 62, first heard about the S$4,500 price tag for a single dental implant, he had second thoughts about replacing two missing teeth in his right jaw.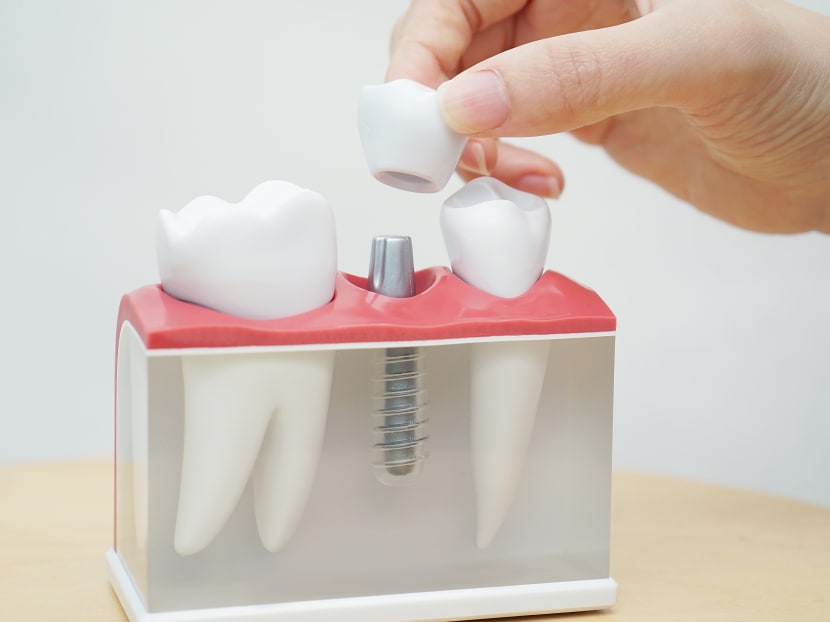 SINGAPORE — When Mr Tan Lye Soon, 62, first heard about the S$4,500 price tag for a single dental implant, he had second thoughts about replacing two missing teeth in his right jaw.
After weighing his options, he dipped into his retirement savings and had dental implants done at the National Dental Centre Singapore (NDCS) last year. He also underwent a bone graft procedure to create extra bone height for the implants to be placed in his upper jaw.
"I feel my money was well-spent. Having functional teeth is very important, particularly for older folks," said Mr Tan, who works part-time as an IT consultant.
"Even with one or two missing teeth, I had to modify my dietary habits and avoid tougher food. This year, I finally got to enjoy bak kwa (barbecued pork slices) again during Chinese New Year."
Despite the hefty price tag, demand for dental implants as a tooth replacement option for older adults has increased due to greater awareness, growing affluence and changing lifestyles, said dental experts whose patients have been as old as 90.
Typically made of titanium, dental implants are surgically embedded into the jawbone to replace a missing tooth root required to anchor an artificial tooth. After an implant fixture integrates into the patient's natural jawbone, an artificial tooth may be permanently attached to it.
Last year, more than half (200) of the 369 cases of dental implants carried out at NDCS were for adults aged 50 and above. Among them, 46 patients were aged 65 and above.
After braces, dental implants was the most sought-after treatment in the local private dentistry market from April 2016 to April 2017, according to a consumer trends report by WhatClinic.com, a clinic comparison website that looked at its data across 1,319 clinics in Singapore.
A BETTER BITE
Dr Wong Keng Mun, managing director of T32 Dental Group, said almost nine in 10 of his patients above 50 who require a tooth replacement now request for dental implants, compared to less than 10 per cent 15 years ago.
"For many of our older patients, it is their adult children who push for them to get dental implants so that they 'upgrade' their chewing function and eat better when they dine out or travel overseas. Dental implants are almost always the first choice these days, and if they are not suitable for patients, then they'll explore other (tooth replacement) options," said Dr Wong, a specialist in prosthodontics.
Other options to replace missing teeth include dentures or dental bridges, which are fixed dental prostheses used to replace one or more missing tooth by joining a false tooth or teeth to adjacent teeth.
The cost of each option varies. At T32 Dental for instance, a dental implant costs around S$5,000 (per implant), a set of dental bridge (three teeth) costs around S$4,500 and a denture costs around S$1,200 to S$1,500, said Dr Wong.
Although dentures are a lower cost option for replacing teeth, patients generally complain about the inconvenience and poorer bite, which can affect their nutritional intake.
"With dentures, patients may get just 20 to 30 per cent of their original chewing function and this affects their diet," said Dr Wong.
"For example, if they eat vegetables, they may eat only the leaves and not the stem. They may have trouble chewing meat so they opt for soft foods like tofu, fish or consume more carbohydrates, which are easier to chew. This may cause elderly patients to miss out on certain nutrients," he said.
Implants are considered a more conservative option compared to dental bridges, as they do not damage the adjacent teeth to provide anchorage, said Dr Tan Min Seet, an oral and maxillofacial specialist at Le MinT's Dental Practice.
Advances in dental implant technology have also improved outcomes and reduced waiting times.
For instance, modern implants now have roughened surfaces and special coatings to enhance healing around the implant so that the bone can secure the implant faster, said Clinical Associate Professor Ken Tan, senior consultant at NDCS' prosthodontic unit in its department of restorative dentistry. This shortens the waiting time between the surgery and restorative phase of the treatment (crown placement).
UNSUITABLE FOR SOME PEOPLE
Despite their advantages, dental implants may not always be the best option for tooth replacement, said the experts.
While there is no upper age limit for dental implants, the patient's general health is an important factor in treatment success, said Dr Tan of Le MinT's Dental Practice.
"Medical conditions such as diabetes, for instance, can compromise the implant. Greater care needs to be taken to assess older patients' suitability (for dental implants) as they are more likely to have some degree of bone loss or underlying health issues," he said.
Dental implants may be problematic for individuals who are on certain medications. For instance, patients who take certain osteoporosis medications should be aware of a potential risk of complications such as bone necrosis around the implant, said Dr Wong.
For a dental implant to be successfully placed, sufficient bone tissue is required to anchor it. Some patients who have lost many or all of their teeth over a long period of time may lose a large volume of bone and tissue that cannot be replaced by an implant, said NDCS' Assoc Prof Tan.
Loss of a complete set of teeth is more commonly seen in elderly persons aged 65 and above, who come from an era where there was less focus on dental maintenance, said NDCS' Assoc Prof Tan.
"In extreme cases, implants may not solve the problem (of insufficient bone tissue). If they have preexisting medical conditions, it would complicate things further. For this group of patients, we usually start with conventional dentures or sometimes incorporate dental implants to aid in holding the dentures," said Assoc Prof Tan.
LONG-LASTING WHEN DONE RIGHT
When done right, the success rate is high and dental implants can remain intact for a long time.
"The first person in the world who received dental implants (in 1965) still had his implants when he died in 2006. But it really depends on the individual. Having dental implants is like having a car - if you don't go for maintenance treatment, you will still have problems," said Dr Wong.
A study by NDCS, which looked at 194 adult patients treated with dental implants at the centre from 2006 to 2010, found that 100 per cent of the implants survived or remained intact after five years, although about 7 and 11 per cent exhibited soft tissue complications like inflammation of the gums around the implant and technical problems like ceramic chipping respectively.
The results, which were published in the journal Clinical Oral Implants Research in 2016, are comparable to, if not better than, survival rates reported internationally (typically above 95 per cent), said Assoc Prof Tan.
"The positive results could be due to how we select patients for implants and carry out the procedure at the centre. For instance, the implant treatment was performed on patients who were not heavy smokers or had uncontrolled diabetes," he said.
Patients found to have periodontal disease were also sent for appropriate treatment prior to the implant treatment.
For patients who find dental implants too costly, dentists can assess and recommend alternative options, said Dr Tan. He cautioned against getting implants overseas although the cost may seem lower.
"There are too many factors to consider in an implant treatment, such as the brand used, (the care provided by the) specialist or general practitioner, complexity of the case and possibility of getting infection, and so on. In cases whereby bone graft is required, this might further complicate the case and increase the number of visits," said Dr Tan.
"When doing the maths and comparing costs, you should also factor in the trouble and cost of travel as multiple trips would be required for the whole treatment, so actual savings may not be significant," he said.