'Desperate' for bubble tea: Some shops that remain open run out of pearls within hours of opening
SINGAPORE — Within hours of opening on Wednesday morning (April 22), some bubble tea shops at hawker centres here had run out of pearls — the chewy tapioca balls synonymous with the beverage — as queues went into overdrive.
SINGAPORE — Within hours of opening on Wednesday morning (April 22), some bubble tea shops at hawker centres here had run out of pearls — the chewy tapioca balls synonymous with the beverage — as queues went into overdrive.  
Those who did not get their hands on a cup of bubble tea on Tuesday night were sussing out stalls that are still allowed to offer the drink.
On Tuesday, the Government announced that bubble tea shops and other standalone food-and-beverage outlets that sell only drinks, packaged snacks, confectionery or desserts would have to shut until at least May 4. This is part of tougher circuit breaker measures to control the spread of Covid-19.
Bubble tea shops at hawker centres, coffee shops and food courts may continue to operate.
Mr Rick Koh, 64, who owns Dessert Monster, a hawker stall selling bubble tea at the Toa Payoh Lorong 8 Market and Food Centre, said that he ran out of pearls by 10.30am — one-and-a-half hours after he opened for business at 9am.
Another batch of pearls was sold out by 2pm because of a larger-than-usual number of pre-orders he received for collection after 5pm.
At Maxwell Food Centre in Chinatown, another hawker stall that sells bubble tea, Dot Sugar, also opened at 9am, but ran out of pearls by 2pm.
Cousins Angus Leong, 32, and Dino Chua, 31, who own the stall, said that online orders usually make up about 10 per cent of its sales. On Wednesday, they formed up to 40 per cent of its orders.
"It is usually quite quiet, but today is unusually busy," Mr Leong said.
"We will cook more pearls tomorrow (Thursday) to cater to the increased demand."
Architect Kassandra Lim, who arrived soon after Dot Sugar ran out of pearls at 2pm, left empty-handed.
The 28-year-old tried to order bubble tea from LiHo on Tuesday night via the GrabFood delivery service, but was unsuccessful.
Ms Lim, a bubble tea lover who seldom goes a week without a cup, said that she would return to Dot Sugar and was relieved to know that the tighter government restrictions have not affected its operations.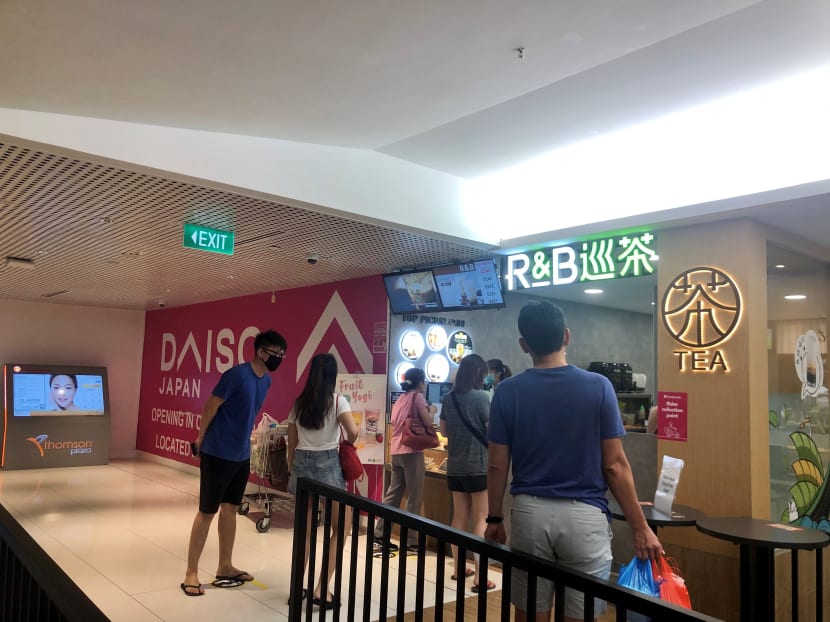 Despite the brisk business at some bubble tea shops, there was only a trickle of customers at other stores.
TODAY counted five people in the queue at an R&B Tea store at Thomson Plaza on Upper Thomson Road at about 1pm. The shop is part of a food court in the mall.
An employee there, who did not give her name because she was taking orders, said that she was expecting more customers in the coming days as more people discover that it is still open.
BUBBLE TEA 'COMFORTING' IN TOUGH TIMES
Among the consumers who joined the queues at the handful of shops TODAY visited on Wednesday was a familiar face.
Former national badminton player Ronald Susilo, 41, stood in a queue of seven people at an I Love Taimei outlet at Bugis Junction mall.
I Love Taimei is one of several chains that may continue operating since it does not sell beverages exclusively. It said in a Facebook post on Wednesday that six of its stores, which sell bubble tea and Taiwanese food, remain open.
The chain instituted a rule overnight disallowing bubble-tea-only orders in light of the tighter restrictions. This means that customers have to buy a food item, too.
Bulk orders are also disallowed and every customer is limited to a purchase of two food items with two drinks, for instance. 
Mr Susilo had his usual order of honey green tea and ended up buying fried chicken, even though he rarely indulges in fried food.
Asked what made him join the queue, Mr Susilo said: "I like bubble tea... I was looking for food in the area, and I happened to remember that there is a bubble tea outlet here that does not just sell drinks and thought to give it a try."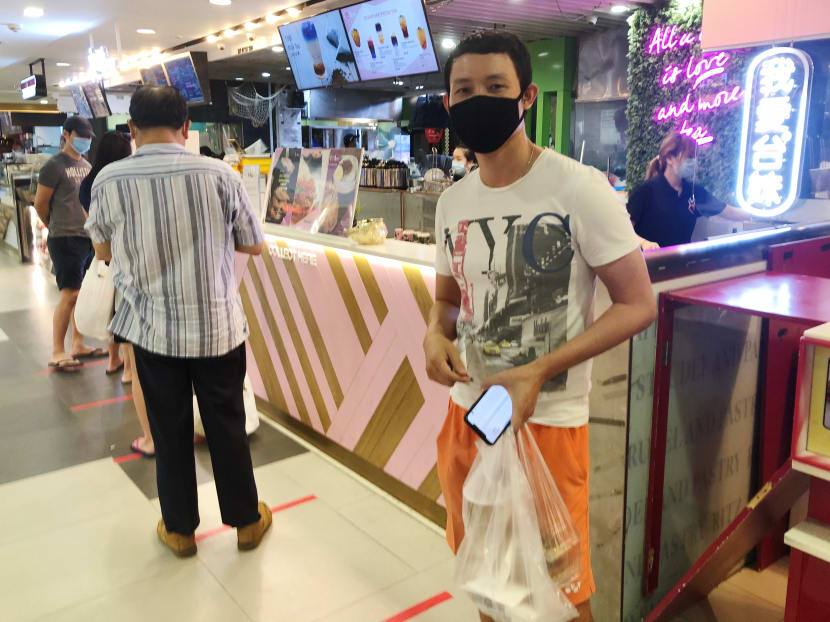 Mr Leonard Koh, 37, who owns the neighbouring store, Chunky Lobster, observed that the bubble tea shop had drawn more customers than usual since it opened in the morning. There were also more deliverymen waiting to pick up orders from the shop, he said.
Undergraduate Ruth Sit, 22, was at the same I Love Taimei store to satisfy her craving for the beverage.
She said she was "desperate" for bubble tea because her online orders on Tuesday night were cancelled.
Now that she has fewer options, she would visit the shop at Bugis Junction more often.
"My friends think I am crazy because (bubble tea) is not really… essential," Ms Sit said.
Urging the authorities to "bring bubble tea back", she said: "(Potentially) six weeks with no bubble tea is quite sad. I feel that bubble tea provides comfort to everyone, especially during this period."