Despite challenges this year, Singapore's 'pragmatic foreign policy still works'
SINGAPORE — Singapore has encountered more than its fair share of headwinds in the international arena this year, but it would have to stay the course with its own distinct brand of principled and pragmatic diplomacy, experts say.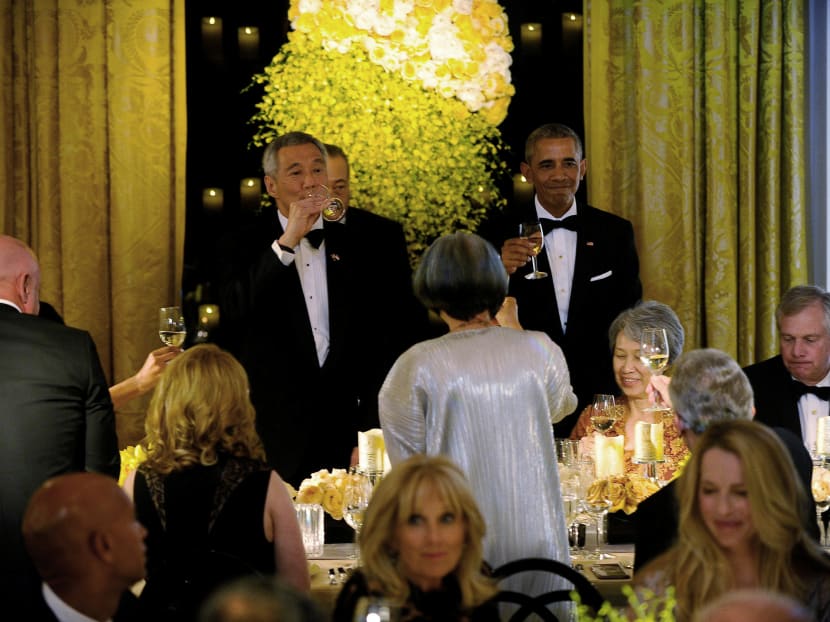 SINGAPORE — Singapore has encountered more than its fair share of headwinds in the international arena this year, but it would have to stay the course with its own distinct brand of principled and pragmatic diplomacy, experts say.
The city state is facing challenges on several fronts, notably a rough patch in ties with China and uncertainties over America's engagement of South-east Asia under a new President. 
The recent move by Indonesia to cut and cancel some Singapore Airlines flights has also put the spotlight back on how Singapore manages relations with its larger immediate neighbours.
While this may raise the question of whether adjustments in foreign policy are needed, analysts maintain that the fundamentals of the Singapore's dealings with external partners are sound.
"Singapore has a pragmatic foreign policy. It rests on solid principles. We must not see the efficacy of our foreign policy from the lens of another country beyond our own shores," said veteran diplomat Ong Keng Yong, who is executive deputy chairman of the S Rajaratnam School of International Studies (RSIS). He added that if Singapore does not deal with all parties using the same set of principles, its foreign policy will become knotted and inconsistent. This will ultimately affect the country's credibility.
"Imagine this: One rule on freedom of navigation through the Straits of Malacca, another for the Sunda Straits and a different one for the South China Sea. Our foreign policy will be like a mosaic," said Mr Ong, who is also Singapore's Ambassador-at-Large and a former secretary-general of the Association of South-east Asian Nations (Asean). 
"No certainty or predictability means the rule of man applies and investors cannot trust such a government to bank their money on. Singaporeans are brought up to respect the law and a rules-based system. To be taken seriously by friends and foes, we need coherence in policy formulation and implementation."
Other analysts have noted that, despite the various challenges, Singapore continues to perform credibly in the international arena.
"Our foreign policy has done the best it can. We have always been pragmatic, trying to be the bridge builder and interlocutor between many different parties … (But) we cannot adopt this position of being friends with everybody without cost," noted Associate Professor Alan Chong of RSIS. 
"As a small state, we need the great powers to be on good behaviour. We (Singapore) need them more than they need us. It is just the nature of international politics," he added.
In 2016, the Republic had to navigate several challenging episodes in external relations. Despite deep and substantive ties with Beijing, there were signs of diplomatic tensions with Singapore's largest trade partner, said to be over the Republic's stance on the importance of rule of law in a regional maritime dispute.
Tensions have been growing in the South China Sea, through which about US$5 trillion (S$7.24 trillion) in ship-borne trade passes every year. China claims most of the disputed waterway, where it has reclaimed islands and built military installations on them, but there are overlapping claims by Brunei, Malaysia, the Philippines, Vietnam and Taiwan. 
In July, the Permanent Court of Arbitration in The Hague invalidated Beijing's claims in the waterway and found that Beijing had breached the Philippines' sovereign rights there. China has disregarded the ruling.
In late September, Chinese official tabloid The Global Times published a series of reports alleging that Singapore had pushed for a stronger statement on the tribunal ruling during the Non-Aligned Movement summit earlier that month. Singapore has rebutted the claim.
Defending Singapore's position on the South China Sea issue, Mr Ong of RSIS said "the rule of law cannot replace the rule of man in foreign policy because chaos will result". 
He said the flying of aircraft and sailing of ships in the South China Sea must be managed by established protocol or regulations. If not, the safety of lives will be compromised.
"We may have imperfect legal regimes but there is a process for improving existing rules. If we compromise on an issue in our relationship with one country, there is no way we can maintain the erstwhile position with another," he said.
"Short-term gains ought to be measured against the longer-term security. Small as we are, and lonely as it may be, Singapore cannot subsume its own interests to political expediency."
Assistant Professor Daniel Chua, of RSIS' Military Studies Programme, added that "adopting a rules-based international order gives Singapore the best chance of having a voice on issues that concern Singapore's core interests".
Beijing has also taken issue with Singapore's long-standing relationship with Taipei. In November, Hong Kong authorities detained nine Singapore Armed Forces Terrex Infantry Carrier Vehicles that were being shipped back to Singapore after military exercises in self-ruled Taiwan, which China regards as a renegade province.
China made representations to Singapore, calling on it to adhere to the One-China policy. Beijing said it opposes countries that have diplomatic ties with it to have "any form of official exchanges with Taiwan, including military exchanges and cooperation". The equipment has yet to be returned.
Singapore also faced diplomatic challenges from other directions.  
The unity of Asean — one of the cornerstones of Singapore's foreign policy — has again been questioned this year, with the grouping first issuing a strong statement against assertive Chinese actions in the South China Sea during a ministerial meeting before hastily retracting the statement. It is believed that some member states backed down after pressure from Beijing.
Despite expending significant political capital to push for the ratification of the Trans-Pacific Partnership (TPP) trade pact, Singapore has been stung by American President-elect Donald Trump's announcement that he will jettison the TPP after he takes office next month. During Mr Trump's controversial election campaign, he had singled out Singapore for stealing American jobs, casting a shadow over bilateral relations going forward.
Even ties with Australia — one of Singapore's most dependable partners — experienced some hiccups this week after local residents of Queensland complained that the government had given up prime agricultural land so that Singapore could develop a training base in the state.
Analysts, however, note that some turbulence in external relations does not mean there is something fundamentally wrong with Singapore's foreign policy. "Some of the issues are just beyond the control of Singapore, particularly those due to domestic political reasons or external geopolitical factors," said Dr Mustafa Izzuddin, a fellow at the Iseas-Yusof Ishak Institute.
Amid the challenges, Singapore's foreign policy has delivered in several key areas this year, said Dr Lim Tai Wei, a senior lecturer at SIM University and adjunct research fellow at the National University of Singapore's East Asian Institute.
He said Singapore reiterated its long-standing partnership with the United States when Prime Minister Lee Hsien Loong visited Washington DC, the first official visit by a Singaporean Prime Minister in 31 years. Mr Lee was hosted to a state dinner by President Barack Obama at the White House in a glitzy affair. 
Closer to home, Singapore signed a high-speed-rail agreement with Malaysia — binding the two countries together in terms of connectivity — while beefing up cooperation with Indonesia in tourism and infrastructure. 
"These are all fruits of effortful labour," noted Dr Lim.
Looking ahead, Mr Ong of RSIS said power and politics in the region and globally have changed and basic assumptions in Singapore's ties with some countries ought to be reviewed. 
"We must now 'double confirm' how our foreign friends see geopolitics being played out in the region. We have to be prepared for sudden manoeuvres in the name of their national interests," he said, adding that one example is how a more muscular China now sees no reason to hold back its unhappiness despite having displayed acquiescence in the past.
Ultimately, Singapore will need to be creative in terms of persuading other parties to understand its positions.
"Having a nimble and pragmatic foreign policy also means that we stick to our principles but manoeuvre in such a way that others will see the logic of coming to our side," said Assoc Prof Chong of RSIS.