Singapore well-positioned to meet rising global demand for semiconductors: DPM Heng
SINGAPORE — A day after export figures signalled a manufacturing slump, particularly in electronics, Deputy Prime Minister Heng Swee Keat gave reason to be optimistic, saying Singapore was well-positioned to meet rising longer-term global demand for semiconductors.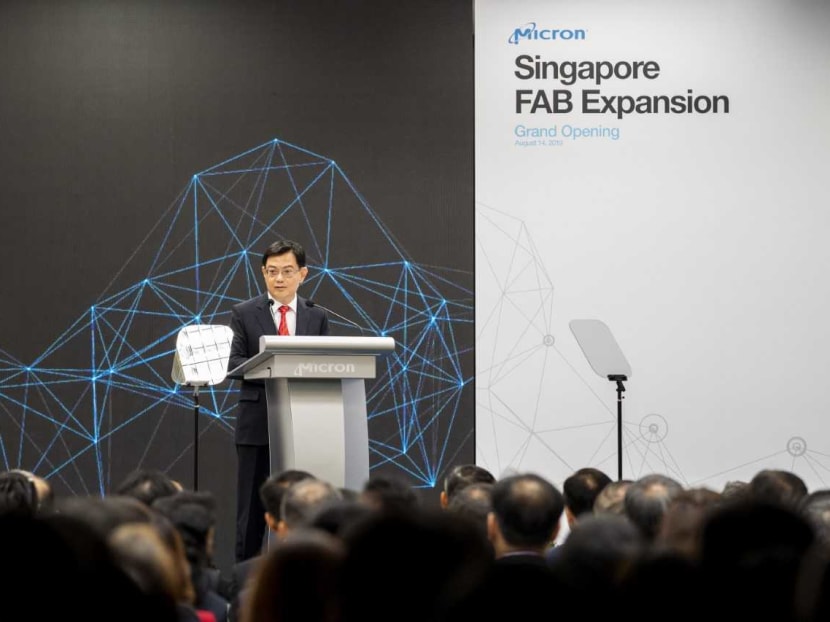 SINGAPORE — A day after export figures signalled a manufacturing slump, particularly in electronics, Deputy Prime Minister Heng Swee Keat gave reason to be optimistic, saying Singapore was well-positioned to meet rising longer-term global demand for semiconductors.
Mr Heng, who is also Finance Minister, was speaking at the opening of semiconductor manufacturing giant Micron Technology's expanded fabrication facility in Woodlands on Wednesday (Aug 14). The expansion is set to add 500 jobs at the plant.
He acknowledged that there has been a "sharper-than-expected downswing" this year in the semiconductor industry, attributing these "headwinds" to weaker demand in some end-markets, as well as global economic uncertainties.
"But these headwinds should be viewed in the context of the 'semiconductor super cycle'. In the preceding few years, global demand grew by more than 35 per cent," he said.
He added that recent forecasts suggested that global demand could return to "modest growth" by next year, with growth projected at between 2 per cent and 9 per cent a year in the next few years.
"Singapore is well-positioned to meet the rise in long-term global demand," he said.
Mr Heng pointed to growing demand for semiconductor components in products such as smartphones using upcoming 5G network technology, wearables, artificial intelligence-related products and autonomous vehicles.
The semiconductor industry accounts for more than 7 per cent of Singapore's gross domestic product, or total economic output, and is one of the largest industries within the country's manufacturing sector. It employs 35,000 workers across 60 semiconductor companies.
DOWNTURN IN ELECTRONICS MANUFACTURING SECTOR
Mr Heng's comments came a day after Enterprise Singapore posted figures that painted a gloomy outlook for electronic exports.
The trade agency said that electronic exports had plunged 26.9 per cent in the second quarter of this year, compared with the same period last year.
Overall, non-oil domestic exports for the year are projected to contract by 8 to 9 per cent, after diving 14.6 per cent in April to June from the same period last year.
The Ministry of Trade and Industry (MTI) on Tuesday also downgraded its economic growth forecast for the full year to between zero and 1 per cent, from an earlier projection of between 1.5 and 2.5 per cent. This is the second reduction made by the MTI this year, after it slashed its projection for the economic outlook in May.
Economists approached by TODAY attributed the downturn in the electronics sector, and the semiconductor industry in particular, to several factors such as a lack of new product launches in the past year and the trade war between the United States and China.
Mr Rajiv Biswas, Asia-Pacific chief economist at research firm IHS Markit, blamed a dramatic decline in electronic exports in the first half of this year on a saturated smartphone market.
"What we saw in 2018 was that the global smartphone cycle had started to moderate. People had already bought new models and smartphone markets in the biggest economies like US, China and Europe became quite saturated," he said.
Similarly, the slowdown in the car industry in markets such as China and Germany had also affected the electronics sector, he said.
But he sees an upturn in the industry given rising demand for semiconductors.
Mr Biswas said: "At the moment, most countries don't have 5G networks in place, so it's not beneficial for people to buy 5G phones. However, once the networks are in place, people will want to have these phones, which will help the upturn in the sector in 18 months' time."
Mr Irvin Seah, a senior economist from DBS bank, said that the decline in the semiconductor sector had already started as early as last January as a result of several issues, such as the normalisation of monetary policy in 2018, and problems in the domestic economies of European countries and China.
The US-China trade war, which began in March last year, "added salt to the wound", resulting in a further decline in demand for semiconductors, he noted.
5G TRENDS TO BOOST SEMICONDUCTOR INDUSTRY IN LONG TERM
Explaining his optimism, Mr Heng said that there were "good reasons" to believe that demand in the industry will continue to grow.
"Semiconductors are the fundamental building blocks for these technologies. And the rapid deployment of these technologies will boost demand for semiconductor components." 
Mr Heng also said that to remain a semiconductor hub, Singapore will need to build on its strong foundations of good connectivity, a pro-business environment and a skilled and adaptable workforce.
Based on estimates by the Economic Development Board, Singapore accounts for 11 per cent of the global market share for semiconductors.
"While the global demand for semiconductors has weakened this year, we must continue to invest for the longer term and strengthen our ecosystem. This way, we will be ready to harness new opportunities when the global demand picks up," Mr Heng said.
Mr Sanjay Mehrotra, president and chief executive officer of Micron Technology, shared Mr Heng's optimism.
He expects demand in the sector to pick up in the second half of the year as a result of a trend towards the use of 5G networks, artificial intelligence and the Internet of Things, all of which would require greater data usage and flash memory.
"So yes, 2019 has been somewhat of a challenging year in terms of the industry demand-supply environment, but for our industry, long-term demands continue to be very strong," he added.
Mr Mehrotra said that with the expansion of its facilities in Singapore, the company will have the capacity to convert its existing wafer technology to more advanced 3D Nand products, which is a form of flash memory storage that is used in smartphones, tablets and computers.