Despite immense challenges, an 'even stronger and better S'pore' will emerge from Covid-19 crisis: PM Lee
SINGAPORE — Amid the gradual reopening of the economy, Prime Minister Lee Hsien Loong has sought to assure Singaporeans that an "even stronger and better Singapore" will emerge from the Covid-19 crisis, as he underlined how and why the country "will not falter in its onward march".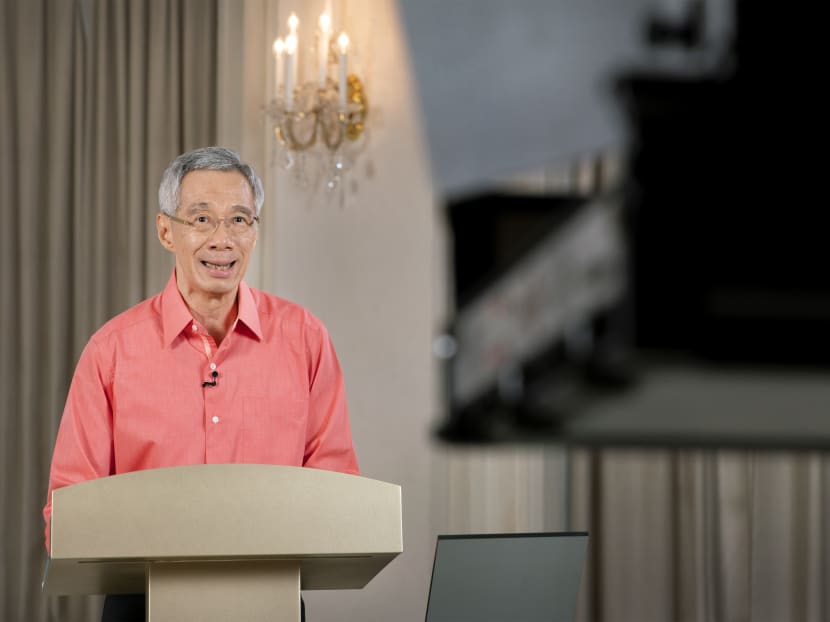 SINGAPORE — Amid the gradual reopening of the economy, Prime Minister Lee Hsien Loong has sought to assure Singaporeans that an "even stronger and better Singapore" will emerge from the Covid-19 crisis, as he underlined how and why the country "will not falter in its onward march".
Speaking on Sunday (June 7) in a nationwide broadcast, Mr Lee also laid out the challenges that Singapore faces in a post-Covid-19 world, saying that his other ministers will lay out the Government's plans and spell out the "full agenda for many years to come".
Mr Lee's speech was the first in a series of national broadcasts that will be delivered by government leaders over the coming weeks. The other broadcasts will be by National Development Minister Lawrence Wong (on June 9), Senior Minister Teo Chee Hean (June 11), Minister for Trade and Industry Chan Chun Sing (June 14), Senior Minister Tharman Shanmugaratnam (June 17) and Deputy Prime Minister Heng Swee Keat (June 20).
In the broadcast on Sunday, Mr Lee outlined three reasons he thinks Singaporeans can still secure a bright future for themselves.
The first is the country's economic strengths and international reputation, and its connectivity with the global flows of trade, investment, capital and people.
"International trade and investments may shrink, but they will not disappear entirely. Some flows will be diverted or dry up, but other new channels will open up," Mr Lee said.
Singapore, he said, is well placed to connect itself to the new channels and flows, and create new businesses and jobs to replace those lost.
"In a troubled world, investors will value the assurance of a government that plays by the rules; a people who understand what is at stake and a stable political system that enables businesses to continue operating even in a crisis," Mr Lee said.
"The way Singapore has responded to Covid-19 — openly and transparently, neither avoiding reality, nor acting arbitrarily at the first sign of trouble — has only strengthened this advantage."
Second, the country has had a head start in preparing for the uncertainties ahead.
"For some time now, we have been working hard to transform and deepen our capabilities — developing plans for our future economy, investing heavily to upgrade our workers through SkillsFuture, digitalising both the private and public sectors, building our innovation and R&D capabilities," Mr Lee pointed out. "All this has enabled us to stand out in Asia and the world."
The Government knows that many businesses will no longer be viable, he said. "We will support these businesses to transform themselves, change their business models, or move into different and more promising fields," he added.
As countries emerge from lockdowns, the Singapore Government is "systematically rebooting our economy", Mr Lee said.
The nation is rebuilding its transport and trade links, and working out arrangements for safe travel to China and other countries.
"Next, we are working hard to retain and attract talent and investments to contribute to our recovery," Mr Lee said.
"At a time when some countries are closing their doors, we are keeping ours open. By making the most of our head start, our workers and industries will survive the crisis better, and bounce back faster and stronger."
Third, the Government has programmes and plans to cope with the challenges, he said.
Its biggest priority is jobs — helping Singaporeans to keep their jobs, or find new ones.
"We are particularly concerned about those in their 40s and 50s, who are often supporting children and elderly parents at the same time, and have financial commitments to meet," Mr Lee said.
The Government is also concerned about mature workers nearing retirement, lower income workers, the self-employed and freelancers, and fresh graduates who are entering the job market.
"We have schemes to help all these groups," Mr Lee said.
EXTERNAL ISSUES, US-CHINA RELATIONS
Beyond Covid-19 and the economic challenges, Singapore will also have to deal with other important external and domestic issues, such as the worsening relations between major powers the United States and China, Mr Lee pointed out.
"It will be a more dangerous world for a small country like Singapore. We must ensure our security, and protect and advance our interests when dealing with other countries, big and small," he said.
"We must also work with like-minded countries to support free trade and multilateralism, and enhance our voice and influence in the world."
On the domestic front, Singapore has to strengthen its social compact, the prime minister said.
Beyond the emergency measures to help people come through the crisis together, the country has to think carefully on how to improve its social safety nets.
"We have difficult decisions to make on priorities, resources and budgets but the values guiding us remain the same: Every Singaporean will have equal opportunities," Mr Lee said.
"Whatever your starting point in life, you will have access to good education, healthcare, and housing.
"If you fall down, we will help you to get up, stronger. You can be sure you will be taken care of. In Singapore, no one will be left to walk his journey alone."
Describing Covid-19 as the "most dangerous crisis humanity has faced in a very long time", Mr Lee also outlined how the public health issue has also become a serious economic, social and political problem.
The global economy has virtually ground to a halt, and tens of millions of jobs have been lost.
Even after injecting almost S$100 billion – 20 per cent of its GDP – the largest fiscal intervention in Singapore's history to protect workers, households and companies, these measures "cannot shield us from the tectonic shifts taking place in the global economy", Mr Lee said.
The slowdown in international trade and investments will "happen faster and go further" and countries will have less stake in each other's well being.
"They will fight more over how the pie is shared, rather than work together to enlarge the pie for all. It will be a less prosperous world, and also a more troubled one," Mr Lee warned.
All these developments will affect Singapore greatly, he said.
"Companies big and small will be hit hard. Some industries will be permanently changed. Many will have to reinvent themselves to survive," he said.
"Workers, too, will feel the pain. Retrenchments and unemployment will go up. Some jobs will disappear and will not come back.
"Workers will have to learn new skills to stay employed. The next few years will be a disruptive and difficult time for all of us."
UNITY AND RESILIENCE
For the Government's plans to succeed, it needs the unity and resilience of its people, Mr Lee said.
"Once in a while, nations and peoples are severely tested, as we are now. Some buckle under pressure and emerge from crisis diminished," he said.
"Others grow more determined as they face fearful odds, discover reserves of strength in themselves, and emerge from crisis transfigured, renewed. And that has been our Singapore story: In crises, we have never failed to wrest opportunity from danger."
He reassured Singaporeans that his Cabinet team, with the support of the whole public service, "will do our best to lead us towards this enduring vision of what Singapore can be".
"We need every one of you to work with us. Together, let us take Singapore safely through this crisis, and make the Singapore spirit flourish in the world," he said.