Despite more charging points, obstacles abound to keep electric car sales from moving into fast lane
SINGAPORE — Before Mr Peter Huang decided to buy an electric car, one of the concerns he had was whether there were enough charging points across the island.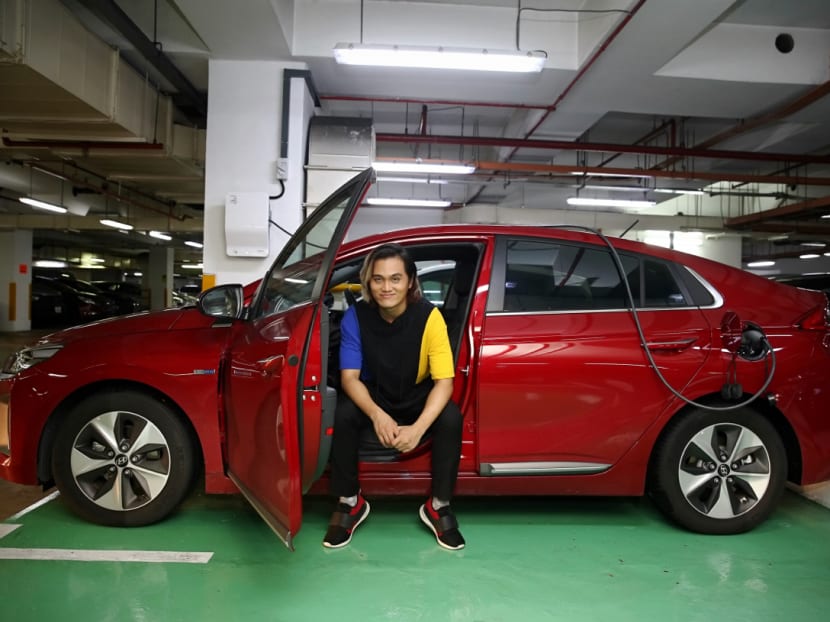 SINGAPORE — Before Mr Peter Huang decided to buy an electric car, one of the concerns he had was whether there were enough charging points across the island.
"This is especially so because of my job as a full-time musician. My mileage is higher and driving patterns can often be quite unpredictable due to overseas trips," the 35-year-old said, adding that he clocks up to 100km a day.
After he got the Hyundai Ioniq in February, Mr Huang soon realised that this was no longer a concern.
He managed to work around the public charging points available and one provided at the car distributor. He told TODAY that "getting used to driving an electric car had a lot to do with a mindset change, more than anything else".
"Driving an electric car is very different from driving a fuel car," he said. "You have to think about it like an iPad or iPhone, where you charge as and when you can, rather than wait till you empty your tank."
Mr Huang is among a small but growing group of electric-car owners in Singapore.
The number of people who own electric vehicles (EVs) — including plug-in hybrid electric vehicle (PHEVs) — jumped last year from 137 to 520.
However, these vehicles still form a tiny proportion of automobiles on the road, making up just a mere 0.09 per cent of the 574,443 passenger cars in Singapore.
So far, the take-up of EVs here has been slow, considering how the early models of electric cars such as the i-MiEV from Mitsubishi were first introduced as early as 2011.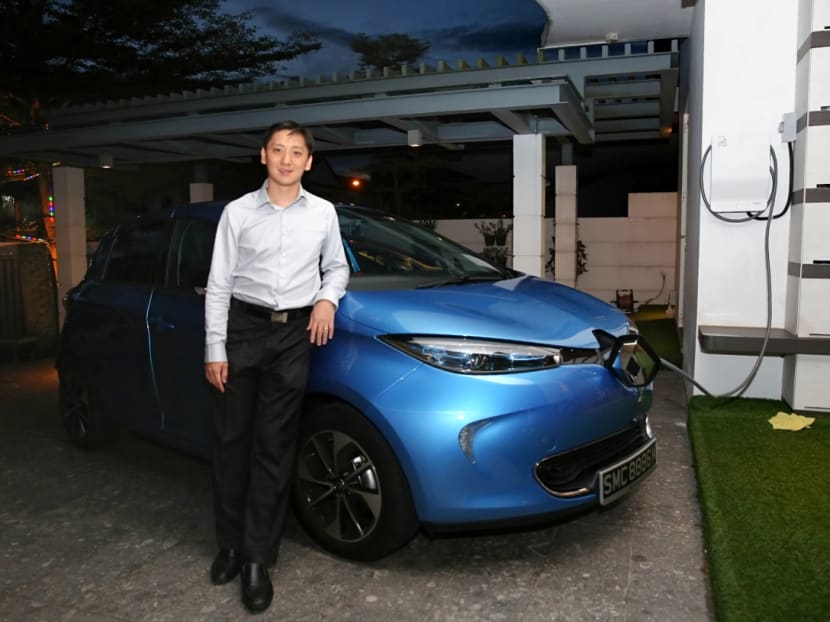 Drivers who are hesitant to buy electric cars said that they have concerns over the lifespan and warranty of the car battery and the availability of charging stations.
Electric vehicles also cost about 20 to 30 per cent more on average than the ones running on petrol.
These are the common reasons why some drivers such as Mr Edwin Teo, chief operating officer of Xnergy, a start-up at the Energy Research Institute in Nanyang Technological University, are still ambivalent about switching to an electric car.
The 42-year-old, who drives a Honda Civic petrol car, said: "What would be more assuring is if I knew I could charge my car at my home, instead of having to drive out (to charge)."
To build up charging infrastructure and encourage more people to own electric vehicles, utility provider Singapore Power (SP) announced in mid-June that it will be installing 500 new charging points across the island by 2020.
The first batch of 30 will operate by the end of this year.
Other charging service providers such as Red Dot Power also have plans to set up at least 50 charging stations islandwide by the end of 2019 — with the first installation scheduled for September — while Greenlots is looking to boost its existing 16 stations by another 50 come 2020.
By 2020, too, electric car-sharing service BlueSG aims to make 400 of its charging points available for public use.
All these mean that drivers can expect close to 1,000 charging points in two years' time.
The charging status of a Renault Zoe belonging to electric car owner Mr Jeremy Lee. Photo: Nuria Ling/TODAY
WIDER NETWORK OF CHARGING STATIONS
Though the infrastructure plans sound promising, one analyst said that the distribution and accessibility of the charging stations would be crucial.
Dr Sanjay Kuttan, programme director of smart multi-energy systems at the Energy Research Institute, noted that a well-distributed network of charging stations will reduce "range anxiety".
Right now, only about 30 condominiums here have charging points installed.
Most of SP's 40 EV chargers are located at the company's depot and serve its fleet of vehicles.
Other providers such as Greenlots have put up its 16 charging points mostly in the Central Business District and Orchard Road area.
Accessibility aside, it might be useful to have a unified payment method, Dr Kuttan said, "like an EZ-link card where everyone can pay via the same mode".
This would make it more convenient for drivers to use the different charging points offered by various companies.
A 37-year-old civil servant, who wanted to be known only as Mr Ng, said that he will not be using electric cars anytime soon because he observed that chargers are not "commonplace" in his neighbourhood at Woodlands and he does not work "in the central areas".
However, from experience, electric-car drivers such as Mr Huang said that they have learnt to adapt and adjust travel routes to align with the locations of chargers.
"For example, I knew I was going to be in town last weekend to catch a movie, so I decided to park at The Heeren because there is a charging point there. Then I walked over to another building to catch my movie," he said.
INDUSTRY PUSH
To help prospective owners ease into the transition, distributors such as Komoco Motors, which bring in the Hyundai model Ioniq, are offering free charging services to new buyers for their first 20,000km.
Distributors are also starting to bring in more affordable models of electric cars.
Besides the Ioniq, mass-market options include Renault's model Zoe, retailing for about S$140,000. The Nissan Leaf, while not available in Singapore yet, is expected to cost around S$160,000.
Dealers are already seeing marked interest in electric cars compared to last year.
Ms Preeti Gupta, director of corporate affairs at BMW Group Asia, said that the group has sold more than 50 EVs so far this year. Last year, the total sales were 73.
"We are confident this number will continue to grow as we introduce newer variants of both the BMW i3 and BMW i8 in the coming months," she said.
Wearnes Automotive, importer for Renault cars here, said that there have been at least 10 orders for models of its electric cars — the Zoe and Kangoo ZE — since they were launched last month.
Some dealers, acknowledging that they can do more to grow the EV population here, also said that the Government needs to put in more effort.
"For electric cars to truly hit the roads, it will have to be a combined effort from both car dealers and the authorities," Mr Ng Choon Wee, commercial director of Komoco Motors, told TODAY. "Car dealers to ensure that support and products are made available, while the authorities could accelerate (efforts) to ensure a strong network of charging facility and, most importantly, incentives (or rebates) to make electric-car ownership more affordable."
At the start of the year, the Government rolled out the new Vehicular Emissions Scheme (VES) to encourage car buyers to choose vehicles that have lower emissions of pollutants.
From July 1, all registered vehicles will be assessed on five pollutants listed in the scheme, which are carbon dioxide, carbon monoxide, hydrocarbons, nitrogen oxides and particulate matter.
Drivers will get tax rebates or have to pay a tax surcharge depending on their vehicle's emissions, with the maximum rebate or surcharge for cars being S$20,000, down from S$30,000.
While the VES is more stringent than the Carbon Emissions-based Vehicle Scheme it replaced, Dr Kuttan said that it is unlikely to be the swinging factor for people who are considering to buy electric cars.
"Buying a car is not just a simple cost plus. (Customers) look at brand value, perception value and other factors like their driving needs and patterns, too," he said.
"The VES is still quite arbitrary, and it is not very transparent, how one can move from one category of tax rebates to another."
What might prove to be a bigger obstacle is the perception of the wider aim to be a car-lite society, which runs counter to private-car ownership, which includes EVs, Dr Kuttan pointed out.
"With the Government spending millions to encourage public transportation, how can you have policies that support private car uptake?" he asked.
In this vein, he suggested that more could be done in addition to the VES scheme, to encourage the present population of car owners to "de-carbonise", such as by adjusting the Certificate of Entitlement (COE) scheme for registered vehicles.
For example, "a separate COE category" could be set up for EVs, to allow the Government to moderate the take-up of EVs, he said. "The VES tackles the type of car purchased but the COE strategy looks at the number of EVs in the pool."
"Together, this dual effort ensures that we have lowest tailpipe emission vehicles on the road and a highly de-carbonised transport sector."