Despite facing tantrums and tears, couple finds reward in fostering troubled kids over the past 8 years
SINGAPORE — As a couple that has fostered children from troubled homes over the past eight years, Ms Vivienne Ng and Mr David Mok will be the first to say that being foster parents is no easy task.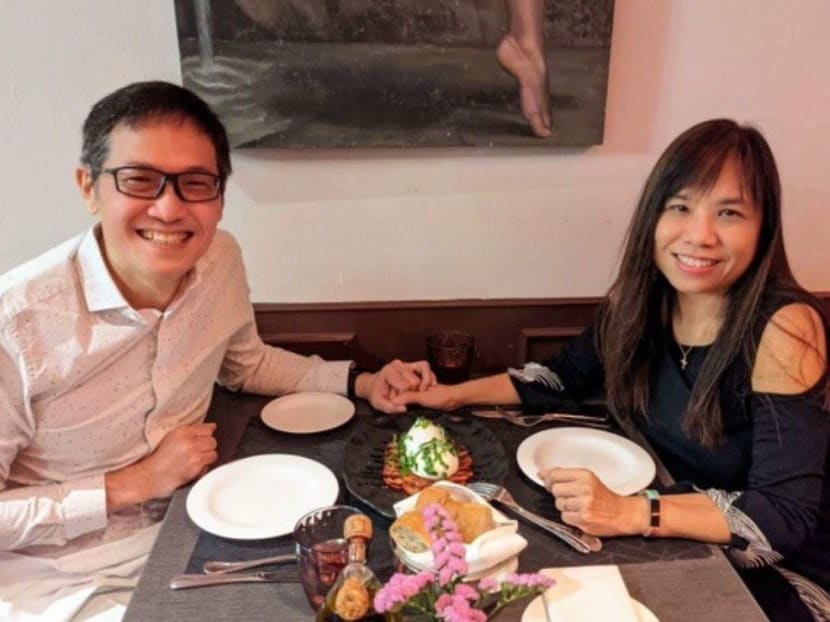 Ms Vivienne Ng and Mr David Mok have fostered six children over eight years
While it is often challenging, they find the experience rewarding and plan to continue fostering for the foreseeable future
They are part of the Ministry of Social and Family Development's Fostering Scheme
The scheme marks its 65th anniversary in 2021
It caters to children below 18 who have been abused, neglected or abandoned by their parents
SINGAPORE — As a couple that has fostered children from troubled homes over the past eight years, Ms Vivienne Ng and Mr David Mok will be the first to say that being foster parents is no easy task.
The couple has encountered their fair share of behavioural challenges and emotional upheavals.
"We have those who come in with behavioural issues… touching everything and breaking our stuff. Some are emotionally affected and some break down and cry in my arms," Ms Ng said. She is a psychologist from the Ministry of Social and Family Development (MSF).
Mr Mok, who is a fund manager, said that there are also foster children who are "very oppositional".
"Whatever you say, they have something to say back to you, and they will argue… There was a child that would have a shouting match with us."
Despite these challenges, Ms Ng and Mr Mok, both 55, relish their roles as foster parents and would not have it any other way, they told TODAY during a virtual interview on Friday (Oct 29).
Since 2013, the parents of three biological sons have fostered six children aged between three and 15 under MSF's Fostering Scheme, each for about five months to two-and-a-half years.
The MSF Fostering Scheme, which has been around for 65 years, caters to children below the age of 18 who have been abused, neglected or abandoned by their parents, the ministry said. 
It is a temporary care arrangement, where foster families provide a nurturing home environment for these children, with the end goal of reuniting them with their natural families where possible, once they are assessed to be able to care for them.
Applicants must be married and jointly apply as a couple, be willing to ensure a child-safe home environment and be medically fit to care for children, among other considerations.
As of the end of June this year, there were about 575 foster families under the programme.
CHALLENGES OF FOSTERING
Ms Ng was motivated to be a foster parent due to her job as a psychologist, where she often meets children from broken families or troubled backgrounds.
"I was frustrated because I would only be able to see the child once in two weeks for regular therapy sessions and I felt like there was just so much more that could be done, especially if they were at home with me," she said.
At first, she encouraged her friends to foster children.
"Then I thought to myself, why shouldn't I foster? I'm doing it as part of my job so why can't I do it with my family and at home as well?"
As good as her intentions were, she acknowledged that at the beginning, she found some of the foster children quite tough to handle. But underneath their challenging behaviour is loss and pain, she noted.
For instance, there was one three-year-old foster child who came to them having been expelled from two childcare centres because he was violent towards other children. While in their care, the boy once threw a tantrum during childcare, tossing books off shelves and pushing down tables and chairs.
When Ms Ng picked him up from the childcare centre, she asked him if he missed his family.
"Then he burst into tears and sobbed into my arms for 15 minutes, and that was so out of character for him because he was a cute, jovial and chatty boy," she said. "They're loveable and cheerful children, but there are moments where you really see their loss and their hurt."
The couple said that they treat their foster children like their own.
Ms Ng added that while she may sometimes scold and discipline the foster child, she prefers positive parenting methods that focus more on rewards than punishment. For instance, if the child is well-behaved, he or she could be entitled to more outings and internet access.
"With older children, you can talk to them when they are not emotionally reactive, you can reason with them," she said.
Mr Mok said: "(The foster child) will not see a division between my kids and them. If there is a division, they will think they are outsiders. (We want) the kind of environment where they see a little bit of authority and love as well."
PROGRESS IS SLOW BUT OUTCOMES ARE REWARDING
Both Ms Ng and Mr Mok said that many foster parents tend to feel discouraged when they do not see much progress in their foster children's behaviour or grades at school.
Said Ms Ng: "We remind them that these kids come from different backgrounds and may even have learning difficulties… We can't expect that by loving them, it will all be hunky-dory. We just have to do what we can to maximise their potential, and that's as good as we can do."
She noted that the rewards of fostering are only seen over the long term and are often intangible.
For instance, the troubled three-year-old boy who was violent at the childcare centre returned to his natural family after about two years with the Moks and he had a much better grasp of the English language and a calmer disposition. He even calls Ms Ng "mum", she said.
She recalled another foster child who was mostly hostile during their time together and frequently hid herself in her bedroom. But after she left their family, Ms Ng received a letter from her.
"She said, 'Thank you so much, I know you meant well and sorry for my unacceptable behaviour', and it really touched me," Ms Ng said.
"Sometimes, it is rather thankless, but we just have to believe that what we are doing is something that can bear fruit in their lives."
Mr Mok said that when the children eventually leave, he does not feel the impact immediately.
"It's always after the fact that I seriously miss them, I talk about them fondly… I think about them and I pray for them," he added. "It's not easy."
Foster families receive a monthly fostering allowance and foster parents are supported by a team of professionals, including counsellors and psychologists, MSF said.
The ministry also provides training in partnership with the Social Service Institute to equip foster parents with skills to parent their foster children.
Everyone living in the household, including children and parents or in-laws, must also be agreeable to the idea of fostering and "agree to play their part", it added.
"This is because everyone in the household will be involved in the life of the foster child."
MSF said that those who want to know more about the fostering scheme may go to its webpage www.msf.gov.sg/fostering.
FOSTERING INTO THE FORESEEABLE FUTURE
Ms Ng and Mr Mok said that although all their children were supportive of the idea of fostering other children from the beginning, there was some conflict when they hosted their first foster child, who was a young girl.
Their youngest son, who was in primary school at that time, would get annoyed and avoid sitting at the same table as the foster child at mealtimes. However, as time passed, he warmed up to her and appreciated what the family was doing.
"He related his fostering experience during a presentation at school," Ms Ng said. "And whatever he spoke about inspired his teacher to think about fostering as well."
Ms Ng and Mr Mok said that they will continue to foster children into the foreseeable future, and they are now looking after a 15-year-old girl.
"We still want to open our home to children who need it and do what we can for the next 10 years if I still have the energy," he said.
Ms Ng has even co-founded a fostering support network called Home for Good SG, where about 60 to 70 foster parents discuss fostering tips and offer support to each other.
"We are showing these kids what a possible family could be and I hope in the future, they can think about it when they have their own families as well," she said.