Fears grow that invasive bird species may cause havoc here
SINGAPORE — Recent sightings of a destructive non-native bird species have alarmed some bird enthusiasts here, who have urged a relook of import policies for invasive species.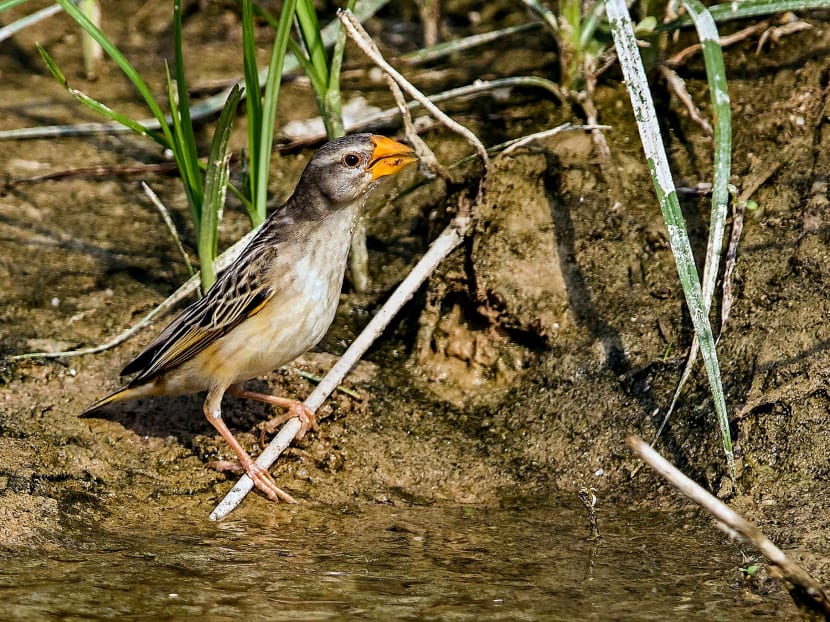 SINGAPORE — Recent sightings of a destructive non-native bird species have alarmed some bird enthusiasts here, who have urged a relook of import policies for invasive species.
They fear that the Red-billed Quelea — sometimes referred to as "feathered locusts" as it damages crops and lives in huge flocks — will wreak environmental havoc by affecting native bird species here, if their numbers grow.
The bird is believed to have entered through the cage-bird trade, as it is found in Africa and is not a migratory species. It is considered the most abundant bird species in the world.
In the last two months, the Red-billed Quelea has been photographed at least twice here. Nature photographer Johnson Chua spotted it last month at Punggol Barat and sent the photo to Nature Society member Francis Yap, who sought the help of Dr Dieter Oschadleus from the University of Cape Town to identify the bird.
Mr Yap found another picture of the bird taken in March through his Facebook network. He then did some research and posted an article titled "World's most destructive bird species now in Singapore" on the Nature Society's Singapore Bird Group blog on Tuesday (May 12).
Calling for an import ban on the "environmentally and economically destructive" species, Mr Yap wrote that he has observed a drop in the number of native munias and weavers, after African grassland bird species including weavers, waxbills and queleas were released here in recent years.
He lauded the authorities' efforts in urging people not to release animals in the lead-up to Vesak Day — the Operation No Release campaign will take place from tomorrow to the end of this month — but said the import of "dangerous species" should be banned in the first place by the Agri-food and Veterinary Authority (AVA).
Imports of other alien species should be limited in the months leading up to Vesak Day, Mr Yap wrote, noting that quelea numbers have become "unstoppable" in their native land.
"What happens when this species takes hold in our region? Rice is an important crop for our neighbours and they are involved in high-yield agriculture," he added.
But Assistant Professor Frank Rheindt, from National University of Singapore's Department of Biological Sciences, believes the Red-billed Quelea poses "zero threat" to Singapore at this stage. "It would only have a chance to become established if many more individuals escape and reproduce in the Singaporean wild, which is unlikely," he said. "Even if they do grab a foothold, they're unlikely to persist for long because they're badly adapted to Singapore's super-humid climate, being birds of drier savannas and steppes."
There is no case in the world where the quelea has been introduced and become a serious pest bird, Asst Prof Rheindt added.
Dr Oschadleus agreed, but said that in Australia and the United States, the bird is listed as a species to be particularly alert about as its introduction could potentially cause serious problems.
The AVA told TODAY that although no import restriction exists on the Red-billed Quelea, none have been recorded being brought in since 2010. There were no sightings of the bird in AVA's urban bird survey last year and this year, and AVA has not received any public feedback on it to date, a spokesperson added.
Mr Chua, a member of the Nature Photographic Society, Singapore, told TODAY he visited Punggol Barat a week after he sighted the species, but did not see it this time.