Diabetes doesn't stop cyclist from having her cake and eating it
SINGAPORE — When Ms Chiara Ricciardi, 27, developed Type 1 diabetes in 2001, she was put on daily insulin injections to make up for what her malfunctioning pancreas could not do. Then 11, she was also told to give up her favourite foods — cakes, biscuits and ice cream — for life, an idea she found "torturous".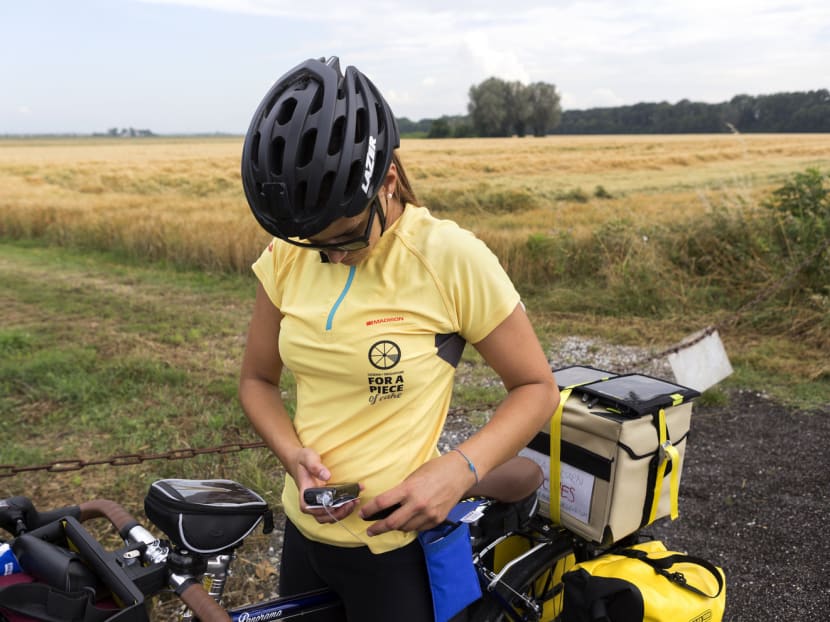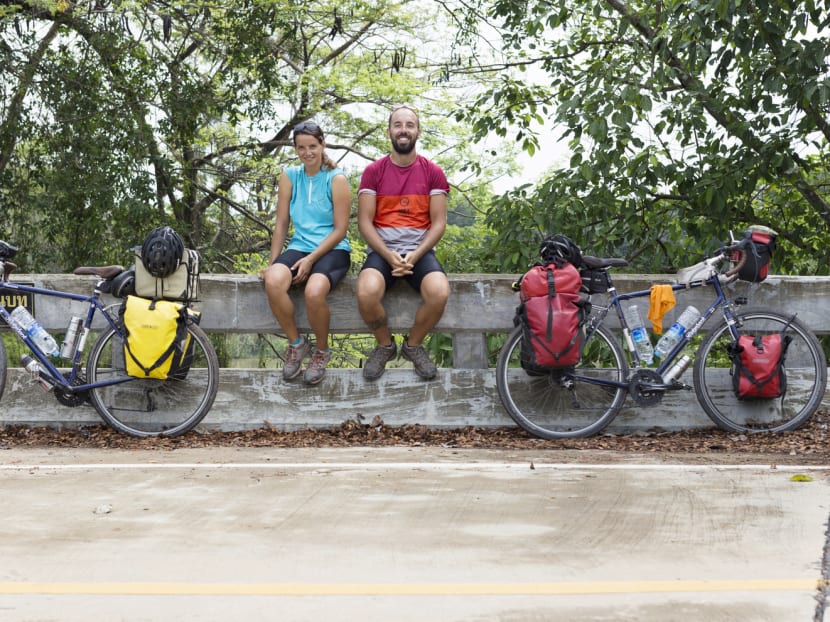 SINGAPORE — When Ms Chiara Ricciardi, 27, developed Type 1 diabetes in 2001, she was put on daily insulin injections to make up for what her malfunctioning pancreas could not do. Then 11, she was also told to give up her favourite foods — cakes, biscuits and ice cream — for life, an idea she found "torturous".
Today, advances in diabetes care allow the engineering graduate to, quite literally, have her cakes and eat them. They have also given her the freedom to cycle across 21 countries.
Together with her photographer husband Riccardo Rocchi, 34, Ms Ricciardi has pedalled 18,000km from their hometown of Cesena in Italy to Singapore, carrying a supply of insulin in a small portable fridge mounted on her bicycle.
To manage her blood-sugar highs and lows while on the road and in remote parts of the world, Ms Ricciardi used an insulin pump, a palm-sized, battery-operated device that works like a portable artificial pancreas. Worn discreetly on the body, it contains insulin that is delivered into the system around the clock via a catheter inserted under the skin.
The nifty device helped keep her blood-sugar levels stable during her journey through varying environmental and weather conditions. It also eliminated the need for multiple daily injections.
Covering an average distance of 70 to 80km daily, excluding rest days, Ms Ricciardi and her husband — who does not have diabetes — took 385 days to complete their journey, arriving at their final pit stop in Singapore last month.
About two-thirds of the cost of their journey was funded by partners, including medical device company Medtronic; the rest were from their savings.
In an exclusive interview with TODAY, Ms Ricciardi said she embarked on the journey a year ago to encourage fellow diabetics to pursue their dreams.
The couple dubbed the project "For a piece of cake" because of Ms Ricciardi's penchant for the sugary treat. They commemorated each leg of their journey by enjoying some cake.
"We want to show that it is possible to travel and live life to the fullest (with diabetes). Having the condition should not stop you from doing what you like," said Ms Ricciardi, who interacted and held discussions with various local diabetes associations in Nepal and Thailand during the last leg of her journey in Asia.
"(That said), we've been to some parts of the world where diabetes care is very different. Some people don't have access to technology to take care of their condition. I'm fortunate to be on a therapy that does not restrict my lifestyle," she added.
Typically diagnosed in children and young adults, Type 1 diabetes is an autoimmune disease in which the immune system attacks the cells in the pancreas that make insulin, a hormone required by the body to convert carbohydrates into energy.
Type 1 diabetics like Ms Ricciardi produce little or no insulin, and require insulin treatment to survive. They make up about five to 10 per cent of all people with diabetes, said Dr D S Deepak, senior consultant at the Division of Endocrinology at National University Hospital (NUH).
Other diabetics have Type 2 diabetes, often described as a lifestyle disease, in which the body does not make or use insulin well.
While oral medications are available for Type 2 diabetes, up to 40 per cent of this group will eventually need to be on insulin, said Dr Warren Lee, a private paediatric endocrinologist at Camden Medical Centre.
A BALANCING ACT
One of the greatest challenges for Type 1 diabetes and advanced cases of Type 2 diabetes is hypoglycaemia, a condition in which the blood-sugar levels are dangerously low and could lead to seizures or a coma.
According to Dr Lee, getting the right insulin dosage can be a challenge for some patients as insulin is needed 24 hours a day, but the amount varies continually.
For instance, the dosage required can vary if the patient has her menstrual period, experiences work stress or is ill, or during exertion, he said.
"A patient having examinations during a painful (menstrual) period and (with) a lingering flu may require 1.5 to 2 times her regular daily dose," said Dr Lee.
During Ms Ricciardi's journey, the exertion of cycling uphill would cause her blood-sugar level to dip drastically.
"To counteract these low-sugar episodes, I would quickly eat some sugar or biscuits," she said.
Fortunately, her insulin pump, which comes with an intelligent sensor system that can predict and signal when her blood sugar levels are rising or falling, helped simplify the process while she was navigating the unpredictable terrain and weather.
Despite planning their route about half a year in advance, the journey was not always smooth sailing. There were instances in which Ms Ricciardi had some problems managing her condition.
"With every new cuisine we came across, it was hard for me to gauge the amount of carbohydrates they contained. For example, I couldn't understand why my blood-sugar levels were erratic in Thailand despite having a 'healthy' salad. Later, we realised that it was full of sugar," she said.
Then there were the obstacles unrelated to her medical condition. The original plan was to cycle all the way from Italy to Singapore, but in the end they had to take two flights and two boat rides to avoid areas in Pakistan and Manipur in north-eastern India, which were unsafe to cycle through at the time.
Now back in Italy, Mr Rocchi and Ms Ricciardi are planning to hold a photo exhibition of their trip to create awareness of diabetes and promote cycling as an environmentally friendly travel option.
Ms Ricciardi said her increased physical activity in the past year reduced her daily insulin requirement by around 40 per cent — proof that regular exercise is essential to managing diabetes well.
"You don't have to cycle 80km a day or even have a super-restrictive diet to be healthy. As long as you live an active lifestyle and have the right therapy, it is possible (for people with diabetes) to enjoy a piece of cake," she laughed.