Digital Readiness Blueprint unveiled to prepare Singaporeans for a digitised world
SINGAPORE — From the later half of this year, seniors who find digital services and mobile applications daunting to use may approach "digital concierges" at community centres near their homes to get one-on-one help.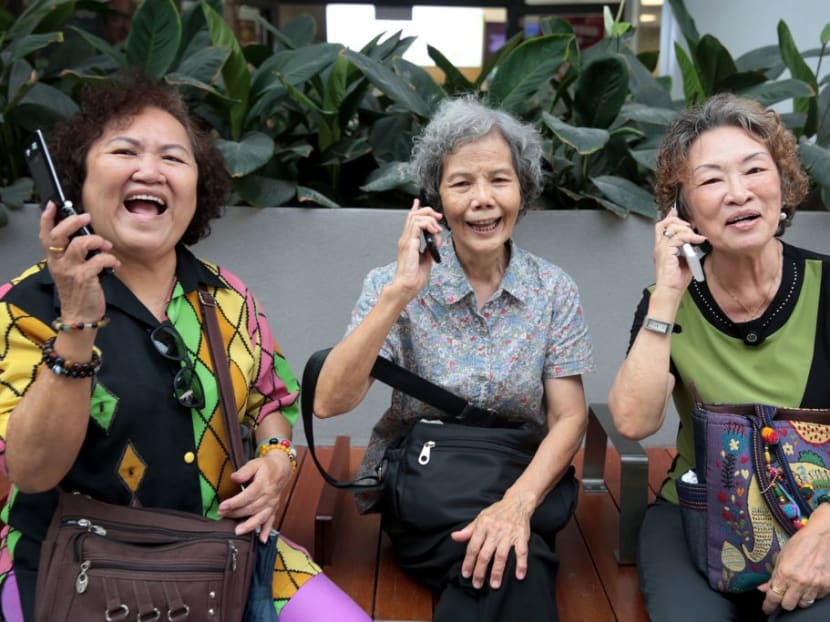 SINGAPORE — From the later half of this year, seniors who find digital services and mobile applications daunting to use may approach "digital concierges" at community centres near their homes to get one-on-one help.   
This initiative is part of the Digital Readiness Blueprint, launched on Saturday (June 2) by Communications and Information Minister S Iswaran at Tech Saturday, a carnival held in Suntec City which showcases interactive digital creations.
The Digital Readiness Blueprint spells out the plans to prepare Singaporeans for an economy increasingly disrupted by digital innovations. It aims to help citizens navigate and be a part of the digitised world by increasing their access, skills and literacy.
The plans were put together by a 16-member workgroup from the private, public and people sectors, including welfare agencies. Some of the members are Dr Janil Puthucheary, Senior Minister of State for Communications and Information, Ms Sandhya Devanathan, country director of Facebook Singapore, and Mr James Tan, chief executive officer of Touch community services.
The workgroup noted that some technology might have limited reach and may only be available to people who are aware of them — closed community groups on Facebook, for example.
To enable a larger segment of the population to have digital tools within grasp in everyday life and to promote community links, the workgroup is looking to innovations such as the Mo-Ca Cares mobile application, which helps to connect residents keen on volunteering with those seeking help.
Piloted last October, the app is available to those living in the Moulmein-Cairnhill constituency, and residents may use it to offer services such as tuition or haircuts, and befriending those in need.
For the digital concierge initiative, an MCI spokesperson said that they will be working with the People's Association to identify which community centres will adopt this service.
A review will be conducted on this "concierge-type assistance", following the initial pilot period of six months, she added. 
The idea for a digital concierge builds on similar initiatives already rolled out, such as the digital clinics by the Infocomm Media Development Authority that are set up at community spaces in Radin Mas near the Telok Blangah housing estate.
Moving ahead, all 26 public libraries in Singapore will offer experiential programmes to those who wish to pick up some digital skills. 
One initiative, the Seniors Tech and Read service, which was piloted at Bedok Public Library last October, aims to help elders who have trouble accessing online resources.
Another example is TechShare, a showcase platform for senior citizens to explore current and upcoming technology in a "tech playground" setting, to try out gadgets such as wearable smart home technologies and cashless machines.
Among the programmes recommended in the blueprint to get Singaporeans digitally ready is the basic digital skills curriculum, which was previously announced.
The curriculum serves as a "starter" for those who are keen to learn how to use technology but do not know where to begin. Participants will learn how to surf the Internet, access their emails, shop and pay online as well as how to discern online scams and fake news.
The first round of workshops based on the curriculum will be conducted at the Silver IT Fest from June 22 to 24, said Minister Iswaran in his speech. 
To make digital services more inclusive and to spur greater participation, the blueprint also proposes redesigning services for easier use.
This means making more digital services such as websites, online publicity materials and workshops available in vernacular languages, on top of English, to reach Singaporeans who may not have an adequate command of the English language.
The Digital Readiness Blueprint was drawn up to facilitate the country's drive towards digital transformation. Along with this push, the Smart Nation and Digital Government Office will also publish a Digital Government Blueprint, which will outline strategies to improve and integrate digital processes within ministries and various agencies. Details on this will be announced later.