Advisor for Disabled People's Association quits, slams lack of passion and slow pace of change in sector
SINGAPORE — For the past 10 years, Mr Nicholas Aw has been a vocal advocate for the disabled community, championing their cause, highlighting their difficulties in getting about and lobbying to prevent the abuse of accessible parking lots, among other things.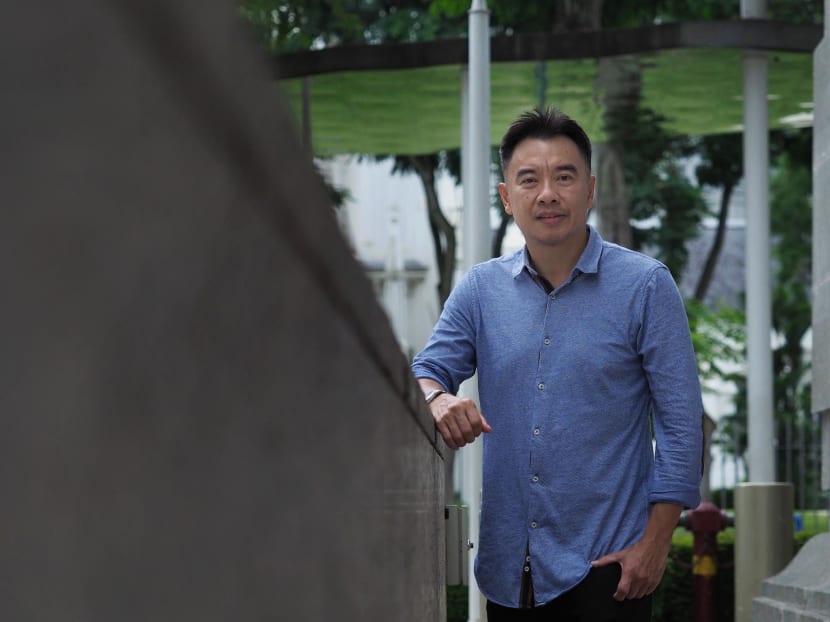 SINGAPORE — For the past 10 years, Mr Nicholas Aw has been a vocal advocate for the disabled community, championing their cause, highlighting their difficulties in getting about and lobbying to prevent the abuse of accessible parking lots, among other things.
He was elected president of the Disabled People's Association (DPA) in 2011. He ended his term in 2017 but stayed on as its advisor, before calling it quits on June 30 this year.
While Mr Aw remains a member of DPA, he said he does not intend to be actively involved in the association's activities.
In a recent interview with TODAY, he laid bare his frustrations about what he described as slow implementation of policies and a lack of passionate leaders in the sector.
The 53-year-old lawyer with Clifford Law said he was advised by his cardiologist to reduce his workload, after he was found to be suffering from arrhythmia, a condition involving irregular heartbeat.
"Prior to (the diagnosis), I was speaking with the executive director at DPA about stepping down because I was irritated with what was happening. (The diagnosis) affirmed my decision to step down."
Mr Aw, who has Tourette Syndrome, a neurological disorder characterised by repetitive, involuntary movements, said that one of his biggest frustrations was the slow pace of change when it came to policies for the disabled.
For instance, he cited how changes to car park labels, introduced in 2017, came five years after the first round of consultations in 2012.
"(The process) was too long and I don't think they really heard us."
Under the Car Park Label Scheme, drivers with disabilities get a Class 1 label and they can park in specially reserved lots for any duration.
With increasing demand for such lots, the Ministry of Social and Family Development (MSF) revised the scheme in a bid to ensure that those who require the lots the most can be better assured of their availability.
But the changes meant that those using less "bulky" mobility aids such as crutches and quad-sticks no longer qualify for the Class 1 label.
This led to much consternation within the disabled community.
The MSF later clarified that the revised criteria do not hinge on the type of mobility aid a disabled person uses.
As long as a person is certified by a doctor as needing to use bulky mobility aids due to his medical condition, he would qualify for the label — whether he uses a bulky aid or not is up to the individual.
Mr Aw said DPA had been involved in several rounds of consultations, and had raised the issue of accessible parking lots being abused. For instance, he said there were caregivers who stayed beyond the duration they were allowed to park or who were not actually ferrying the disabled but still used those lots anyway.
Mr Aw expressed frustration that the changes to the scheme, in the end, were "cosmetic".
"The (changes) were based on the same concept and ideas. It didn't really address the issue of abuse, which we're still talking about till today," he said.
LACK OF PASSIONATE LEADERS
The furore over the changes to the car park label scheme was because of leaders in the social service sector who "did not think in the shoes of a disabled person", Mr Aw said.
"There's no passion among the people I work with — the people from the various social service organisations or voluntary welfare organisations (VWOs), and those who make decisions on policy."
He declined to name who he was referring to, but he blamed it on the way leaders were developed in the sector.
Mr Aw singled out the Sun Ray scheme which was launched in 2014 and is administered by the National Council of Social Service (NCSS). Under the scheme, individuals with strong leadership qualities are developed to lead social service organisations. Social service leaders are also rotated to another agency after two to six years.
Mr Aw claimed that many leaders lacked experience on the ground. The short rotation periods for leaders in the Sun Ray scheme also did not breed continuity in long-term policies and programmes for VWOs, he added.
Addressing Mr Aw's comments in an email, an NCSS spokesperson said the Sun Ray scheme is intended to complement other leadership schemes and efforts of social service agencies to hire and develop high calibre leaders.
"As social needs evolve and become more complex, there is a greater need for leaders from varied backgrounds to come together and draw on each other's skillsets and new perspectives to tackle social issues.
"The scheme is thus designed to bring in people from the corporate sector in addition to those with specialised professional skills."
The spokesperson added that there were currently 100 Sun Ray staff serving in 35 social service agencies who had generalist and specialist backgrounds in areas such as social work and occupational therapy.
Job rotation, said NCSS, is an important aspect of the scheme to give leaders exposure to varied and multi-faceted areas in social service.
"Staff on the scheme are rotated between two and six years, determined by job levels and needs of the agencies.
"The rotations are reviewed in consultation with agencies to ensure milestones are not disrupted and allow for succession planning."
PURPLE PARADE A 'CIRCUS'
Mr Aw also criticised the Purple Parade, an annual event organised by the Central Singapore Community Development Council to promote awareness and celebrate the abilities of those with special needs.
He said that the event, which was entering its seventh year, had "lost its sense of purpose and direction" and did not do enough to make people understand the experiences of the disabled.
"It's become a circus," Mr Aw said. "When you go there, it's very noisy, loud and infectious… a lot of people from the sector, such as those who are autistic, say that they do not want to attend as they are sensitive to the loud noise."
Responding to Mr Aw's comments in an email, a spokesperson for the Purple Parade said the event was to remind Singaporeans "to support inclusion and celebrate the abilities of persons with special needs".
"The Purple Parade is not meant to replace the good work in public education and disability services of the VWOs serving persons with special needs," the spokesperson added.
The spokesperson said that the team and its volunteers would strive to make the event more disability-friendly for the diverse needs of different groups. For instance, a new segment would be added to allow supporters to listen to the stories and aspirations of those with special needs.
LEADERS NOT WILLING TO GET INVOLVED IN POTENTIALLY CONTROVERSIAL ISSUE
The straw that broke the camel's back, said Mr Aw, was when he had sought the help of leaders from various VWOs to provide assistance to a disabled young man who was facing jail time for an act of road rage.
Mr Aw, who was unable to reveal more details of the case as it is still pending, said that leaders from other VWOs, whom he declined to name, had refused to help him.
"All these VWOs have access to contacts like doctors who are specialised in the man's disability. I had a difficult time trying to persuade various VWOs to come forward to provide doctors to write a medical report, which could have been submitted to the courts to give them a better understanding of the disability," said Mr Aw.
He believes that the VWO leaders whom he had approached were not willing to put their jobs and reputations at stake by getting embroiled in a potentially controversial issue: "They have the bullets but they don't dare to use them."
Now that he is no longer the DPA's advisor, Mr Aw hopes to spend more time with his six-year-old son.
He said that he had done all he could for the disabled community.
"This job doesn't pay you," he said. "It gives you a lot of grief, but we (the volunteers) are here because we care."