From a DIY show in Geylang to Paris Fashion Week: How a local youth label made it big
SINGAPORE — Two years ago, local fashion label Youths in Balaclava (YIB) held its own "budget" fashion show on the rooftop of a building in Geylang with chairs borrowed from a nearby coffee shop.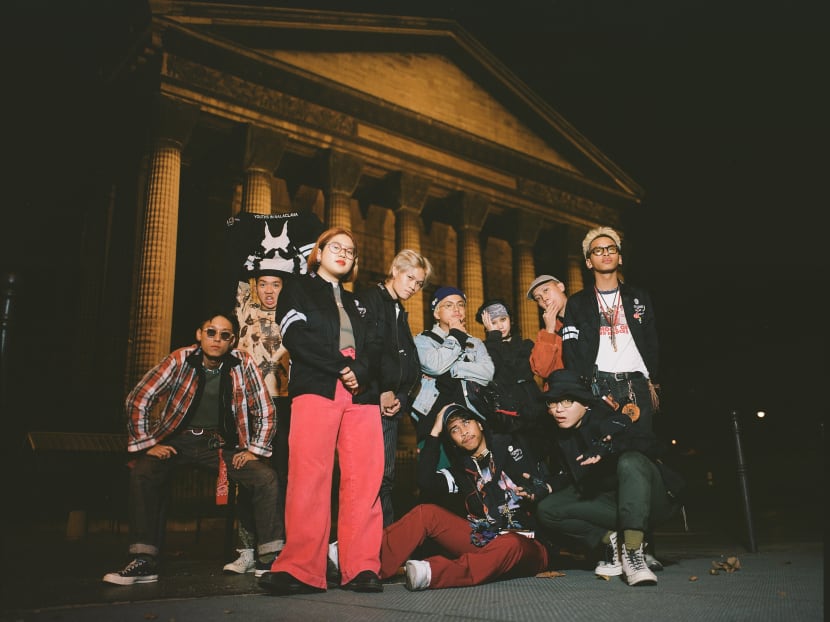 SINGAPORE — Two years ago, local fashion label Youths in Balaclava (YIB) held its own "budget" fashion show on the rooftop of a building in Geylang with chairs borrowed from a nearby coffee shop.
They got their friends to model their collection "Honey Memory", a tribute to the grunge music scene of the late 80s and 90s, for a crowd of 40.
The label has come a long way since it started just two years ago. A few months ago, it showcased its latest collection "Lost In Transit" at the Paris Fashion Week.
The 14-member fashion collective, with members aged 20 to 26, now has its clothes sold in New York, United States and Ginza, Japan. 
So what makes their clothes so appealing? 
Founder Syaiful Taufiq Iskandar, 23, says YIB's clothes are well received because they do not fit a particular style and  draw inspiration from everyday life. 
"It's from clothes that we see cleaners, old people, wearing which is sometimes quite interesting," he said.
He added that the collective also draws inspiration from the clothes worn by the members of grunge bands such as Nirvana, Pearl Jam and Soundgarden.
The label has two main lines that cater to different price points — the Youths in Balaclava line that ranges from S$150 to S$500 and the YIB line that is priced between S$70 and S$120. 
NO BACKGROUND IN FASHION DESIGN
The business was an idea Mr Taufiq and four others had when they were students at Gan Eng Seng Secondary school. 
"There weren't many clothes available for us because they were all so expensive so we decided to make our own," said Mr Taufiq. 
After secondary school, he and another member, Mr Spencer Yeo Cong Jie, 23, worked at Club 21 to gain experience in running a retail outlet.
In 2015, while most of the members were pursuing their tertiary education, YIB dropped its first collection, called "TRAITORS 2 $OCIETY", which were graphic T-shirts that its members manufactured using their own savings.
Within the next two years, the label launched two other collections that consisted of trench coats, denim jackets and boxy T-shirts. 
They distressed, sew patches and painted some of these clothes by hand, learning from YouTube videos as none of the members had a background in fashion design. 
The group designed the clothes and held some of its photo shoots in Mr Taufiq's bedroom, which was also a place where the members held their business discussions.
THEIR FIRST RETAILER
YIB got its big break in 2017 under serendipitous circumstances. 
British photographer Ryan O'Toole Collett was in town to take pictures of the local fashion scene for Dover Street Market, an international multi-label retailer that was setting up its first branch here. 
He met Mr Taufiq through a mutual friend and decided to photograph the members of YIB in different parts of Singapore.
Dover Street Market co-founder Adrian Joffe saw the photos and offered to carry YIB's collection in Singapore. 
The collective accepted the offer and before long, the rest of the world took notice.
YIB soon found itself featured in Vogue and Hypebeast. Korean pop idol Sandara Park from 2NE1 was seen wearing a YIB Flames T-shirt in the reality television show Real Men 300.
The label became profitable and they rented a studio in Tanjong Pagar. 
The photos that Mr Collett took were compiled into a book named after the collective.
PARIS FASHION WEEK
Mr Joffe became the group's mentor, giving them feedback on their collections and helping them through the process of retailing their clothes.  
Towards the end of 2018, he suggested that they design a collection for Paris Fashion Week which would be held in September 2019. 
Working on a tight schedule as most of the collective were enlisting for National Service, they managed to make samples for a collection called "Lost In Transit" and presented them to Mr Joffe. 
He loved it and in September last year, 10 members of YIB flew to Paris Fashion Week, where they had a showroom in Place Vendôme, Paris for five days to showcase their latest collection. 
Their collection features ink blots that change colour under the sunlight - representing the fluctuating emotions that come with entering a new phase of life.
"It represented a transition of us from free young boys to leading a regimental lifestyle," Mr Taufiq said. 
The trip was "surreal" for the group, he added, recalling how one of their favourite designers, Mr Matthew Williams of luxury brand 1017 ALYX 9SM, visited their showroom and asked for a signed copy of the photo book that Mr Collett had created. 
During the showcase, the label also struck deals with 52 international retailers.
The first batch of "Lost In Transit" retailed in Dover Street Market stores and a COMME des GARÇONS Berlin store earlier this year, while the second batch will be released by their retailers worldwide on Feb 15.