Doctors heed the calling to heal and help
SINGAPORE — What do a dermatologist, an ophthalmologist and a medical officer have in common? The desire to make a difference in the lives of those who cannot afford the medical care that they need.
SINGAPORE — What do a dermatologist, an ophthalmologist and a medical officer have in common? The desire to make a difference in the lives of those who cannot afford the medical care that they need.
This festive season, we speak to three medical professionals who volunteer their time to help the less fortunate and, in doing so, reflect the true spirit of giving.
KEEPING AN EYE OUT FOR THE LESS FORTUNATE
Which activities come to mind when you are considering a much-needed break from work?
For Dr Claudine Pang, it is mission trips to various parts of the world where quality healthcare is often out of reach.
The 38-year-old consultant ophthalmologist has volunteered in rural areas in Sri Lanka, China and Cambodia, where she conducts eye screenings, treats eye diseases and performs sight-saving surgery.
Dr Pang said a passion for overseas volunteer work was her main motivation to study medicine. It is also one of the reasons she started her own private practice, as it allows her to plan more frequent mission trips.
Since opening her eye clinic this year, she has completed three overseas mission trips.
"No matter how busy clinic work might be, I put aside time – about four days for each mission trip, two to three times a year. I believe there's no need to wait for a 'good' time in our busy lives to do mission work. We just have to take a break from our own consuming lives for those few days," said Dr Pang, medical director of Asia Retina Eye Surgery Centre.
In June, her clinic team travelled to Phnom Penh to conduct vision screening and eye care for about 1,000 villagers.
To prepare for the trip, Dr Pang invested in portable eye devices and garnered support from companies such as Essilor Vision Foundation, Zeiss and Novartis, which donated supplies such as eyedrops, spectacles and sunglasses. Her clinic also conducted a spectacles donation drive and funded eyedrops that could not be acquired from donations.
Such trips have also played a part in honing her medical skills.
"It is more difficult to diagnose and perform surgeries in rural areas where facilities are rather bare and the equipment is not as technologically advanced as in Singapore. Personally, I find that it is more challenging to perform surgery in such sub-optimal settings and, inadvertently, that has enhanced my surgical skills," she said.
Dr Pang also takes her family along on mission trips. Having been enriched by the experiences, she hopes to inculcate a love for volunteerism in her two children aged three and six.
For a start, she and her family have gone on mission trips to Cambodia to interact with the local schoolchildren.
They were part of the families who participated in the Holiday for Hope programme in March and December. The project by Operation Hope Foundation and social enterprise Crib Society aims to help charities become sustainable by enabling them to raise their own long-term fundraising capabilities.
During Dr Pang's most recent trip to Siem Reap, where she and other volunteers conducted eye screening for 400 schoolchildren, her older child, Nathanael Stuart Tan, helped by pointing at the letters on the vision chart. He also helped some children hold the occluder, a device used during vision screening.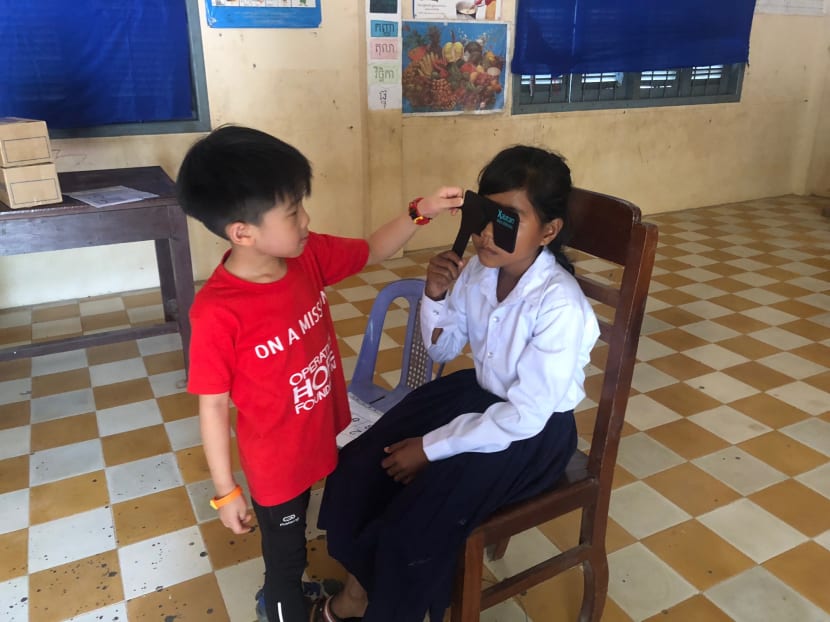 Besides providing eye checks, the volunteers contributed funds that went towards building a playground, toilets and water filtration for a school, as well as repairs of the roof, doors and gates. Children participating in the programme were involved in packing goody bags filled with clothes, slippers, notebooks, pencil cases, pencils, pens, erasers and sharpeners.
"What was most memorable for me on this trip was that my son got to help me out with vision screening, which was a first for him. At the same time, he also had fun playing and talking with the Cambodian children… It's very heartwarming to see children transcend language and culture barriers and play together," said Dr Pang.
Before the trips, she showed her children photos of how the villagers live to prepare them. They also helped to pack the donated items.
"We were pleasantly surprised at how well the children were able to take to the new environment," she said.
Dr Pang plans to make overseas volunteer trips an annual affair for both her clinic's team and her family.
"I enjoy spending time as a family while doing something meaningful for others. I hope it also inculcates in my kids greater compassion, empathy and maturity in the way they see the world as they grow up. Hopefully, they will choose to do volunteer work on their own in future," she said.
"I think overseas volunteer work is such an eye opener…I like that I'm able to share with my team the meaningful experience of helping truly needy people, while engaging in real team bonding at the same time," she said.
MAKING A DIFFERENCE TO MIGRANT WORKERS
Clinic consultations at non-governmental organisation HealthServe's Lorong 23 Geylang clinic start only at 6.30pm. But when TODAY dropped by at 6pm on a recent Tuesday evening, growing numbers of foreign workers were already waiting in line.
HealthServe supports disadvantaged migrant workers in Singapore and its Geylang clinic has been providing subsidised medical consultations to foreign workers since 2007. Dental services were introduced in 2015.
Migrant workers on work permits pay S$5 per session while those on a Special Pass may see a doctor at no cost. Twice-weekly, it also offers dental services for S$10.
That Tuesday evening, the patients – mainly from Bangladesh, India and China – waiting to see Dr Joshua Tan and Dr Tan Kian Teo had maladies ranging from itchy skin and fungal infections to fever, colds and cough.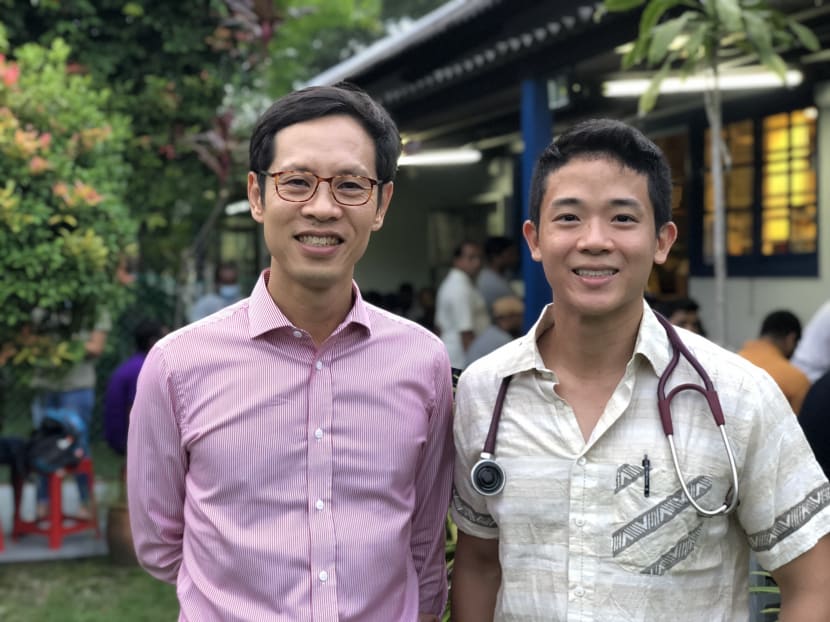 Both doctors are among over 250 medical professionals on HealthServe's growing list of medical volunteers. Doctors make up about half of the medical professionals. In the past year, the number of medical volunteers has increased by about 30 per cent.
Both doctors said they decided to volunteer their time and medical skills as they empathise with low-wage foreign workers who may not be receiving adequate health assistance from their employers. HealthServe also provides casework and legal support, as well as social assistance to migrant workers.
Dr Tan Kian Teo, a dermatologist at Mount Elizabeth Medical Centre Singapore, began volunteering early last year and heads to HealthServe's clinic once a month after work.
HealthServe's Geylang clinic offers orthopaedic and dermatology specialist services twice a month.
Speaking to TODAY before his first patient appointment with a 35-year-old welder from Bangladesh suffering from an itchy scalp, he said: "I first came across HealthServe on Facebook and thought (the low-cost clinic services were) a wonderful idea. This is a great way for me to look after this group of patients.
"To me, there shouldn't be a need for this sort of clinics at all. Foreign workers should be looked after by their employers. But obviously there is a need – you see so many patients outside waiting."
Dr Tan Kian Teo, 49, sees around 10 to 15 patients during a three-hour session. Many of them suffer from skin conditions unique to their line of work.
For example, he has treated many cases of eczema and contact dermatitis in construction workers. Some cases are so severe they involve scaly, swollen, painful and cracked skin.
"We also see a lot of fungal infections of the skin, likely caused by the heat and humidity in the environment they work and live in," he said.
The doctors said they, too, have benefitted from their interactions with migrant workers.
"I think many people just see them as foreign workers. But having (interacted with) them, I realise they are like us – they have families back home and they are here, making a living for them," said Dr Tan Kian Teo.
"I also learn from the patients. I see skin conditions here that I don't necessarily see in my own clinic," he added.
At the relatively youthful age of 26, Dr Joshua Tan is already one of HealthServe's longest-serving medical professionals.
Currently a medical officer with the Singapore Armed Forces, he has been volunteering at HealthServe for about eight years, since he started medical school.
He provides general practitioner (GP) consultations and said his volunteer stints have made him a more empathetic doctor.
"From my work here, I learnt so much about empathy and understanding patients from the context they come from, their family and life situation. It has helped me slow down a bit, take time to listen to my patients and treasure my relationship with them," he said.
One of the incidents that strengthened his resolve to help occurred several years ago, when he took a migrant worker to see a doctor for severe psoriasis, an autoimmune skin disorder.
"His skin condition was really bad and I didn't think it would heal. But miraculously it got better after he received medical attention. When I chatted with him on Facebook a few months ago, he said he was much better. It showed me that just a bit of effort can go a long way," said Dr Joshua Tan.
HealthServe currently runs medical and dental clinics at Geylang, Mandai and Jurong.
Going forward, it plans to increase its capabilities to provide good quality care for patients with chronic diseases, as well as increase partnerships with GPs and specialists for selected referrals, said Ms Suwen Low, head of communications and engagement at HealthServe.