Doctors seek assurances on patient privacy and IT security
SINGAPORE — Measures to ensure the confidentiality of patients and security of IT systems must go hand in hand with the requirement to plug in to the national database of medical records, doctors in private practice told TODAY.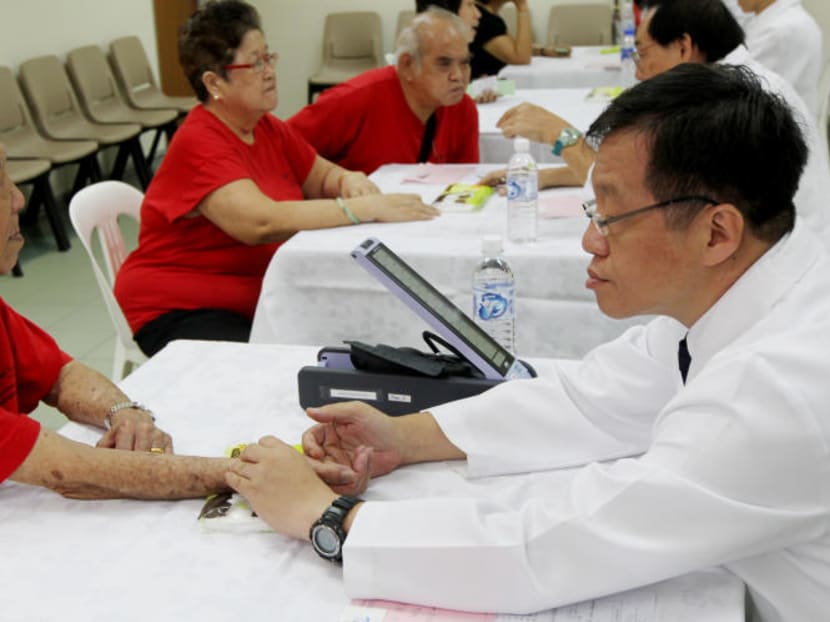 SINGAPORE — Measures to ensure the confidentiality of patients and security of IT systems must go hand in hand with the requirement to plug in to the national database of medical records, doctors in private practice told TODAY.
The benefits of the national database, called the National Electronic Health Record (NEHR), are clear – critical information such as patients' drug allergies can be seamlessly transmitted across healthcare institutions, potentially saving lives during emergencies.
But less clear are procedures that will protect the privacy of patients, especially those with sexually transmitted diseases (STDs) or mental illnesses who still face stigma in society, said doctors. A general practitioner who declined to be named said he has patients with "sensitive medical conditions" who have explicitly requested not to have their conditions or treatments deposited in any database.
"As a medical practitioner, I am obliged to ensure my patient's interests are seen to, especially with such clear requests," said the doctor, who has access but is not contributing to the NEHR yet. The Ministry of Health (MOH) announced on Wednesday (Nov 8) it will table laws next year to mandate all doctors — as well as licensees such as laboratories — to contribute to the NEHR.
Although the database was started six years ago, only 3 per cent of doctors in private practice are submitting data.
MOH's IT arm said the NEHR requires only a summary record of patients' medical history and will not include doctors' personal case notes of every consultation. Data required may include the diagnosis, medications, laboratory reports and discharge summary.
Patients may "opt out" of the NEHR, said the Integrated Health Information Systems (IHiS), which manages the NEHR.
This means the patient's health record will not be accessible by authorised clinicians and healthcare professionals, but the record will still be updated in case the patient opts back in later on, said an IHiS spokesperson.
Patients will be "counselled on the implications" of opting out, she said.
Sensitive health information, such as STDs and mental health conditions, can be accessed by health practitioners only if it is relevant to the service they are providing to the patient, she said.
But there have been cases of illegal access of patient's records even with safeguards in place, some doctors noted.
Doctors also sought assurance on the security of IT systems and whether they would be held liable for missing any information amid a deluge of data.
"Cloud storage for such records also may not be safe enough. And when there is downtime, will the doctor be held liable (for missing certain information)," questioned Dr Leong Choon Kit of Mission Medical Clinic in Serangoon.
"MOH has been talking for some time about giving all IT systems seamless access to the NEHR. But in practice, this (has been) a very slow process," said Dr Leong.
Presently, there are only a few systems that can be synced to the NEHR, he said.
Some doctors have not come joined the NEHR because they fear liability at a time when the public is becoming more litigious, added the GP who declined to be named.
Cost is another issue, said endocrinologist Goh Kian Peng, who is not on the NEHR.
"It is easy to make policies with good intention, but the devil is in the execution. (The authorities) have to actively engage and understand the concerns of small private clinics, which I am sure goes beyond cost. It is not just about giving grants," said Dr Goh of the Saint-Julien Clinic for Diabetes and Endocrinology in Mount Alvernia Hospital.
The authorities must think through and address the problems that may surface before going ahead with the move, he said.
Doctors who have plugged in to the database have experienced some benefits.
The NEHR is useful when treating patients who do not have full details of tests and results they previously received, said GP Ajith Damodaran, who has access to the NEHR but does not contribute to it.
And although an IT system has been set up at the Serangoon Garden Clinic & Dispensary where he practises, Dr Ajith still feels more comfortable writing his notes with pen and paper.
Being able to retrieve information on the NEHR is helpful when treating elderly patients with multiple conditions who are not very articulate, said Dr Low Kee Hwa of Low Medical Clinic.
Going digital has offered other perks.
"After 20 years of practice, I was running out of space to store the patient record cards… (There is also) no need to worry about written records that are hard to read," he said.
But more data does not necessarily mean a better healthcare experience for patients, the doctors noted.
"Whether they are (on digital systems) or still using pen and paper, it is more important that healthcare professionals are well trained with broad and deep clinical skills," said the GP who declined to be named.