Dodgy messages and brazen requests: My 72 hours on TheSugarBook
SINGAPORE — It was his first attempt at making contact. Yet the self-professed 38-year-old father of one had no qualms telling me up front what he was looking for.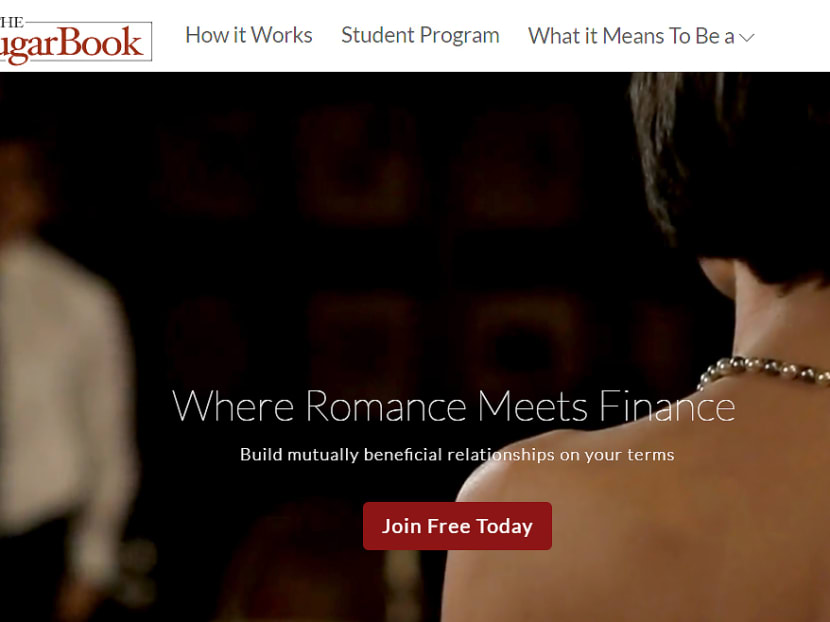 SINGAPORE — It was his first attempt at making contact. Yet the self-professed 38-year-old father of one had no qualms telling me up front what he was looking for.
"Sex and adultery," wrote the engineer and aspiring sugar daddy, who was supposedly making S$40,000 a month.
Another man who initiated contact introduced himself and asked in the next sentence if I would indulge his sexual fantasies.
"Straightforward, fuss free, and quick, simple deal. Would that be something that you would consider?" the 34-year-old executive continued, as if making a sales pitch.
TheSugarBook is known for being completely upfront about what it does — to help rich men link up with so-called "sugar babies".
The money-for-love Malaysia-based mobile application, which has been launched for about a year, claims to have more than 22,000 users from Singapore.
What do these men and women want, and what are they like? This was what I tried to find out by spending 72 hours on TheSugarBook as a "sugar baby".
NOT COY
To be sure, not everyone I encountered on the app demanded sexual favours right away. More often than not, the men said that they were looking for companionship, or so they claimed.
Even then, they were not coy in suggesting that sex was on their mind.
A 33-year-old married businessman who supposedly earned S$32,500 a month said he was looking for company, but added that a sexual relationship would be a "natural progression".
He then proceeded to offer me S$2,000 a month as his "sugar baby".
Amusingly, one of the eight men who contacted me tried to turn the tables, so to speak. The 26-year-old said he made around S$2,000 a month, and admitted that he did not qualify as a "sugar daddy".
He then asked: "Are you a sugar mummy?"
I did not meet him, or others described in this report, in person. My profile was deleted after a week.
I used the app actively only for about three days, during which I received more than 10 email messages a day, informing me that someone had viewed my profile.
One in four men who looked at my profile were married. About 12 per cent said they had children.
About one in 10 said they were divorced or were undergoing one.
I encountered married women as well while browsing the app. One of them, a 30-year-old mother of one, wrote that she was "looking for a companion, a gentleman with a good character".
The app does not turn away those who are married, even if it is less brazen than "cheating sites" such as Ashley Madison, which was banned here in 2013 for actively promoting extramarital affairs.
Users of TheSugarBook are encouraged to be "upfront and honest" with the information they post on the app.
However, trusting anyone you encounter on the app is arguably the biggest obstacle for new users.
NO BACKGROUND CHECKS
To join the network, open to those aged at least 18, a user must submit an email and photo that the platform administrators will verify.
Women are only required to declare their lifestyle preferences. The men have to declare their spending habits, annual income (must be at least US$50,000 or about S$66,000), and give an estimate of their own net worth.
However, TheSugarBook does not conduct background checks on whether those who list themselves as sugar daddies have a record of sexual or criminal offences. Their stated earning power is not independently verified either.
A spokesperson said that TheSugarBook encourages members to be "as transparent as they are willing to be", raising questions about the lack of safeguards for the vulnerable.
The app aims to grow its membership to more than 200,000 by June, and is getting more undergraduates to sign up, on the pretext that the "sugar daddies" could help them pay off their student loans.
Already, there was a user who identified herself as a 23-year-old undergraduate, saying she was looking for "a friendly single man (to) support my school fees".
Men who signed up as "sugar daddies" have access to a list of students who have registered via their university email addresses.
This, and other concerns, have sparked outrage among Members of Parliament and women's groups. They have called on the authorities to look into the platform, adding that it could potentially damage family ties in Singapore and put young people at risk of exploitation.
PURELY TRANSACTIONAL
TheSugarBook markets itself with the catchy tagline, "Where romance meets finance", but I did not encounter a trace of romance during my brief time on the app. The interactions were entirely cold and transactional.
The men all wanted to know my "quote", or the amount I wanted for a monthly allowance as a "sugar baby". And their inevitable follow-up question was: "What do I get in return?"
While I did not meet any of the men who initiated contact, I wondered about the women who took things beyond the app.
What safeguards, if any, did they have against people with bad intentions? Given the potential for trouble, why won't TheSugarBook conduct background checks and vet the claims of its users?
These questions deserve better answers from the people behind the app, as well as the authorities.
CORRECTION: An earlier version of this story suggested that users of the app communicated via emails. This is incorrect. They communicated via a messaging function on the app. We are sorry for the error.