Driver jailed for hitting woman with his van over pedestrian crossing dispute in Jurong West
SINGAPORE — About to enter a pedestrian crossing late one evening, a woman grew irate when a van driver did not stop for her.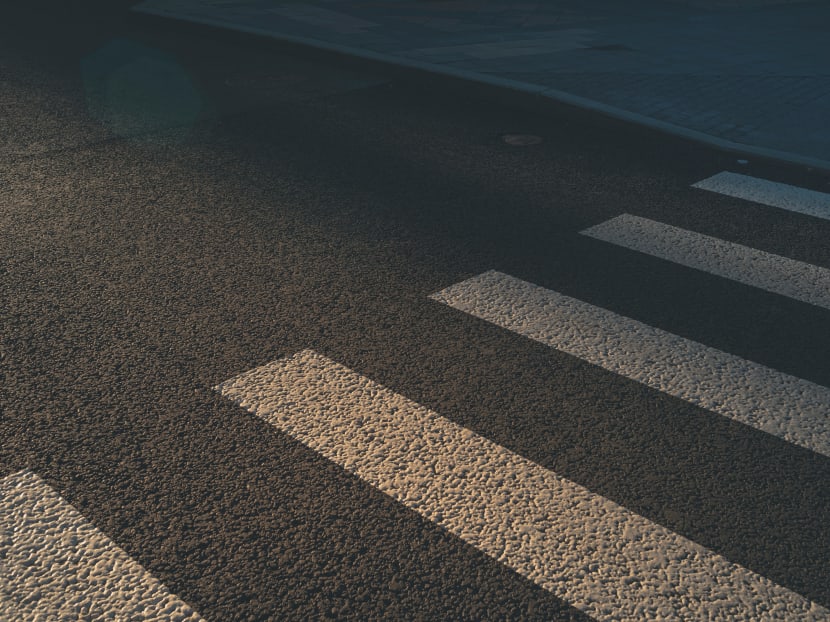 Van driver Mazlan Ujod pleaded guilty to one count of committing a rash act endangering the pedestrian's personal safety
Mazlan failed to stop when a woman was about to step onto a pedestrian crossing
She then confronted him, and he hit the woman with his van
SINGAPORE — About to enter a zebra crossing late one evening, a woman grew irate when a van driver did not stop for her.
She followed Mazlan Ujod into a car park, confronted him and stood in front of his van. He then drove the vehicle forward and lightly hit her three times, leaving the woman with a bruise on her knee.
On Wednesday (Oct 27), Mazlan, now aged 46, was sentenced to one month in jail after pleading guilty to committing a rash act that endangered Ms Jacintha Mary Vincent Francis' personal safety and caused hurt to her.
He was also disqualified from driving all classes of vehicles for a year after his release.
The court heard that at about 10pm on April 6, 2019, Ms Francis was about to cross the pedestrian crossing when she noticed Mazlan approaching speedily. She then stopped and did not cross until he had passed, not stopping for her.
Mazlan then proceeded into the car park near Block 492, Jurong West Street 41.
Ms Francis followed him to confront him and check if he was drunk; he was not. After getting out of his van, he told her he did not see her because it was dark outside, and she told him to wait for the police to arrive.
She had just called the police hotline to say she was almost knocked down by a van.
In response, Mazlan said he had been in a rush. He got back into his van, but in an effort to prevent him from leaving, Ms Francis stood in front of the vehicle and placed both her hands on the windscreen.
Mazlan started the engine and inched the van forward. It made contact with her left thigh.
She then moved back but he inched it forward again, making contact with her again. She shouted at him to stop hitting her with the van.
When Mazlan tried to drive off, the vehicle struck her hip and thigh. Police officers arrived after he left.
Ms Francis was taken to Ng Teng Fong General Hospital for treatment. When the pain in her left leg did not subside, she returned two days after the accident and was warded for two days.
According to a medical report, she was diagnosed with a left knee contusion. She was given hospitalisation leave for about two weeks and was instructed to perform only light duties for another week.
Deputy Public Prosecutor (DPP) Samyata Ravindran asked for five to six weeks' jail, while Mazlan's defence counsel Yamuna Balakrishnan sought one week.
Ms Yamuna said that her client was extremely remorseful and the sole breadwinner of his family, including three young children. The incident would not have happened if Ms Francis did not follow him into the car park, the lawyer added.
The criminal proceedings had caused him to lose his job in inventory, which was the reason he was driving the van, and he has not been able to support his family, Ms Yamuna told the court.
DPP Samyata said in response that while Ms Francis had her reasons for trying to speak to Mazlan, he was trying to "shift the blame" to her which displayed a lack of remorse.
"All she wanted to do was to have a conversation and it escalated into this incident," the DPP added.
The prosecutor also clarified that she was not seeking a compensation order because of the "possibility of a civil suit".
Mazlan could have been jailed for up to a year or fined up to S$5,000, or punished with both.