Eager to do away with cheques and cash, businesses already signing up for PayNow
SINGAPORE – Despite having an e-payment option, the bulk of logistics firm Shalom Movers' customers use cash or cheque to pay.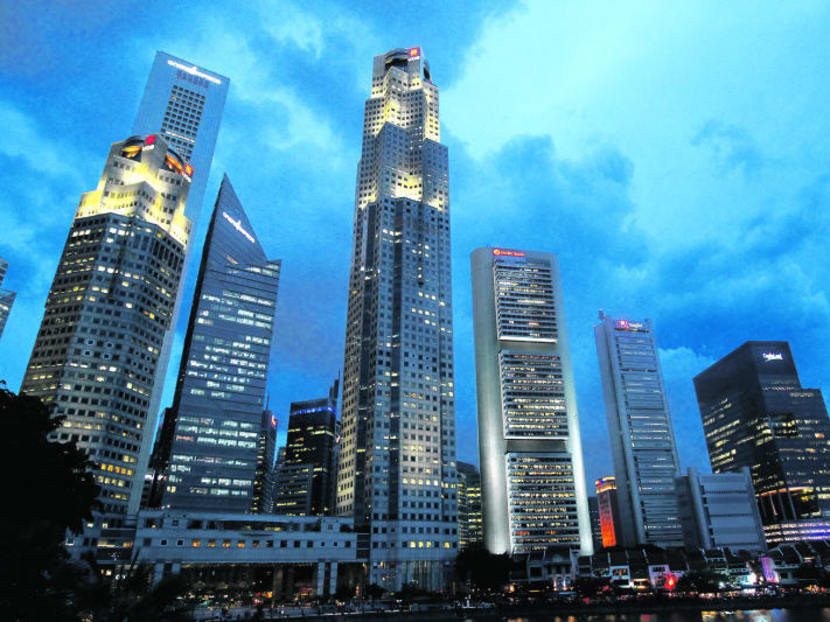 SINGAPORE – Despite having an e-payment option, the bulk of logistics firm Shalom Movers' customers use cash or cheque to pay.
To save the time needed for daily trips to the bank to deposit money – which are "cumbersome" and can take up to three hours – Shalom's finance team considered installing a bank-operated cash deposit machine at its office, said chief executive Gideon Lam.
The idea is now off the table, thanks to an even better option: PayNow Corporate.
An extension of PayNow, the peer-to-peer funds transfer service that only requires one to know a payee's mobile number or NRIC number, PayNow Corporate will start on August 13, the Association of Banks in Singapore said on Wednesday (June 20).
Businesses need only link their bank accounts to their Unique Entity Numbers. Those transferring funds will not need to know the bank and account number of the businesses.
Ahead of August, businesses big and small have been eagerly signing up with the seven participating banks – Citibank, DBS Bank/POSB, HSBC, Maybank, OCBC Bank, Standard Chartered Bank and United Overseas Bank (UOB).
Shalom, for instance, signed up with OCBC Bank last month and Mr Lam said his company will be able to save time, streamline its processes and offer greater convenience to customers and suppliers.
Mr Lam was told that no charges would be incurred for using PayNow Corporate.
TODAY understands there may be promotions in the early days and some banks are still working out their rates, which could depend on the volume of transactions and other factors.
The Government hopes Singapore will be cheque-free by 2025, Education Minister Ong Ye Kung said on Wednesday.
Firms that have signed up for PayNow Corporate with DBS include ERA Realty and FoodXervices Inc.
Nearly three in 10 of ERA's property agents receive cheques and have to wait several days for their commission payments, said Mr Poh Chee Yong, the chief financial officer of its parent company APAC Realty.
ERA signed up for PayNow last week and Mr Poh expects it to result in faster and more convenient transactions with other real estate agencies, developers and customers.
"(Previously) if you miss the cut-off time, it becomes tomorrow's transaction and the payment can come even later… but this is instant," he said.
Ms Nichol Ng, managing director of FoodXervices Inc, said "bundles of cash" can go missing amid the day-to-day rush, and counting notes and coins can be a "nightmare".
Some of its partners are "old-school" and still insist on paying via cash or cheques, but may write the wrong amount or misspell the company's name on cheques, she added.
Telecommunications firm M1, Maybank Singapore, Maybank Kim Eng and insurer Etiqa said they will also use PayNow, while supermarket cooperative NTUC FairPrice, investment company Commonwealth Capital and the National University Hospital said they will study the option.
The hospital said its cashless payment options include mobile and QR code, NETS and credit cards.
Ahead of its official rollout to businesses, some Government bodies and insurers have already started using PayNow to disburse award money or make claims payments, TODAY reported on Wednesday.
IN SCHOOL CANTEENS TOO?
Analysts said PayNow's benefits are clearest for small F&B companies and retailers. They are likely to form the "bulk of the first wave" jumping onto this platform, said research manager at market intelligence firm IDC Michael Yeo.
Taxi drivers and their passengers could also benefit. "This would likely be a highly useful feature for both customers and the drivers, who no longer have to wait for the funds to be deposited into their account, as is the case with credit cards and other card-based payments," he said.
PayNow has the potential to "replace cash in schools for meal money as well as a whole host of other applications", said Mr Yeo.
The service would appeal to companies that make many ad hoc or irregular payments to recipients whose bank details are not known, said Mr Chia Tek Yew, KPMG's head of financial services advisory.
To ensure PayNow is as seamless and beneficial as possible, companies said the service must be cheaper than cheque clearance and rates must be attractive.
There should also be controls in place to prevent any abuse of the corporate bank accounts by certain employees, said Mr Lawrence Chai, managing director of 3E Accounting.
Mr Chai also sought assurance on protection against data breaches, which he said could result in large amounts of money lost overnight.
IDC's Mr Yeo said confusion might ensue with too many e-payments platforms on the market.
A number have entered the fray in the past year. Ride-hailing firm Grab, for instance, has dangled discounts for consumers in its bid to grow GrabPay's reach.
"Too much confusing information regarding payments being directed at both the consumer and merchants" could result in them waiting to see how things pan out before deciding whether to take the plunge, said Mr Yeo.