EDB's 'young punks' won over doubters — including their bosses — to realise industry tool honed over breakfast
SINGAPORE — It was a side project a group of young officers from the Economic Development Board (EDB) embarked on in addition to their day-to-day work — an index to help manufacturing firms better understand how they can undergo digital transformation.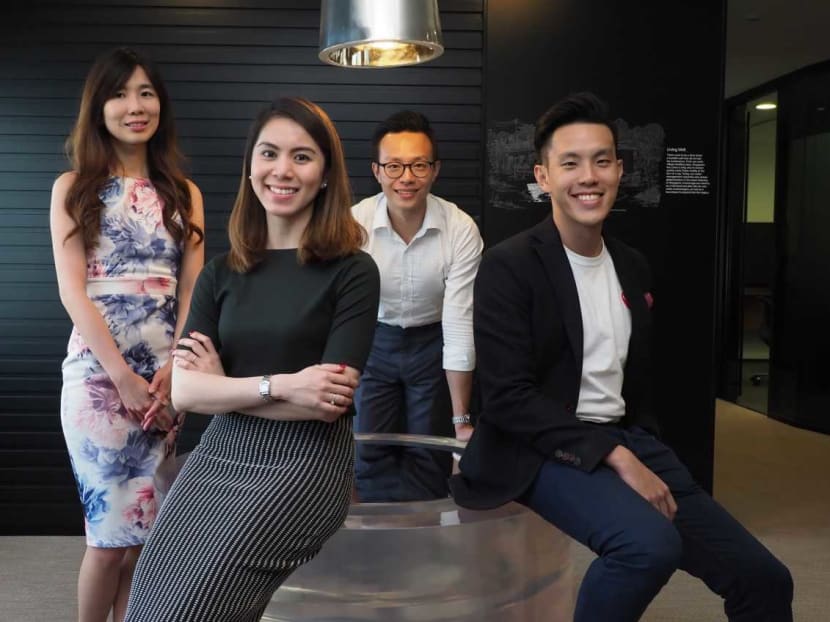 SINGAPORE — It was a side project a group of young officers from the Economic Development Board (EDB) embarked on in addition to their day-to-day work — an index to help manufacturing firms better understand how they can undergo digital transformation.
To convince EDB management this was an endeavour worth putting their time and effort into, these officers used the agency's tagline right back at them: To dream, design and deliver. The EDB is the agency in charge of bringing overseas investments into Singapore to grow its economy and to promote innovation.
"(One) tipping point is, we always keep telling management, 'You always say you pitch to us, you ask us to join EDB because this is a place to dream, design, deliver. Then you know, you have got to put money where your mouth is," said Mr Ben Ong, 30, who was part of the pioneering team of three who started the project.
Recounting the initial scepticism they faced from EDB's management, Mr Ong said: "Something so basic as, 'what will you call this?' (Debating the name) also took awhile."
This "co-curricular activity" started by Mr Ong, Ms Crystalbel Foo, 27, and another EDB officer who has left the agency, back in 2016 has a name now — the Smart Industry Readiness Index (Siri).
Siri essentially identifies three fundamental building blocks of Industry 4.0: Technology, process and organisation. Underpinning these are eight pillars that companies must focus on to become future-ready organisations.
Below these building blocks and pillars are areas of assessment that companies can use to evaluate the current Industry 4.0 readiness of their facilities.
Siri is also being used in training courses and research.
In an interview with TODAY, Mr Ong, Ms Foo as well as two other EDB officers who joined the project later, Mr Ng Wei Wen, 29 and Ms Ong Shu Fen, 27, shared how they overcame initial obstacles to bring this ground-up project to fruition.
The four young officers have been working with the EDB for between four and five-and-a-half years.
CONVINCING EDB'S SENIOR MANAGEMENT
The first iteration of Siri was a simple four-by-four matrix the original team came up with over several dinner conversations in mid-2016.
A more concrete game plan was drawn up over a McDonald's breakfast at the end of 2016 before they finally approached EDB's key management with their proposal.
The team met with a deluge of questions, and there were many meetings and discussions that lasted two or three hours.
Mr Ong recounted some of those questions: "Are you sure we are the right organisation to do this? Shouldn't it be a consultant doing this? Are we qualified? Will people trust us even if it's good?"
Ms Foo then chimed in, citing other examples of the questions they faced: "How would we proliferate this? How would we get people to adopt this?"
"I think it's actually because traditionally EDB has done things a certain way. And this is quite different because this is almost like creating your own industry tool, which then represents thought leadership. (So) then the question was do we have the right capabilities to do that, and will they be recognised in the industry," she added.
When asked whether they felt that their youth was an impediment in convincing the EDB senior management, he said: "I think the concern is would the industry view a bunch of 27-year-old kids coming up with this, would they give it credit. That was the bigger concern."
So how did these young officers manage to convince the senior management of EDB?
They managed to get thought leaders of Industry 4.0, many of them from Germany, to give their stamp of approval on what these young EDB upstarts were developing.
Industry 4.0, otherwise known as the fourth industrial revolution, is a trend within the manufacturing sector to digitise through the use of high-tech technologies, such as artificial intelligence, the Internet of Things and data analytics.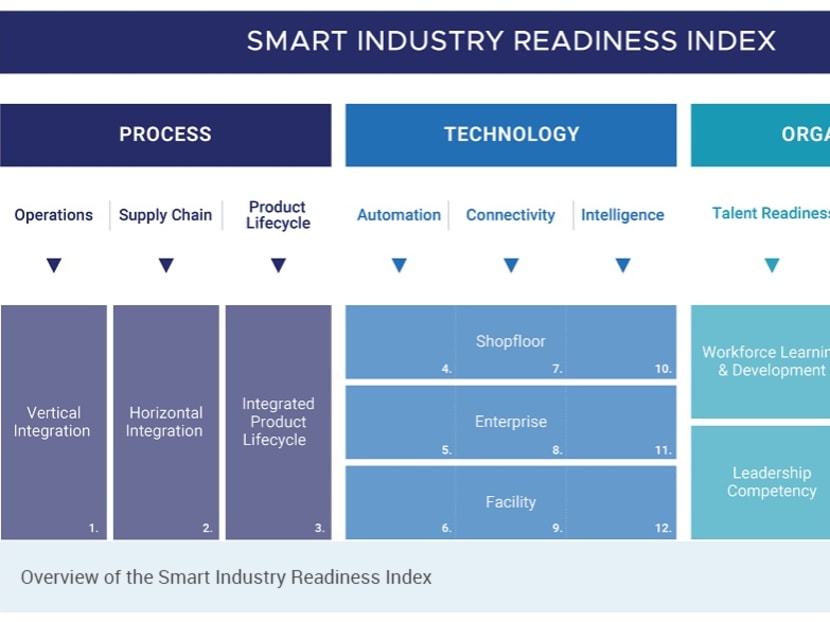 Collecting real-life cases of companies supporting what they were coming up with was the next step.
This was where Mr Ng came in.
"Ben was seated right behind me. So when we're working the late nights, then I will, like, talk nonsense with him," said Mr Ng.
Their "nonsense" led to a Japanese multinational company, which was under Nr Ng's account, coming up with a plan to upgrade their manufacturing facility in Singapore, based on the initial four-by-four prototype.
All these developments, coupled with the fact that the German consultants the team planned to partner with were relatively affordable, helped push their case and EDB's management gave them the go-ahead to pursue the project full-time.
'YOUNG PUNKS' VERSUS INDUSTRY VETERANS
But after getting EDB's stamp of approval, their job was not done.
The team now had to convince the veterans of Singapore's manufacturing industry, who are predominantly older Chinese men, of the merits of an index meant to help manufacturers evaluate the current state of their plants and develop a transformation plan.
Getting big multinational manufacturers was not much of an issue, said the team, given that Siri's development was borne out of several discussions with manufacturers, who often said that they did not know how to go about transforming their companies digitally.
However, while the bigger players were sold on the idea, they faced challenges convincing small- and medium-sized companies to take it up.
"So it was quite difficult, and there were some challenges convincing SMEs, because they see Crystalbel or myself, Wei Wen, Shu Fen, these 20-plus-year-old young punks coming to tell them how to evaluate their plant, like 'who are you', correct?" said Mr Ong.
The team went about it by persuading younger owners of SMEs, or older men who are more progressive, and they in turn shared the benefits they gained from using Siri on behalf of the young EDB team to their industry peers.
"It's identifying the first movers and the people who are ready to transform, and then having them help to assure the rest of the industry along," said Ms Foo.
Since Siri's launch in November 2017, more than 220 companies have utilised the index to assess their own facilities, EDB said.
One factor that helped to push Siri's adoption is the way it strikes a balance between rigour and usability, said Ms Ong, and of course Government funding.
Attending a Siri workshop usually required just two half-days of a company management's time.
"A lot of SMEs cannot afford to hire some expensive consultant. They also cannot afford to spend weeks away from their factory attending some lavish workshop.
"There's very little that the SMEs, your towkays (business owner) or big companies had to put on the table," she added.
WHAT'S NEXT?
From an idea that was sparked over dinner conversations, the development of Siri has led to the formation of an advanced manufacturing strategy group within EDB, which was officially formed in October 2018.
For Mr Ng, he hopes that one day Siri would eventually become the global standard for manufacturing companies.
There are at least 30 overseas companies that have signed up to use Siri, the team said.
Recounting the launch of the second matrix under the Siri initiative in April last year at a manufacturing trade show in Germany, Mr Ng said: "The stall was half-filled (initially) but by the time we came out to launch, it was overflowing and at the second level people stopped their meetings to come out and see what was going on."
This was helped by the presence of the chief executive officer of technology giant Siemens, Mr Joe Kaeser, who attended the launch.
"That's almost like I got (legendary comic book industry figure) Stan Lee to come to my opening at San Diego Comic Con," said Mr Ng.
"It's kind of cool that this small team of young punks was able to do that," he added.